Robotics
I'm looking to start another Arduino project in the next few weeks and I was hoping to find a site that sells small, cheap mechanical power transmission components on the cheap side. Basically sub - 2" stuff . . . metal would be preferred, but I can make plastic work. I've tried SDP-SI, but they are a litte pricier than I'd like. If I can't find what I need, I'll have to go back to the drawing board on some features. Thanks!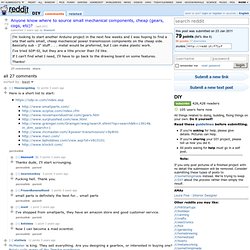 Anyone know where to source small mechanical components, cheap (gears, cogs, etc)? : DIY
These pages introduce some fundamentals of genetic algorithms. Pages are intended to be used for learning about genetic algorithms without any previous knowledge from this area. Only some knowledge of computer programming is assumed. You can find here several interactive Java applets demonstrating work of genetic algorithms.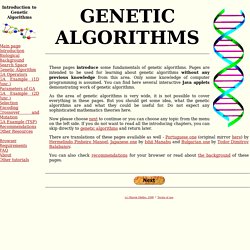 Main page - Introduction to Genetic Algorithms - Tutorial with Interactive Java Applets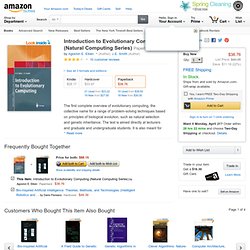 Review From the reviews: "This is intended primarily as a textbook for lecturers and graduate and undergraduate students but will certainly attract a wider readership. The authors explain that each of them has many years of teaching experience, and has given instruction on Evolutionary Computing (EC) … and they realised the need for a suitable textbook and decided to write this one. … Beside serving as an introduction the book is a guide to the state-of-the art. … This is a well-produced and very useful book." (Alex M.
Introduction to Evolutionary Computing (Natural Computing Series) (9783642072857): Agoston E. Eiben, J.E. Smith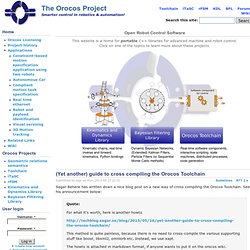 Taking advantage that quite a few Orocos users and developers were attending IROS 2011 in San Francisco, USA, an informal meeting was organized to get to know each other and exchange our experiences and use cases. Among the attendants were people from the Katholieke Universiteit Leuven, that were showing live demos on robots like the PR2, the Kuka LWR, and the Kuka Youbot; NASA, that is currently using and evaluating Orocos in the context of the Robonaut 2 project; and PAL Robotics, that uses Orocos on their biped and wheeled robots REEM-B and REEM, respectively. Meeting developers from the mailing list in person is always great as it attaches a face to the email. Moreover, getting the opportunity to learn about the other's challenges and success stories is great for identifying future collaborations and moving the Orocos community forward. We hope to repeat this experience soon, and with more of us!
The Orocos Project | Smarter control in robotics & automation!
OpenRAVE
How to Build a Robot Tutorial - Society of Robots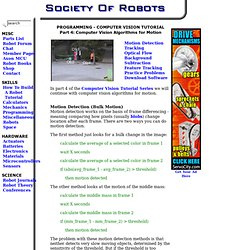 PROGRAMMING - COMPUTER VISION TUTORIAL Part 4: Computer Vision Algorithms for Motion In part 4 of the Computer Vision Tutorial Series we will continue with computer vision algorithms for motion. Motion Detection (Bulk Motion) Motion detection works on the basis of frame differencing - meaning comparing how pixels (usually blobs) change location after each frame. There are two ways you can do motion detection. The first method just looks for a bulk change in the image: