Robotics
Le robot Thymio II encourage la créativité. Share photos and videos on Twitter. This Is The Prima Ballerina Of Robots. We've seen drones pull off some amazing stunts, like pirouetting through the air while assembling a building brick by brick.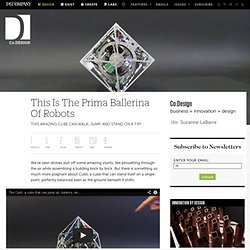 But there is something so much more poignant about Cubli, a cube that can stand itself on a single point, perfectly balanced even as the ground beneath it shifts. Created by researchers Mohanarajah Gajamohan and Raffaello D'Andrea at the Institute for Dynamic Systems and Control, Cubli is a diminutive six-inch cube, stuffed with three coordinated reaction wheels that, through a combination of fluid spins and abrupt stops, can shift the weight and momentum of the block at will. Through these clever mechanics, backed by several sensors and extremely intelligent balancing algorithms, Cubli can jump, balance, and perform a controlled fall. In practice, this means Cubli can go from standing on its face to an edge, and its edge to a point, balancing itself with all the graceful precision of a prima ballerina. Swiss researchers created a cube that can sit, jump and walk (video)
Swiss researchers have created a metallic cube that can "walk" across a surface.
Staff at the Federal Institute of Technology Zurich crammed a series of inertia sensors and constantly-spinning rotors (called reaction wheels) into a 15-centimeter cube, dubbed Cubli, that enable the contraption to move around on its own. When one or more of the weighted rotors abruptly stops spinning, the machine sort of jumps on its edge -- all thanks to centrifugal force. The Distributed Flight Array: Summary. Cheetah-Cub Robot Created: See Other Nature-Inspired Machines.
What runs and hops much like a nimble house cat but has no head?
An experimental cheetah-cub robot, currently covering new ground for scientists learning how to make four-legged robots move more efficiently. See a video of the cheetah robot. The robot, made by scientists at the École Polytechnique Fédérale de Lausanne in Switzerland, boasts three-segment legs—just like living felines—and uses motor muscles and spring tendons to move much like the real thing. (Related: "Animals Inspire New Breed of War Robots. ") That means speed—about seven of its own body lengths per second. Dance of the Flying Machines.
Dance with Thymio II. Matternet. Festo - BionicOpter. The Matternet: A Flying Autonomous Delivery System For The Developing World. Nearly one billion people in rural areas live without access to all-season roads--meaning a large portion of the world's population can't get medication, food, and other supplies when they need them.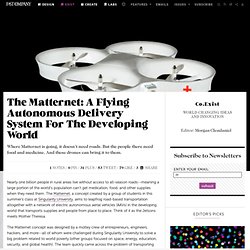 The Matternet, a concept created by a group of students in this summer's class at Singularity University, aims to leapfrog road-based transportation altogether with a network of electric autonomous aerial vehicles (AAVs) in the developing world that transports supplies and people from place to place. Think of it as the Jetsons meets Mother Theresa. The Matternet concept was designed by a motley crew of entrepreneurs, engineers, hackers, and more--all of whom were challenged during Singularity University to solve a big problem related to world poverty (other groups focused on space, energy, education, security, and global health). Quadrocopter Ball Juggling, ETH Zurich. Video: Swiss Flying Torpedo Bot Crashes, Dusts Itself Off and Flies Again. Flying robots are adept aviators, flipping through small openings, building structures and playing tennis.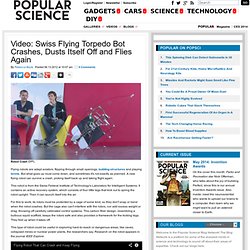 But what goes up must come down, and sometimes it's not exactly as planned. A new flying robot can survive a crash, picking itself back up and taking flight again. This robot is from the Swiss Federal Institute of Technology's Laboratory for Intelligent Systems. It contains an active recovery system, which consists of four little legs that kick out to spring the robot upright. Then it can launch itself into the air. This Week In Bots: Hollywood's Next Big Star Could Be A Robot. Bot Vid: The Crashable Flying Machine Flying robots are all the rage--it seems everyone loves a good drone now.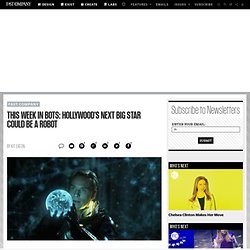 But one issue with flying robots is that at some point they must come down, and if that's due to a crash or an accidental collision you'd prefer them to get right back in the air again. That's something researchers at the Swiss Federal Institute of Technology have been looking at, resulting in an amazing prototype with legs that can right the machine after a "crash," using caged rotors, and a light carbon fiber frame. This type of tech will be useful for both military flying machines and search and rescue bots--both of which operate in hazardous environments.
Mind-controlled robot gives paralyzed man mobility. LAUSANNE, Switzerland – Swiss scientists have demonstrated how a partially paralyzed person can control a robot by thought alone, a step they hope will one day allow immobile people to interact with their surroundings through so-called avatars.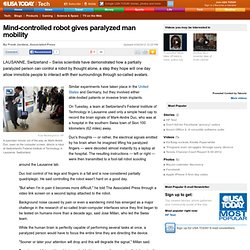 Similar experiments have taken place in the United States and Germany, but they involved either able-bodied patients or invasive brain implants. On Tuesday, a team at Switzerland's Federal Institute of Technology in Lausanne used only a simple head cap to record the brain signals of Mark-Andre Duc, who was at a hospital in the southern Swiss town of Sion 100 kilometers (62 miles) away. Duc's thoughts — or rather, the electrical signals emitted by his brain when he imagined lifting his paralyzed fingers — were decoded almost instantly by a laptop at the hospital. The resulting instructions — left or right — were then transmitted to a foot-tall robot scooting around the Lausanne lab. Roombots Are Real-Life Transformers That Become Furniture [Video]
Why buy multiple pieces of furniture, when you could have one piece of furniture that could transform itself into whatever you need at the moment--a chair, a sofa, a table?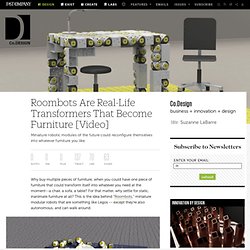 For that matter, why settle for static, inanimate furniture at all? This is the idea behind "Roombots," miniature modular robots that are something like Legos -- except they're also autonomous, and can walk around. [A concept video the Roombots assembling into a chair. Voltron, unite!] [The working prototypes of the Roombots] Lego Prosthetic Arm: A Miracle Remade. As if the Lego block itself wasn't awesome enough, there are mammoth builds revealed on a daily basis.
We have gone through all this before, and I don't think I have to say that Lego really is the solution to everything. When it comes to creativity, it is certainly the most versatile toy ever created. I am sure we couldn't even begin to count the number of children who started out playing with Lego only to become great architects, scientists and technology innovators when they eventually grew up. It's a toy that will spark a lifelong love for innovation and building, and if you have ever lost yourself in the play then you know what I mean. Robots Dancing To Korean Pop Songs. Lego robotic arm is grabby--in a good way | Crave. My greatest Lego triumph was the creation of a miniature monorail that required pushing the car down a little Lego track.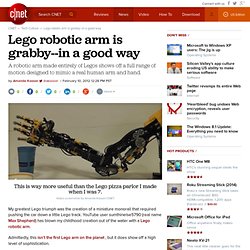 YouTube user sumthinelse5790 (real name Max Shepherd) has blown my childhood creation out of the water with a Lego robotic arm. Admittedly, this isn't the first Lego arm on the planet , but it does show off a high level of sophistication. Shepherd went in with the lofty goal of accurately mimicking the full range of motion of a normal human arm and hand. The Nature That Has Inspired High-Tech Advances | Slideshows. At EPFL, Mother Nature meets the Motherboard. In Western Switzerland, a new centre led by the Swiss Federal Institute of Technology in Lausanne (EPFL) is combining research in evolutionary software with robots that mimic animals. An automated grasshopper, a gyroscope that allows a robotic cricket to balance itself before bouncing again and again, a small glider that flies and clings to walls like a flying squirrel… When Mirko Kovac is displaying his ultra-light robots in the Laboratory of Intelligent Systems (LIS) at the EPFL, it almost feels like standing in front of one of Alexander Calder's graceful wire mobiles.
Perhaps that's because these tiny automatons, so different from the bulky and complex androids of Star Wars, take their inspiration from nature itself. The bio-inspired approach is one of the most promising avenues in robotics today, with the EPFL's pioneering researchers leading the way. The man who wants to change books into machines. At the age of 37, Parisian engineer Frédéric Kaplan divides his time between his laboratory at the Swiss Federal Institute of Technology in Lausanne and his company in the centre of the same city.
He has a sole objective in mind: design objects that will share their owners' lives by combining the world of robotics with artificial intelligence. Are there any two things less alike than a book and a machine? A stone – perhaps. Flocking with fixed-wing robots at EPFL.
---