Activist writers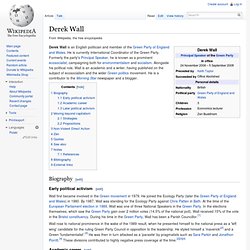 Derek Wall giving a keynote speech at the Green Party of England and Wales conference, Reading, 2008 Derek Wall is an English politician and member of the Green Party of England and Wales . He is currently International Coordinator of the Green Party. Formerly the party's Principal Speaker , he is known as a prominent ecosocialist , campaigning both for environmentalism and socialism .
Derek Wall
La pensée de Karl Marx, par Henri Pena-Ruiz
Peter Lamborn Wilson (born 1945) (pseudonym Hakim Bey ), is an American anarchist political and cultural writer, essayist, and poet, known for first proposing the concept of the Temporary Autonomous Zone (TAZ), based, in part, on a historical review of pirate utopias . [ citation needed ] [ edit ] Life and work Bey's early work is described in the translator's biography of one of his earliest works: After studying at Columbia University , he did extensive traveling in the Middle East , Afghanistan , Pakistan , India and Nepal . He studied Tantra in West Bengal and visited many Sufi shrines and masters.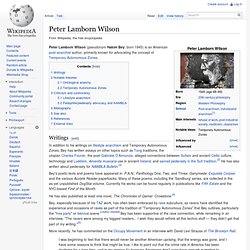 Hakim Bey
Ervin Laszlo
Vandana Shiva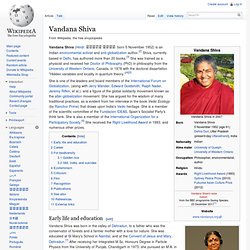 Vandana Shiva ( Hindi : वन्दना शिवा; b. 5 November 1952, Dehra Dun , Uttarakhand , India), is an Indian environmental activist and anti-globalization author . [ 1 ] Shiva, currently based in Delhi , has authored more than 20 books. [ 2 ] She was trained as a physicist and received her Ph.D. in philosophy from the University of Western Ontario , Canada , in 1978 with the doctoral dissertation "Hidden variables and locality in quantum theory." [ 3 ] [ 4 ] She is one of the leaders and board members of the International Forum on Globalization , (along with Jerry Mander , Edward Goldsmith , Ralph Nader , Jeremy Rifkin , et al.), and a figure of the global solidarity movement known as the alter-globalization movement. She has argued for the wisdom of many traditional practices, as is evident from her interview in the book Vedic Ecology (by Ranchor Prime) that draws upon India's Vedic heritage.
Howard Zinn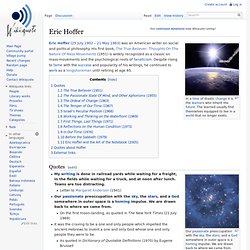 Eric Hoffer
In a time of drastic change it is the learners who inherit the future . The learned usually find themselves equipped to live in a world that no longer exists. Eric Hoffer ( 25 July 1902 – 21 May 1983 ) was an American writer on social and political philosophies. His first book, The True Believer: Thoughts On The Nature Of Mass Movements (1951) is widely recognized as a classic on mass-movements and the psychological roots of fanaticism . Despite rising to fame with the success and popularity of his writings, he continued to work as a longshoreman until retiring at age 65. [ edit ] Quotes
Published in The Phoenix Naomi Klein, black-clad and sharp-tongued mistress of the global anti-corporate left, friend to Occupiers and scourge of oil barons, stood outside a dressing room backstage at Boston's Orpheum Theatre one night last month, a clear-eyed baby boy on her hip. "I'm really trying not to play the Earth Mother card," Klein told me over the phone the week before, as she talked about bringing Toma, her first child, into the world. But she didn't need to worry. Inside the dressing room, she'd been fielding questions from a small gaggle of young reporters alongside 350.org's Bill McKibben, who had invited her to play a key role in the 21-city "Do the Math" climate-movement roadshow that arrived at the sold-out Orpheum that night.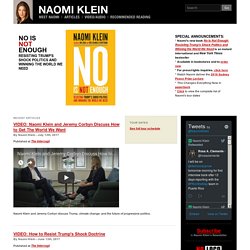 Democracy Now!
Democracy Now!
Raj Patel - Author
Category:Anti-globalization writers
Catégorie:Écrivain altermondialiste
Home - Bryant McGill, Official Web Site