Alternative Lifestyle
Homepage. Ayahuasca Tourism in South America. Written for Anthropology of Tourism, University of Maryland at College Park John N.
Grunwell Within the last fifteen years or so, a grass-roots ayahuasca tourism industry has sprung up, with outposts all over Amazonia. Alternative Media. Survival and zombie. Land for Sale at eLandUSA. Solar Power Much Cheaper to Produce Than Most Analysts Realize, Study Finds. By Joe Romm on December 11, 2011 at 10:22 am "Solar Power Much Cheaper to Produce Than Most Analysts Realize, Study Finds" The public is being kept in the dark about the viability of solar photovoltaic energy, according to a study conducted at Queen's University.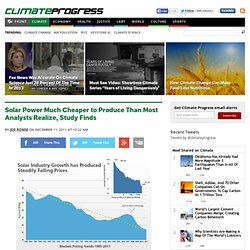 "Many analysts project a higher cost for solar photovoltaic energy because they don't consider recent technological advancements and price reductions," says [co-author] Joshua Pearce, Adjunct Professor, Department of Mechanical and Materials Engineering. "Older models for determining solar photovoltaic energy costs are too conservative."Dr. Pearce believes solar photovoltaic systems are near the "tipping point" where they can produce energy for about the same price other traditional sources of energy.
Ubuntu (philosophy) Ubuntu (/uːˈbʊntuː/ oo-BUUN-too; Zulu/Xhosa pronunciation: [ùɓúnt'ú]) is a Nguni Bantu term (literally, "human-ness") roughly translating to "human roughness.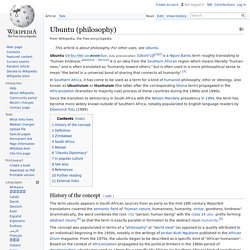 " It is an idea from the Southern African region which means literally "human-ness," and is often translated as "humanity towards others," but is often used in a more philosophical sense to mean "the belief in a universal bond of sharing that connects all humanity".[2] In Southern Africa, it has come to be used as a term for a kind of humanist philosophy, ethic or ideology, also known as Ubuntuism or Hunhuism (the latter after the corresponding Shona term) propagated in the Africanization (transition to majority rule) process of these countries during the 1980s and 1990s. Since the transition to democracy in South Africa with the Nelson Mandela presidency in 1994, the term has become more widely known outside of Southern Africa, notably popularized to English language readers by Desmond Tutu (1999). HubPages. Free Energy. Blue Me Portable Vacation Home | Modern Industrial Design and Future Technology - Tuvie.
Email Presenting you the all-new vacation home, which is portable!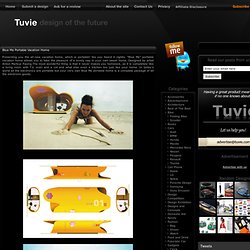 Yes you heard it rightly. "Blue Me" portable vacation home allows you to take the pleasure of a lovely nap in your own sweet home. Designed by artist Anton Markus Pasing.The most wonderful thing is that it never makes you homesick, as it is completely like a living room with T.V, oven and a cot and what else even a kitchen too just like your home. Shipping container home. Go to step by step constuction Remote accomodation is always a challenge in difficult terrain.
What follows is an example of using two conventional shipping containers to create 90 square meters of living space in dense rainforest adjoining World Heritage Rainforest. The facility, on a nature refuge is used for rainforest research.
---