Baking Blogs
Lavender Blueberry Muffins. Muffins are an awesome addition to any breakfast or brunch spread.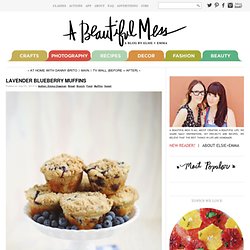 Probably what I love most about them is you can easily make them a day or two ahead of time, store in an airtight container in your refrigerator, and then just rewarm them (in the oven or the microwave) before serving. Many breakfast foods can't hold up to this kind of thing. Have you ever tried microwaving scrambled eggs? 29 Heavenly Treats For Mint Chocolate Chip Lovers. Peanut Butter Banana Bread Muffins Recipe. Peanut Butter Banana Bread Muffins Recipe. 22 Desserts In Jars For Summer Picnics. 15 Fresh & Bright Desserts for Spring Recipes from The Kitchn. Honey Lavender Panna Cotta. OK, this makes three - three!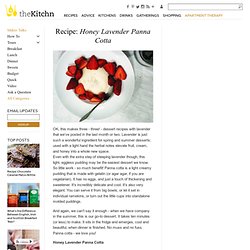 - dessert recipes with lavender that we've posted in the last month or two. Lavender is just such a wonderful ingredient for spring and summer desserts; used with a light hand the herbal notes elevate fruit, cream, and honey into a whole new space. Even with the extra step of steeping lavender though, this light, eggless pudding may be the easiest dessert we know. How to Make Light, Airy Pavlova. Despite being named after a world-class ballerina, I can't help but think of the pavlova as a rather humble and homely thing.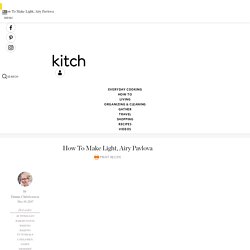 I love the way the billowy whipped cream slumps into the cracked surface of the meringue, making a cozy nest for the fruit to rest. But perhaps the pavlova was named for the way it tastes: an arabesque of sweetness, a leap of airy confection, the beloved pas de deux of fresh fruit and cream. Like Anna Pavlova herself, it's perfect.
A whipped cream topping is my favorite for a featherlight dessert, but lemon or other fruit curds are also traditional—not to mention a good way to use up the leftover yolks! Vegan Peanut Butter Pretzel Caramel Chocolate Truffles: A No Bake Christmas Treat. Nothing says the holidays more than no bake chocolate truffles.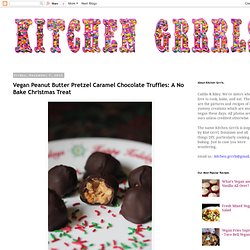 Some variation on this recipe has been a Christmas tradition in our family for forever. This peanut butter + peanuts + pretzels + caramel sauce might be the best variation yet. This recipe is totally vegan as well, and if you substitute gluten free pretzels then it can be GF as well. Pretzel Peanut Caramel Peanut Butter Cookie Dough Chocolate Truffles. Christmas Cookie Exchange: Vegan Gluten-Free Coconut Snow Cookies from Healthful Pursuit. I think powdered sugar is possibly the prettiest Christmas cookie decoration; it's just too bad that it's usually used to dress up bland, dry cookies.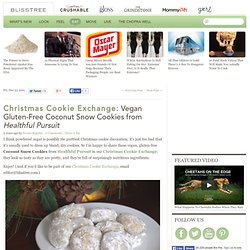 So I'm happy to share these vegan, gluten-free Coconut Snow Cookies from Healthful Pursuit in our Christmas Cookie Exchange; they look as tasty as they are pretty, and they're full of surprisingly nutritious ingredients. Enjoy! (And if you'd like to be part of our Christmas Cookie Exchange, email editor@blisstree.com.) Ingredients: 1 cup apple sauce 2 tbsp chia seeds, ground (coffee grinder works great!) Miette Culinary Studio | Recipes. < Back to Recipes < Ingredients 1 T.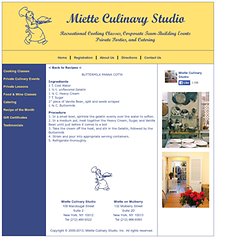 Cold Water 1 ½ t. unflavored Gelatin 1 ¼ C. Heavy Cream 7 T. Tuesday Tastings :: Blueberry-Lemon Coffee Cake. This weekend, in between the SXSW madness and hopping from panel to party and home again… I had a sudden urge to bake.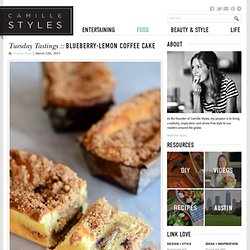 Not sure what brought it on (other than my usual cravings for something sweet,) but I stole a couple hours away from the crowds, strapped Phoebe in her baby carrier and fired up the oven. But since a trip to the grocery store wasn't in the cards, I had to get creative and come up with something I could make using only the contents of my fridge. Lots of lemons and fresh blueberries led me to doing some kind of breakfast cake or muffins…and my mom always told me that any cake recipe that included sour cream as an ingredient was probably good.
I only had half a container, but guess what? I had tons of plain greek yogurt, which seemed like a pretty good stand-in (healthier, too!) 31 Fantastic Passover Desserts. Www.food.com/recipe/cranberry-oatmeal-muffins-37861. The Perfect Bite :: Nutella Shortbread Sandwiches. I (Jess) am always on the hunt for a no-fail cookie, and this simple 5-ingredient recipe turns out perfectly flaky shortbread every time.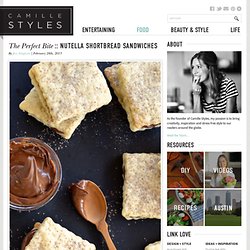 Add in Nutella — which I daresay is as popular as Oprah — and you've got yourself a winner. To prep the dough, I gave my arms a workout with a pastry cutter to keep the butter from becoming melty (which would result in a too-tough cookie.) How to Make Easy Homemade Lemon Curd Cooking Lessons from the Kitchn. Lemon curd is one of those things that I always like to have in my refrigerator.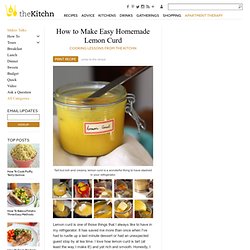 It has saved me more than once when I've had to rustle up a last minute dessert or had an unexpected guest stop by at tea time. I love how lemon curd is tart (at least the way I make it!) And yet rich and smooth. Coconut Lime Cupcakes. So, the other day I was watching 2 Broke Girls - and for anybody who doesn't know, basically it's a show about two girls with a cupcake business.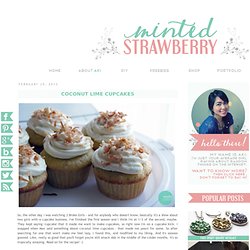 I've finished the first season and I think I'm at 1/3 of the second, maybe. They kept saying 'cupcake' that it made me want to make cupcakes, so right now I'm on a cupcake kick. I snapped when Max said something about coconut lime cupcakes - that made me yearn for some. So after searching for one that won't make me feel lazy, I found this, and modified to my liking.
Healthy Chocolate Desserts. Double-Vanilla Meringue Cookies Recipe. Espresso Crinkles Recipe. Coconut-Almond Macaroons Recipe. Cinnamon-Almond Cookies Recipe. Spicy Oatmeal Crisps Recipe. 33 Amazing Gluten-Free Desserts For Valentine's Day. Zucchini Bread with Chocolate Chips Recipe. Vegan baking. DIY Pinata Cookies :: Handmade Charlotte. Valentine's Day Dessert: Cream Puffs with Vanilla Bean Pastry Cream. If ever there was a holiday to splurge on a delicious dessert, it is Valentine's Day. Cream Puffs, although they may seem daunting, are extremely easy to make. If you are feeling a bit indulgent, drizzle melted chocolate over the shells before dusting with powdered sugar. Cream Puff Shells Makes 20 – 25 Puffs 1/2 cup butter 1 cup water 1/4 teaspoon salt 1 cup all-purpose flour 4 eggs 1.Preheat oven to 425 degrees F (220 degrees C). Back to School Lunch Ideas and No Bake Chocolate Oatmeal Cookies.
- StumbleUpon. Icings Recipes at Bake Decorate Celebrate! - StumbleUpon. French Macarons. Most favorited all-time - page 20. White Chocolate Peppermint Fudge Recipe. Crazy Domestic: Melted Snowman Cookies - StumbleUpon. I saw a picture of these the other day on Allrecipes.com and thought it was such a cute idea, I had to try it. After googleing it, I found a good tutorial on Stacy's Sweet Shop. I modified a few things to make it more simple for me (less homemade more store bought). To see the original Melted Snowman Cookie, and meet the inventor herself, go check out Meaghan (great name) @ The Decorated Cookie! Here's what I used: Strawberry Margarita Jell-O Shooters. Strawberry Margarita Jell-O Shooters Margarita Jell-O Shooters ~ A fun farewell to summer and a festive edition to your Sunday football tailgate party or gatherings. For another Jello shooter variation like this one, check out my Lemon Drop Jello Shooters cut into the shape of lemon wedges and my Rocky Candy Shooters shaped just like the rock candy you loved as a kid.
Common Ingredient Substitutions Article. Banana Split Bites. Cheesecake Stuffed Strawberries | Oatmeal Peanut Carmelitas – Gingerbread Bagels. The Infamous Jacques Torres Chocolate Chip Cookies. Desserts for the Deserving.
---