Native American Wisdom of Elders
World Council of Elders. Native American Wisdom. Navajo Prayer "Beauty is before me, And beauty is behind me.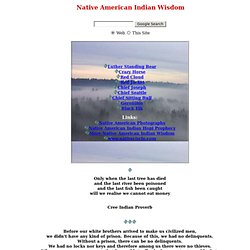 Above and below me hovers the beautiful. IONS Archives. Native American Proverbs and Wisdom. Don't be afraid to cry.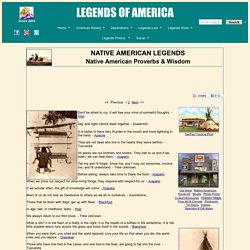 It will free your mind of sorrowful thoughts. - Hopi Day and night cannot dwell together. - Duwamish It is better to have less thunder in the mouth and more lightning in the hand. - Apache They are not dead who live in the hearts they leave behind. - Tuscarora All plants are our brothers and sisters. Native American Wisdom, Sayings, Quotes, Philosophy. A collection of sayings, quotes and words of wisdom reflecting the beliefs and philosophy of the Native Americans.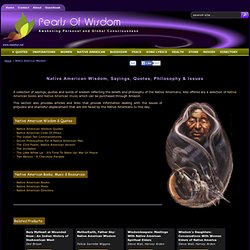 Also offered are a selection of Native American books and Native American music which can be purchased through Amazon. This section also provides articles and links that provide information dealing with the issues of prejudice and shameful displacement that are still faced by the Native Americans to this day. Native American Proverbs, Quotes, and Chants. The Native Americans (also known as the Indians or the American Indians) are the original inhabitants of the Americas (North, South and Central America including the Caribbean / West Indies Islands; all of which is also called the New World or the Western Hemisphere).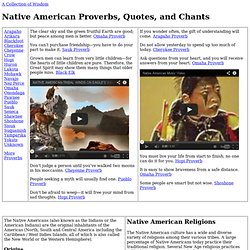 Origins Some scientists and archeologists believe that the Native Americans were people who originally came to the Americas from Asia around 13,000 BC, but possibly as early as 33,000 BC. This was a time when there was much more dry land on the earth than there is today, including a land route from Asia to North America. As centuries passed, much of the earth's land submerged under water due to severe climate changes. Other groups contend that Native Americans do not derive from Asian immigrants.
---