Techno NFC
Des boîtes intelligentes dans le 4e. Survey reports on consumer attitudes to next-gen loyalty. By Sarah Clark • nfcworld.com • Published November 29th, 2011 • Last updated 29 November 2011, 15:48 "There is undoubtedly consumer appetite for using new technologies when the benefits are made clear," says Ipsos Mori boss Simon Atkinson.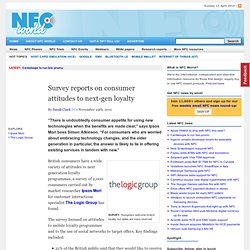 "For consumers who are worried about embracing technology changes, and the older generation in particular, the answer is likely to lie in offering existing services in tandem with new." SURVEY: Youngsters welcome hi-tech loyalty, but oldies are more reserved British consumers have a wide variety of attitudes to next generation loyalty programmes, a survey of 2,000 consumers carried out by market researcher Ipsos Mori for customer interactions specialist The Logic Group has found.
2012 será el año de la tecnología NFC con miles de aplicaciones ya en desarrollo en España | Cátedra Telefónica en la UPM. (DiarioTi.com Negocios Tic) La empresa española Gamma Solutions, especializada en ingeniería y soluciones de telecomunicaciones de vanguardia concluye en un estudio realizado para el sector que 2012 será el año clave para el desarrollo y asentamiento de la tecnología NFC en España.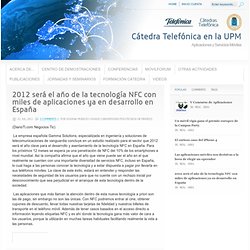 Para los próximos 12 meses se espera ya una penetración de NFC del 10% de los smartphones a nivel mundial. 500 million people worldwide to use their mobiles as metro and bus tickets by 2015. Hampshire, UK: 26th April 2011 – Half a billion people worldwide will use their mobile devices as travel tickets on metros, subways and buses by 2015, according to new forecasts from Juniper Research.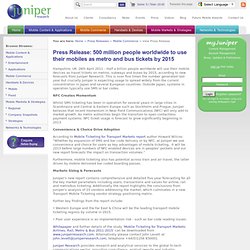 This is over five times the number generated last year but crucially Juniper is expecting usage to spread widely from the current concentration in Japan and several European countries. Outside Japan, systems in operation typically use SMS or bar codes. Save the date : Mobile World Congress du 27/02 au 01/03 2012. Date : 27 Février 2012 - 1 Mars 2012 Type d'évenement : Convention d'affaires Lieu : Hors Ile-de-France.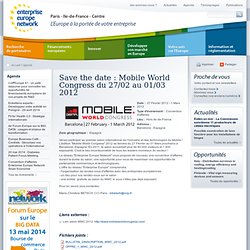 Report: Vast Majority of Consumers Will Need Push to Use NFC Payment | NFC Times New – Near Field Communication and all contactless technology. Fewer than 2% of consumers are "highly likely" to adopt NFC payments immediately after the technology is rolled out, according to UK-based research firm Datamonitor.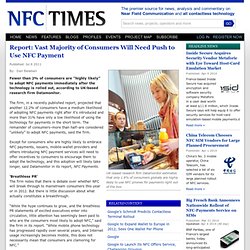 The firm, in a recently published report, projected that another 12.2% of consumers have a medium likelihood of adopting NFC payments right after it's introduced and more than 31% have only a low likelihood of using the technology for payments in the short term. The remainder of consumers–more than half–are considered "unlikely" to adopt NFC payments, said the firm. Except for consumers who are highly likely to embrace NFC payments, issuers, mobile-wallet providers and others introducing NFC payment services will need to offer incentives to consumers to encourage them to adopt the technology, and this adoption will likely take longer, said Datamonitor in its report, NFC Payments.
'Breathless PR' The firm notes that there is debate over whether NFC will break through to mainstream consumers this year or in 2012. NFC Brand Table lets food court customers order from their seats. By Mike Clark • nfcworld.com • Published October 24th, 2011 • Last updated 24 October 2011, 20:46 "I set out to seek a method of portraying NFC in a fun, childish manner so it would be easily understood by everyone," developer Stephen Davis has told NFC World.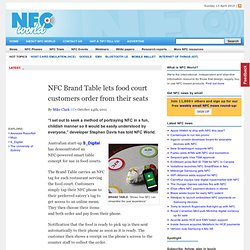 BRAND TABLE: 'Shows how NFC can streamline the user experience'
Carte de fidélité, programme de fidélisation, NFC, commerçant, commerce. Opérateur de fidélisation, ADELYA propose aux Enseignes, Villes et Commerçants des solutions de fidélisation et de relation client, uniques et innovantes, pour développer les ventes.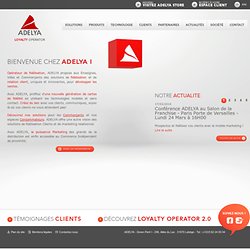 Avec ADELYA, profitez d'une nouvelle génération de cartes de fidélité en utilisant les technologies mobiles et sans contact. Créez du lien avec vos clients, communiquez, soyez là où vos clients ne vous attendent pas! Découvrez nos solutions pour les Commerçants et nos espaces Consommateurs. Cibles perso. Transformez votre quotidien avec NFC Tagstore !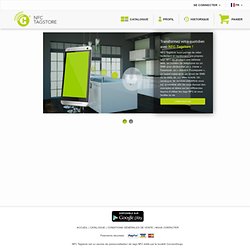 NFC Tagstore vous permet de créer facilement et rapidement vos propres tags NFC en stockant une adresse web, un numéro de téléphone ou un SMS pour déclencher un « J'aime » Facebook, un « check'in Foursquare », un appel instantané, un envoi de SMS ou la visite de vos sites favoris. Un catalogue de services prédéfinis vous est accessible afin de vous donner des exemples et idées sur les différentes façons d'utiliser les tags NFC et vous faciliter la vie. Technology & Learning.
---