Chocolate
Still the one: Cake-Pan Cake takes the cake. It was 20 years ago this month I moved from Maine to New Hampshire, found a job at King Arthur Flour across the river in Vermont… and discovered the best company in the world.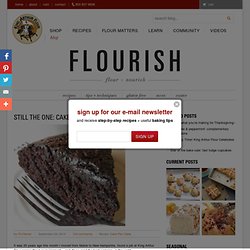 Frank and Brinna Sands owned King Arthur Flour back in 1990, when I arrived. Frank's family had been involved with the business since the early 1800s; generations of Sands men had sold King Arthur Flour, headed the company as president or, from 1932 to 1996, owned it outright. Vertical Layer Cake Tutorial - i am baker - StumbleUpon. I really need to preface this tutorial with...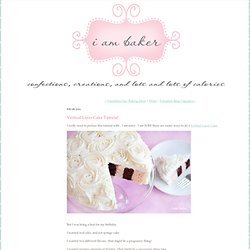 I am sorry. I am SURE there are easier ways to do a Vertical Layer Cake. But I was being a brat for my birthday. I wanted real cake, and not sponge cake. Inside-Out Neapolitan Layer Cake. I have great news!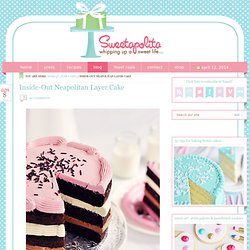 My temporary cake-diet, you know, the one during which I stopped eating cake, is over, and I've resumed my more permanent cake-diet, the one where all I think about and often indulge in cake. And, let me say, I ended it and restored order just in time: 3 layers of rich Southern Devil's Food Cake stacked between fluffy Neapolitan flavoured Swiss Meringue Buttercreams: Belgian Chocolate, Vanilla, and Strawberry, and topped with pure dark chocolate sprinkles from Holland.
Dine and Dish - Dine and Dish Blog - Rich and Delicious. What is the first thing that comes to mind when you hear the words "Rich and Delicious"?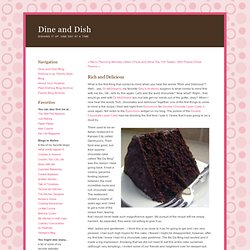 Well... yes, Dr McDreamy, my favorite Grey's Anatomy surgeon is what comes to mind first with me too. OK...let's try this again. Let's add the word chocolate? Now what? Right... that would go well with Dr McDreamy too, but lets get our minds out of the gutter, okay? Peanut Butter Cup Chocolate Cake Cheesecake.
Last week I got an email from a kind reader asking if I would consider developing a recipe for one of her favorite "factory-made" desserts.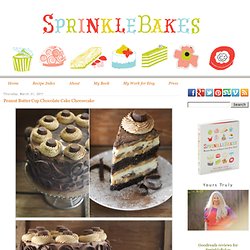 The minute I clicked the link she provided, I knew I wanted to make her cheesecake dreams come true. I had concerns about how this cake would translate to real world baking. No doubt it is mass-produced with industrial equipment since it is sold nationwide at a popular restaurant chain. I knew I would have to simplify each of the recipe's elements and keep the baking equipment simple. Chocolate Quake Cake. Maybe this blog should be renamed "Sprinkle Bakes Chocolate Cakes".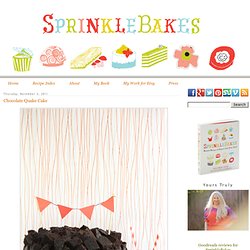 I've had a serious romance with the confection all year. First there was a very special chocolate cupcake recipe for pyromaniacs, soon after came Chocolate Whiskey Cake, then Chocolate Gâteau on the Half Shell, Nigella's Chocolate-Honey Cake, the proportionally epicPBC4 (as I've come to call it), and last week's post was dedicated to the marriage of chocolate cake and red wine. Mint Chocolate Chip Cake. Chocolate cake and I have had a very interesting romance.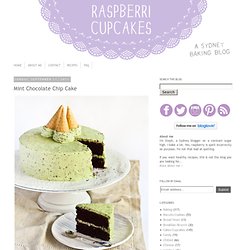 I started off with quite an intense dislike of chocolate cake. I KNOW. But try not to judge me too harshly, I had many bad experiences with store-bought dry, dense mudcakes covered in grainy baking chocolate icing. So every year when I asked Regex Man what cake he would like for his birthday and every year he replied me with "Chocolate. Pastry Affair - Home - Chocolate Fudge Cake with Ghost Meringues. When the house on the corner of my street pulls out the pumpkins, inflatable Frankenstein, huge tree-covering spiderwebs, and plastic black cats, I know that Halloween is on its way.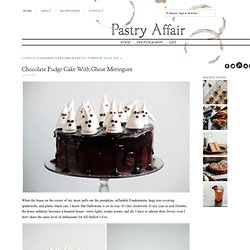 It's like clockwork. Every year in mid October, the home suddenly becomes a haunted house—eerie lights, creepy noises, and all. I have to admire their fervor, even I don't share the same level of enthusiasm for All Hallow's Eve. Pastry Affair - Home - Devil's Food Cake. There is something to be said about a simple chocolate cake.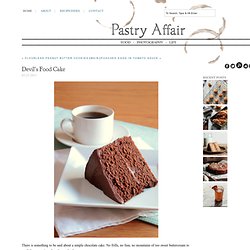 No frills, no fuss, no mountains of too sweet buttercream to spoil the treat—just chocolate and cake. Growing up, I didn't like chocolate. I didn't like the way it looked, the way it smelled, or the way it tasted. I avoided brownies, chocolate ice cream, and chocolate cake like the plague. I'd snub my nose at candy bars. Moist Chocolate Cake. There's something to be said for a cake that you can whip up at 9 o'clock on a Friday night, after a serious doozy of a week, when you need some baking therapy that requires little to no brain power.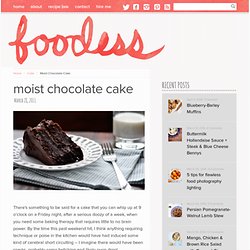 By the time this past weekend hit, I think anything requiring technique or poise in the kitchen would have had induced some kind of cerebral short circuiting – I imagine there would have been sparks, probably some twitching and likely even drool. Okay fine, so there might have been drool anyway. Actually, when the cake emerged, there was probably drooling and clapping. Fourteen for the Fourteenth. Fourteen Layer Cake. This is apparently a favorite at family get togethers in the South. Now, I'm from the South and I've never heard of such a thing.
---