Colour
Elliott Erwitt, Coloring Outside the Lines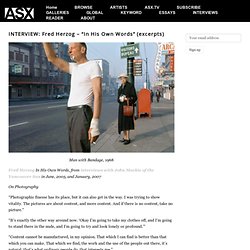 INTERVIEW: Fred Herzog - "In His Own Words" (excerpts) - Since 2008, AMERICAN SUBURB X | Art, Photography and Culture that matters.
Man with Bandage, 1968
American Colour 1962–1965 is a carefully edited selection of previously unpublished Tony Ray-Jones colour photographs from the earliest period of his work. Taken from the extensive archives held at the National Media Museum in Bradford by Liz Jobey, this book brings together the early experiments that would inform his later work.
Tony Ray-Jones - American Colour 1962-1965 | LensCulture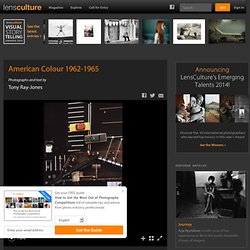 "When you have seen the city to a point when you think you have done it all, the horizon will suddenly sustain a crack and a new cycle of hitherto unseen phenomena will begin to form shadows on your film." – Fred Herzog Having a real passion for something is rare; the kind of passion where you can't think about anything else and all of your spare resources go into it.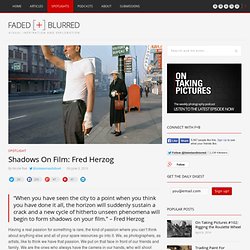 Shadows On Film: Fred Herzog
Stephen Shore | Leg of Lamb
Some work by Stephen Shore
Tony Ray-Jones in colour
19 September 2013Last updated at 22:05 ET When considering the 1960s, there are certain photographers whose names leap out at us, the majority from the world of fashion, with the so-called holy trinity of David Bailey, Terence Donovan and Brian Duffy at the forefront.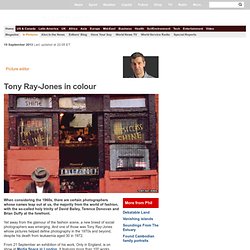 Shadows On Film: Fred Herzog » Faded + Blurred
HELMUT NEWTON: "COLOR"
ANTOINE D'AGATA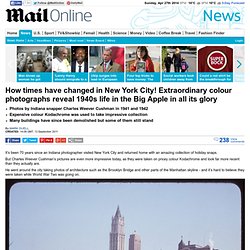 New York City photos by Charles W. Cushman reveal 1940s life in the Big Apple
Photos by Indiana snapper Charles Weever Cushman in 1941 and 1942 Expensive colour Kodachrome was used to take impressive collection Many buildings have since been demolished but some of them still stand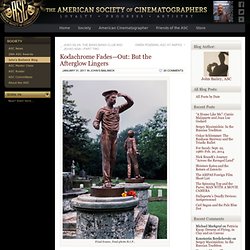 Final frame, final photo R.I.P.. This is the last photograph on the last roll of Kodachrome film manufactured by Kodak. It was taken by National Geographic photojournalist Steve McCurry with his trusty Nikon F, the camera on which for decades he loaded thousands of 36 exposure rolls of the 35mm color-transparency film.
The ASC: Kodachrome Fades—Out: But the Afterglow Lingers « John Bailey's Bailiwick
Chief Poking Fire, Kodachrome, Montreal, 1963 | Flickr : partage de photos !
HELEN LEVITT: "COLOR" (1971-1981
Paul Delaroche | The Execution of Lady Jane Grey | NG1909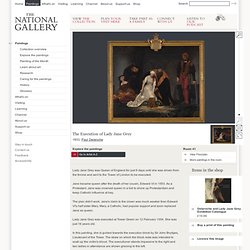 Lady Jane Grey was Queen of England for just 9 days until she was driven from the throne and sent to the Tower of London to be executed.
In the late 1930s and early 1940s, a German photographer and ardent Nazi named Hugo Jaeger enjoyed unprecedented access to the Third Reich's upper echelon, traveling with Adolf Hitler to massive rallies and photographing him at intimate parties and in quieter, private moments. The photos made such an impression on the Führer that Hitler famously declared, upon first seeing Jaeger's work: "The future belongs to color photography." But beyond merely chronicling Hitler's ceaseless travels, Jaeger also documented the brute machinery of the Reich, including the Nazi invasion of Poland in 1939.
Kutno WWII | The Brink of Oblivion: Inside Nazi-Occupied Poland, 1939-1940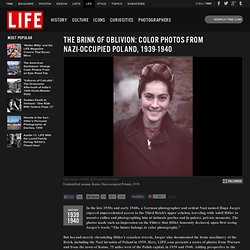 These vivid color photos taken during the Great Depression and World War II capture an era generally seen only in black-and-white.
Home : I BARELY REMEMBER _____________
Posted Jul 26, 2010 These images, by photographers of the Farm Security Administration/Office of War Information, are some of the only color photographs taken of the effects of the Depression on America's rural and small town populations.
America in Color from 1939-1943 - Plog
continuing to look at West Coast photographers....
Alex Prager
Moses Harris's 1766 chart, one of 100 diagrams
From his street photography in New York to his soft seascapes on Cape Cod, Joel Meyerowitz's pioneering work has been crucial to the acceptance of color photography among curators and collectors. The notion that color was somehow less worthy than black-and-white may seem quaint now, but it was a serious question in the 1960s.
Joel Meyerowitz Black and White in Color
"Who in the rainbow can draw the line where the violet tint ends and the orange tint begins? Distinctly we see the difference of the colors, but where exactly does the one first blendingly enter into the other? So with sanity and insanity."
Visual: movie poster color schemes, from 1914 to 2012 - Miramax
Software engineer Vijay Pandurangan recently analyzed color data from over 35,000 movie posters, in an attempt to test his theory that most posters have, over time, become darker and bluer. His findings, represented above, seem to support his theory.
Before and After D-Day: Rare Color Photos From England and France, 1944