Photography
Abundant photography: the misleading metaphor of the image flood
"We're exposed to an overload of images nowadays." That was the impetus behind Erik Kessel's 2011 "Photography in Abundance" installation, in which he printed off 1 million pictures to illustrate the number of daily uploads to Flickr. Kessels argues we confront a glut images on social media: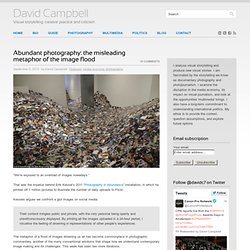 Lost photographs from Scott of the Antarctic's doomed expedition | Art and design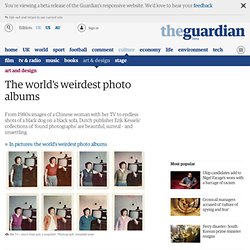 By any standards, Me TV is an odd photo book. It comprises eight found snapshots of a middle-aged Chinese woman standing in front of her new television set. In each, her pose is identical, right down to way the little finger of her left hand rests on the TV cabinet.
The world's weirdest photo albums | Art and design | The Guardian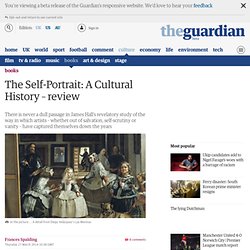 The Self-Portrait: A Cultural History review – 'profoundly human' | Books | The Guardian
In the picture … A detail from Diego Velázquez's Las Meninas "The moment when a man comes to paint himself – he may do it only two or three times in a lifetime, perhaps never – has in the nature of things a special significance." So Lawrence Gowing wrote, in an introduction to a 1962 exhibition of British self-portraits. And he is right: self-portraits, whether of men or women, have a particular call on our attention. Take Käthe Kollwitz's etching Self-portrait with Hand to her Forehead, reproduced in James Hall's new book.
• Copyright Tarnished •Is the time approaching when copyright protection will fade away. Photographers copyright is under attack. In general, copyright protects the creator of an original work allowing them to control their interests in the work. However, most countries recognise copyright limitations giving users some rights. These "fair" exceptions have mostly been related to "personal use" and contained situations…
Is the end near for copyright? | Photokonnexion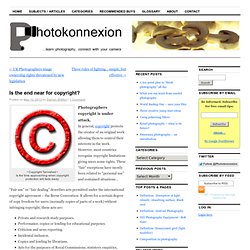 Watch: The Greatest Photography Documentaries | Article | Grolsch Film Works
In almost every picture #7 tells the story of a Dutch woman whose life is seen from the point of view of a fairground shooting gallery.The chronological series begins in 1936, when a 16-year-old girl from Tilburg in Holland picks up a gun and shoots at the target in a shooting gallery. Every time she hits the target, it triggers the shutter of a camera and a portrait of the girl in firing pose is taken and given as a prize. And so a lifelong love affair with the shooting gallery begins.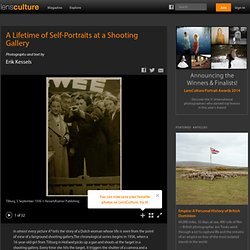 Erik Kessels - A Lifetime of Self-Portraits at a Shooting Gallery | LensCulture
My Favorite Dirt Roads by Robert Kinmont
pinterest
Touching Strangers: Richard Renaldi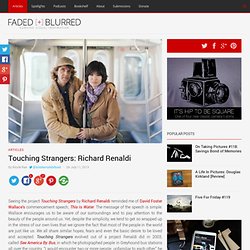 Seeing the project Touching Strangers by Richard Renaldi reminded me of David Foster Wallace's commencement speech, This Is Water. The message of the speech is simple: Wallace encourages us to be aware of our surroundings and to pay attention to the beauty of the people around us. Yet, despite the simplicity, we tend to get so wrapped up in the stress of our own lives that we ignore the fact that most of the people in the world are just like us. We all share similar hopes, fears and even the basic desire to be loved and accepted. Touching Strangers evolved out of a project Renaldi did in 2003, called See America By Bus, in which he photographed people in Greyhound bus stations all over the country. "I would encounter two or more people, unfamiliar to each other," he says "and I would ask my subjects if I could make their photograph."
Inspirational Photographers
Best remembered for his silkscreen paintings and Coke bottle sculptures, Robert Rauschenberg deserves a closer look for his lesser-known photographs, a portfolio of which we present here. Rarely without his trusty Rolleiflex camera, the proto-pop artist documented extraordinary moments throughout his life, from his student days at Black Mountain College with Merce Cunningham and John Cage, through travels to Rome and Venice with close friends including Cy Twombly, and at his Brooklyn Studio in the early 60s. Rauschenberg's black and white images starkly convey a sense of spontaneity, with his subjects often caught on the fly, as illustrated in the shots of Twombly wandering around the relics at Rome's Capitoline Museum, or Cunningham flexing his limbs in his New York rehearsal space.
Rauschenberg's Rolleiflex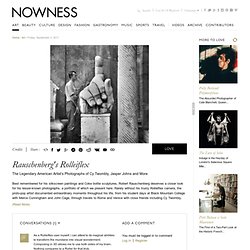 Paris Review - Children, Anon., from the personal collection of Terry Castle, Terry Castle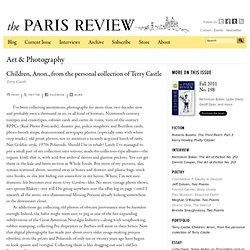 I've been collecting anonymous photographs for more than two decades now and probably own a thousand or so, in all kind of formats. Nineteenth-century tintypes and cyanotypes, cabinet cards and cartes de visite, turn-of-the-century RPPCs (Real Photo Postcards), disaster pix, police mugshots and Bertillon cards, photo-booth strips, deaccessioned newspaper photos (especially ones with white crop marks), old prom photos, not to mention a recently acquired batch of ratty, Nan Goldin–style, 1970s Polaroids. Should I be in rehab? Lately I've managed to put a small part of my collection into serious, made-for-collectors-type albums—the organic kind, that is, with acid-free archival sleeves and glassine pockets. You can get them in the kale and beets section at Whole Foods.
Cindy Sherman (American, born 1954)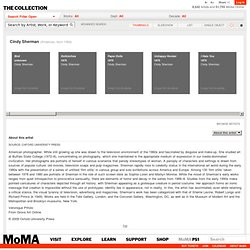 American photographer. While still growing up she was drawn to the television environment of the 1960s and fascinated by disguise and make-up. She studied art at Buffalo State College (1972–6), concentrating on photography, which she maintained is the appropriate medium of expression in our media-dominated civilization. Her photographs are portraits of herself in various scenarios that parody stereotypes of woman. A panoply of characters and settings is drawn from sources of popular culture: old movies, television soaps and pulp magazines.
Hipstamonochrome #18 « Hipstamonochromes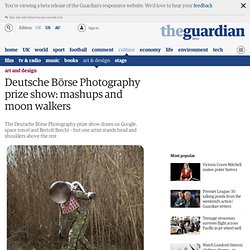 Google Street View has recorded the world. The camera-toting vans have seen astonishing things, from mountain lions patrolling parking lots to armed holdups, elks running down the highway, accidents and murders. Many of the images Street View has accidentally recorded have been sampled and published by the Canadian photographer Jon Rafman. Among his immense trawl of images are several of sex workers selling themselves at the roadside. I have seen some of these women myself: on sun-blasted Spanish roadsides and, once, on a Polish highway on the way to Treblinka.
Deutsche Börse Photography prize show: mashups and moon walkers | Art and design
The Rise, Near Demise, and Rebirth of the Leica Camera
Leica made its name a very long time ago by creating the first practical 35mm camera to use standard cinema 35mm film. The rest, as they say, is history. A history filled with successes and failures alike, most of the latter coming in the early 2000s when the company was having trouble moving into the digital age. In 2013, Leica has a couple of things to celebrate. For one, its no longer in financial trouble; and for another, the company is turning 100 this year. In light of that momentous birthday, here are a couple of short videos (the first one is above) by Deutsche Welle that take a look at Leica's past, present and future.
In pictures: Fidel Castro and Che Guevara photos sold
Martin Usborne
Scrapbook — Illuminating photography: From camera obscura to...
Jeremy Ramsden in his darkroom at Labyrinth in the East End of London. Photograph: David Secombe Jeremy Ramsden, who has died of a stroke aged 59, was one of the finest photographic printers of his generation. Jeremy could take a frame of anyone's film and turn it into a work of art on paper. His attention to detail was apparent in the way he would produce a variety of prints from the same frame, each having its own distinct mood and character. When you got your negatives back, you would see his meticulous notes written on little strips of masking tape affixed to the protective sheets.
Jeremy Ramsden obituary | From the Guardian
by Maria Popova From the camera obscura to the iPhone, or why photography is an art of continuous reinvention. Earlier this year, British publisher Laurence King brought us 100 Ideas That Changed Graphic Design, 100 Ideas That Changed Film, and 100 Ideas That Changed Architecture.
Photography is the art of our time | Art and design
It has taken me a long time to see this, and you can laugh at me if you like. But here goes. Photography is the serious art of our time.
Remembering Bonni Benrubi, Curator of Images
In History, Using Photography to Advance, Question or Alter Ideas About Race
The portrait for the carte-de-visite of Sojourner Truth, the African-American abolitionist and women's rights advocate, was taken in Battle Creek, Mich., in the 1860s (Slide 5). She wears an elegant silk dress and shawl. With one hand resting on her hip, the other on the arm of the chair, her pose is majestic and determined. She stares resolutely into the camera. But it is the object in her lap that remains one of the image's most revelatory details: an open daguerreotype of her grandson James Caldwell, a soldier during the Civil War.
Photography: is it art? | Art and design
F.N.D | Strand: Under the Dark Cloth
Moments of Reprieve: Representing Loss in Contemporary Photography at Visual Culture Blog by @MarcoBohr
Stalingrad: Damaged Photos Tell the Story of an Epic WWII Battle
Suzanne Ruta: Photographing Algeria
Paradise Lost: Twisted Postcards From Dystopic Vacations | Raw File
Bibliophilia / Chema Madoz #Photography
New Topographics: photographs that find beauty in the banal | Art and design
Self-portraits of photographers | The green box
The best photography websites, publications and galleries | Guardian photography guide | Art and design
Seduced by Art: Photography Past and Present, National Gallery, WC2 - review - Visual Arts - Arts - London Evening Standard
Chris Marker: PASSENGERS | Peter Blum Gallery
We Hereby Declare the Death of Film Photography - Houston Arts
Photos From Kodak's Picture Contests in the 1920s, '30s and '40s
Hidden Light: The Visual Language of an Autistic Photographer | NeuroTribes
memento mori photography
The artist with the bad camera | Photography
Good Soldier Michals by Martin Filler
New York professor installs camera in head
Man Ray: National Portrait Gallery stages first museum exhibition devoted to photographer's portraits
Chasing Light