Justice/ Sustainability Media
In order to collaborate one must communicate with others. Here are media outlets that are effective at conveying complex concepts through talented storyteling. All media forms welcome. Dec 6
Nonprofit Web Design in NYC | Bureau for Good
ZEN PENCILS - Cartoon quotes from inspirational folks
Skylight | Stories that illuminate
About Skylight | Skylight
Stories that Illuminate For 30 years Skylight has been committed to producing artistic, challenging and socially relevant independent documentary films & digital media tools on issues of human rights and the quest for justice. At Skylight we don't simply tell stories about human rights – we engage people in activism to promote international human rights. (Watch our Skylight 30 Years slideshow to see more) We create media with people; collaborating with community leaders, grassroots organizations, and NGO's to create media that tells their stories, and strengthens their efforts.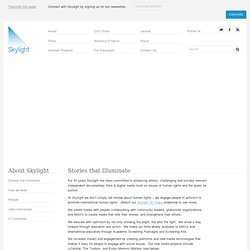 Upleaf: Strategic Online Communications for Nonprofits
Infomatic Films
www.awareguide.com
Adbusters Culturejammer Headquarters | Journal of the mental environment
ProPublica
We Are Change | Be the Change You Wish to See in the World | WeAreChange.org
Innovational Talks | Inspirational Talks & Videos | Motivational Speakers - The INK Conference - The INK Conference
Google Art Project - Google Art Project
NLM - New Left Media - Documentary Web Series
Cognitive Media | Home | Supercharge yourself. Think, talk and work more creatively.
Environment Infographics
For many of Earth's creatures, time is running out. Half of the world's plant and animal species will soon be threatened with extinction. The goal of the Photo Ark is to document biodiversity, show what's at stake and to get people to care while there's still time. More than 3,200 species have been photographed to date, with more to come. Click here to learn more about the Photo Ark and how buying a print can help. Click here to see behind the scenes with a clip on the project from NBC Nightly News.
The Photo Ark - Joel Sartore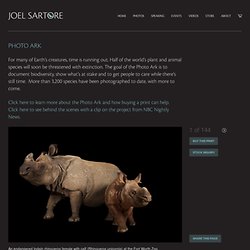 Oasis HD - Love Nature!
RSA Animate
Free Range Studios | Graphic Design | Storytelling | Washington, DC | Oakland, CA
The Juice Media | Rap News
COSMOVISION