Justice/ Sustainability Media
In order to collaborate one must communicate with others. Here are media outlets that are effective at conveying complex concepts through talented storyteling. All media forms welcome. Dec 6
Nonprofit Web Design in NYC | Bureau for Good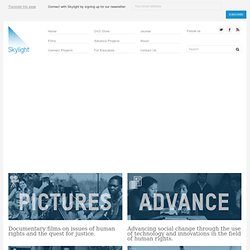 Skylight | Stories that illuminate
"I just finished watching Granito, and I am simply amazed at what has been accomplished. It was inspiring, terrifying, and humbling all at once. Thank you so very much for agreeing to share this with us.
About Skylight | Skylight
Stories that Illuminate For 30 years Skylight has been committed to producing artistic, challenging and socially relevant independent documentary films & digital media tools on issues of human rights and the quest for justice. At Skylight we don't simply tell stories about human rights – we engage people in activism to promote international human rights. (Watch our Skylight 30 Years slideshow to see more) We create media with people; collaborating with community leaders, grassroots organizations, and NGO's to create media that tells their stories, and strengthens their efforts.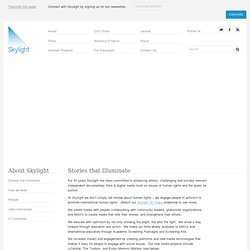 Upleaf: Strategic Online Communications for Nonprofits
Infomatic Films
Wings Of Life is a stunning adventure full of intrigue, drama and mesmerizing beauty. Narrated by Meryl Streep, this intimate and unprecedented look at butterflies, hummingbirds, bees, bats and flowers is a celebration of life, as a third of the world's food supply depends on these incredible – and increasingly threatened – creatures. Directed by acclaimed filmmaker Louie Schwartzberg, Wings of Life utilizes riveting high-speed, closer-than-close filmmaking techniques to showcase in spectacular detail these unsung heroes of our planet.
www.awareguide.com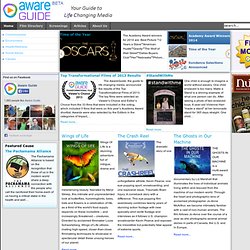 Adbusters Culturejammer Headquarters | Journal of the mental environment
ProPublica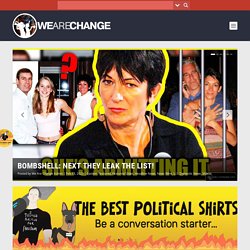 BLM ends Bundy cattle roundup, citing safety issues www.mynews3.com BUNKERVILLE – The gathering of rancher Cliven Bundy's cattle in northeast Clark County has been stopped by the director of the Bureau of Land Management.
We Are Change | Be the Change You Wish to See in the World | WeAreChange.org
Innovational Talks | Inspirational Talks & Videos | Motivational Speakers - The INK Conference - The INK Conference
Google Art Project - Google Art Project
NLM - New Left Media - Documentary Web Series
Cognitive Media | Home | Supercharge yourself. Think, talk and work more creatively.
Environment Infographics
For many of Earth's creatures, time is running out. Half of the world's plant and animal species will soon be threatened with extinction. The goal of the Photo Ark is to document biodiversity, show what's at stake and to get people to care while there's still time. More than 3,200 species have been photographed to date, with more to come. Click here to learn more about the Photo Ark and how buying a print can help. Click here to see behind the scenes with a clip on the project from NBC Nightly News.
The Photo Ark - Joel Sartore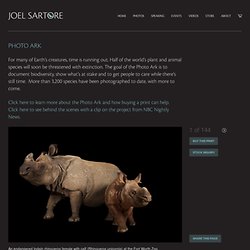 Oasis HD - Love Nature!
RSA Animate
Free Range Studios | Graphic Design | Storytelling | Washington, DC | Oakland, CA
The Juice Media | Rap News
COSMOVISION