Film & Animation
Soylent green - the scene. The Tree of Life Movie Trailer Official. Fanny and Alexander Prologue. Tarkovsky's "Sacrifice": End Credits Music. Paradjanov - Sayat Nova. Nostalghia (1983. Edit Storyline The Russian poet Andrei Gorchakov, accompanied by guide and translator Eugenia, is traveling through Italy researching the life of an 18th-century Russian composer.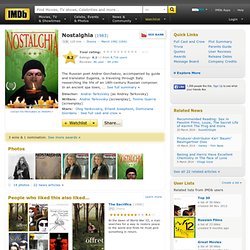 In an ancient spa town, he meets the lunatic Domenico, who years earlier had imprisoned his own family in his house for seven years to save them from the evils of the world. Max Manus. Maximo Guillermo "Max" Manus DSO, MC & Bar (9 December 1914 – 20 September 1996) was a Norwegian resistance fighter during World War II.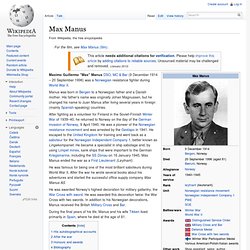 Manus was born in Bergen to a Norwegian father and a Danish mother. His father's name was originally Johan Magnussen, but he changed his name to Juan Manus after living several years in foreign (mainly Spanish-speaking) countries. He was famous for being one of the most brilliant saboteurs during World War II. After the war he wrote several books about his adventures and started the successful office supply company Max Manus AS. He was awarded Norway's highest decoration for military gallantry, the War Cross with sword.
A Man Of War: Max Manus - Trailer. Sintel, the Durian Open Movie Project. Nederlandse animatiefilm Sintel vrijgegeven op internet. De Nederlandse animatiestudio Blender Institute heeft de animatiefilm Sintel op internet geplaatst.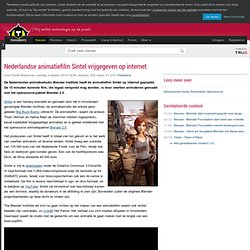 De 15 minuten durende film, die legaal verspreid mag worden, is door veertien animatoren gemaakt met het opensource-pakket Blender 2.5. Sintel is een fantasy-animatie en gemaakt door het in Amsterdam gevestigde Blender Institute, de animatiestudio die enkele jaren geleden Big Buck Bunny uitbracht. Orson Welles on Privacy, the Passport and Personal Rights | The. Orson Welles was best known for his work as an American film director and actor – Citizen Kane being his pivotal career piece, which he co-wrote, produced, directed and starred in.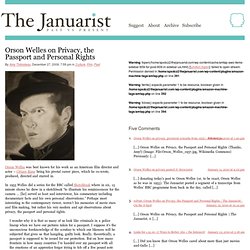 In 1955 Welles did a series for the BBC called Sketchbook where in six, 15 minute shows he drew in a sketchbook "to illustrate his reminiscences for the camera … [he] served as host and interviewer, his commentary including documentary facts and his own personal observations." Perhaps most interesting to the contemporary viewer, weren't his memories of movie stars and film making, but rather his very modern and apt observations about privacy, the passport and personal rights.
I wonder why it is that so many of us look like criminals in a police lineup when we have our pictures taken for a passport. Ingmar Bergman - BBC 1.
---