Gimp
Get flash to fully experience Pearltrees
Bibliography Books [ APRESS00 ] Beginning GIMP: From Novice to Professional . Akkana Peck . Copyright © 2006 Apress Inc..
It was fun to to follow Abduzeedo tutorial for making bokeh digital effect in Photoshop (i'm using photoshop and gimp) and i really excited when i managed to do similiar effect in Gimp. So i decided to make a Gimp tut for this one..it's been over a months since my last tutorial and i think after this i'll make more Gimp tuts..Click More Inside The Post to read the tutorial. P/s: This tutorial has been converted from the original Photoshop tutorial into Gimp. The original Photoshop tutorial can be found HERE in Abduzeedo site.
1 If you get a larger refund or smaller tax due from another tax preparation method, we'll refund the applicable TurboTax federal and/or state purchase price paid. TurboTax Federal Free Edition customers are entitled to payment of $14.99 and a refund of your state purchase price paid. Claims must be submitted within sixty (60) days of your TurboTax filing date and no later than 6/15/13.
In this Gimp tutorial we will create a round web 2.0 button/icon with a metal ring around it. This button is very handy for download icons and such, and it can easily be customized, especially with gradients. This is what we're going to create, we will also look at some variations of the button afterwards. Step 1 Create a new image with a white background.
Preview: This web 2.0 text logo tutorial was made for beginners as well as intermediate users, ill be doing it step by step and try not to skip anything so expect it too be long and easy!. will be learning several techniques that could be used for many things other than text logos, some of what will be doing:
In this button tutorial you will learn how to create a nice blue glossy Web 2.0 button with a reflection in Gimp. Step 1 Create a new image with a white background.
Preview: Have a look at the end result you really need to see it to appreciate this tutorial :) also inside is a html/java script example of a Rollover in action . A friend of mine requested that i make a simple yet cool Vista style button tutorial for gimp, so here is what i came up with. Step 1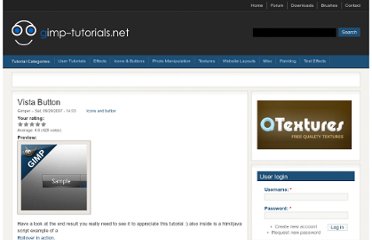 Preamble This tutorial has been updated for use with GIMP 2.6. I have split the tutorial into two different levels. The one on this page is for people reasonably familiar with the GIMP interface and image manipulation commands. The second is for people with very little experience of image manipulation programs and GIMP particularly.