Headphone audio
500GB High Resolution DSD Audio Music Player System - HAPS1/ Review
Grado Headphones Shirt Shop
AEDLE - High-end Audio Accessories
U-Turn Audio
Forza AudioWorks
Google Translate
Pelican MicroCases from Pelican-Case.com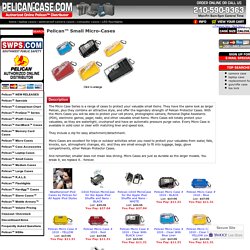 The Micro Case Series is a range of cases to protect your valuable small items. They have the same look as larger Pelican, plus they combine an attractive style, and offer the legendary strength of Pelican Protector Cases. With the Micro Cases you will be able to protect your cell phone, photographic camera, Personal Digital Assistants (PDA), electronic games, pager, radio, and other valuable small items. Micro Cases will totally protect your valuables, as they are watertight, crushproof and have an automatic pressure purge valve. Every Micro Case is available in solid color or clear with matching liner and speed lock.
High Definition Tape Transfers
Red Wine Audio – battery powered purist hi-fi
b>RFI/EMI Protection Caps</b>
Paradox Audio - Home
MS-AK100 [Engine by iGetWeb.com]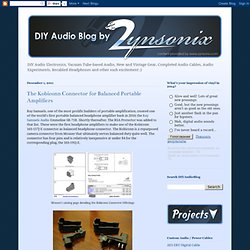 Ray Samuels, one of the most prolific builders of portable amplification, created one of the world's first portable balanced headphone amplifier back in 2010; the Ray Samuels Audio Emmeline SR-71B. Shortly thereafter, The RSA Protector was added to that list. These were the first headphone amplifiers to make use of the Kobiconn 163-157J-E connector as balanced headphone connector. The Kobiconn is a repurposed camera connector from Mouser that ultimately serves balanced duty quite well.
DIY Audio Electronics from Zynsonix.com: The Kobiconn Connector for Balanced Portable Amplifiers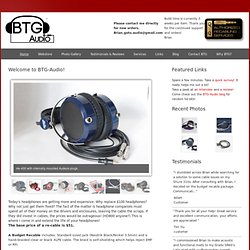 BTG-Audio
A Budget Recable includes: Standard sized jack (Neutrik Black/Nickel 3.5mm) and a hand-braided clear or black XLPE cable. The braid is self-shielding which helps reject EMF or RFI. If you would like a cable, please visit my webstore before contacting me.
Mad Dog Headphone Store
Double Helix Cables, Custom OCC Copper Cables for every audio system...
New cable orders ship in 8 weeks. Extreme demand & our expanding dealer network means slightly longer wait times, we will be caught up soon. DHC will be providing international product guides: คู่มือสินค้า Double Helix Cables ประจำปี 2014 Complement2, Metagenome2 and more under review by Mike Mercer at Audio360! PFO review with Mike Mercer also coming soon!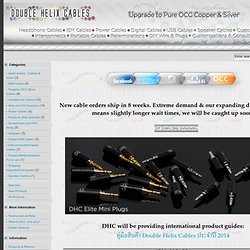 Home Page | InnerFidelity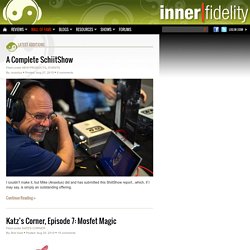 Darwin said, "As neither the enjoyment nor the capacity of producing musical notes are faculties of the least direct use to man in reference to his ordinary habits of life, they must be ranked among the most mysterious with which he is endowed." Indeed. Why is music so pleasurable?
GRADO ONYX MANTA | Turbulent Labs
NOTESIntroducing our flagship headband, the Onyx manta. MATERIALSWe decided to finally create a benchmark headband for Grado headphones by using the best leather available from tanneries. The burnished finish is due to the extra treatment process of the leather which produces a certain glossiness; helps protect the leather hence enhancing its durability. The change in leather allows the padding to distribute more evenly across the headband. DETAILSCan be installed into all Grado and Alessandro Headphones.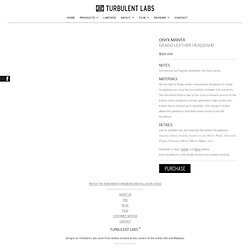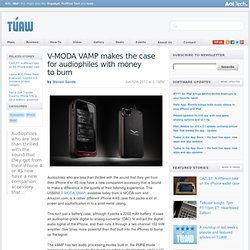 Audiophiles who are less than thrilled with the sound that they get from their iPhone 4 or 4S now have a new companion accessory that is bound to make a difference in the quality of their listening experience. The US$650 V-MODA VAMP, available today from V-MODA.com and Amazon.com, is a rather different iPhone 4/4S case that packs a lot of power and sophistication in to a solid metal casing. This isn't just a battery case, although it packs a 2200 mAh battery. It uses an audiophile-grade digital-to-analog converter (DAC) to extract the digital audio signal of the iPhone, and then runs it through a two-channel 150 mW amplifier (five times more powerful than that built into the iPhone) to bump up the signal. The VAMP has two audio processing modes built-in: the PURE mode processes audio to provide the truest sounding audio playback, while a VQ mode adds a "slight spatial 3D soundstage, tightened bass, and increased treble attack" to punch up the sound.
V-MODA VAMP makes the case for audiophiles with money to burn
Vampeo
Thunderpants Headphones
CEntrance -> Home
Following three years of painstaking research, Symphones proudly presents a new benchmark in headphone modification, the Magnum enhancement. Developed for the audio purist, the Symphones Magnum enhancement is a custom-built reference upgrade currently available to Grado SR325 and Alessandro MS2 headphones. Click here to find out why Magnum is the world's finest sounding headphone upgrade. Keep track of the Symphones Magnum launch on the internet's largest headphone community, Head-fi.org. Go!
Symphones.ca - Home - Grado and Alessandro Upgrades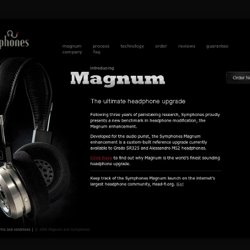 Schiit Audio — Headphone amps and DACs, made in USA.
睿志音响
ALO audio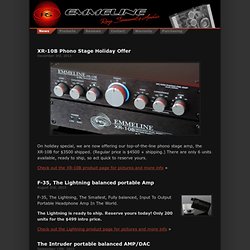 Emmeline SR-71B – Quad mono fully balanced, input-output, portable amp. There is nothing out there to even come close to what the SR-71B can offer. The state of the art fully differential input to output with best audio specs ever when it comes to low noise, bandwidth, slew rate & dynamics.
News - Ray Samuels Audio
Audeze |
Headfonia: Dynamics, Orthodynamics, Electrostatics, and In-Ears Headphone Comparisons and Reviews.
www.thunderpantstp1.com
Ohrenholz
Please Wait... Who's Online 2920 Users (672 Members, 2248 Guests) 62ohm AnakChan AnalogSavior badhorsie bhattsan chiman cswann1 dailydoseofdaly EthanHarte EuphonicArin exSpire ForceMajeure goldendarko headwhacker jimmers JMcMasterJ johnwu KraftD1 lljayll M-13 mcgsxr melkenshawn MIBViking MIKELAP MrL00fer mrsdad mstorie naddy nimaina nycdoi NZtechfreak owatito pervysage phillyd proton007 rggz sampsonite ScreenKiller Sipsey Bandit SonusAudio Stevtt thievesarmy tim3320070 Uncle00Jesse Voohoo waynes world wickson wytwolf y5un Zebra view all › Head-Fi.org - Headphone forums and reviews for audiophiles
Woo Audio High-End Tube Amplifiers - The Sound of Excellence