Google Scripts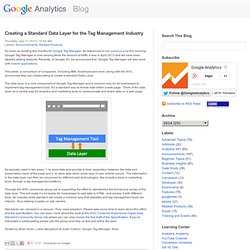 Creating a Standard Data Layer for the Tag Management Industry - Analytics Blog
It's been an exciting few months for Google Tag Manager. As referenced in our previous post this morning, Google Tag Manager is now serving twice the amount of traffic it was in April 2013 and we have been steadily adding features. Recently, at Google I/O, we announced that Google Tag Manager will also work with mobile applications. This week, a consortium of companies, including IBM, Accenture and more, along with the W3C, announced they are collaborating to create a standard Data Layer. The data layer is a core component of Google Tag Manager and a common way for all businesses to implement tag management tools. It's a standard way to format data within a web page.
Quick Start Guide - Google Tag Manager
Utilisez la base de données ScriptDB de Google Apps Script | Just docs it
Google lors de sa conférence Google I/O a annoncé l'arrivée d'une base de données dans les script.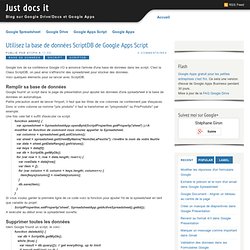 Créer une alerte sur Le bon coin | Just docs it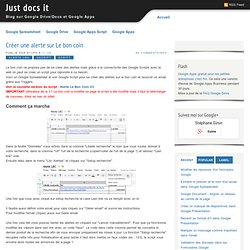 Le bon coin ne propose pas de se créer des alertes mais grâce à la connectivité des Google Scripts avec le web on peut se créer un script pour répondre à ce besoin. Voici un Google Spreadsheet et son Google Script pour se créer des alertes sur le bon coin et recevoir un email grâce aux Triggers.Voir la nouvelle version du script :Alerte Le Bon Coin V2IMPORTANT utilisateur de la V1 Le bon coin a modifié sa page le script a été modifié mais il faut le télécharger de nouveau. Allez en bas du billet.
Les triggers pour les scripts dans google spreadsheet | Just docs it
Performance et Simplicité du SI: Un diagramme de Gantt dans un Google Site
Chrome Developer Tools: Resources Panel - Google Chrome Developer Tools - Google Code
Drive SDK
The Google Drive UI provides two ways to open files: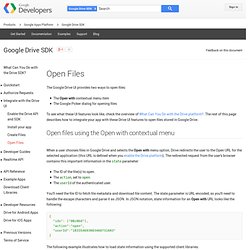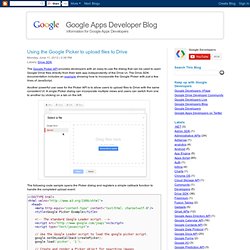 Using the Google Picker to upload files to Drive
The Google Picker API provides developers with an easy-to-use file dialog that can be used to open Google Drive files directly from their web app independently of the Drive UI.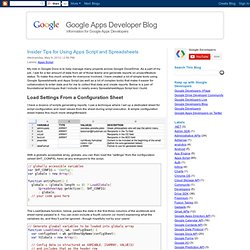 My role in Google Docs is to help manage many projects across Google Docs/Drive. As a part of my job, I ask for a fair amount of data from all of those teams and generate reports on project/feature status.
Insider Tips for Using Apps Script and Spreadsheets
Tableau de bord Google Apps Script
Google Apps Script Tutoriel: Comment faire pour créer une interface utilisateur en utilisant Apps Script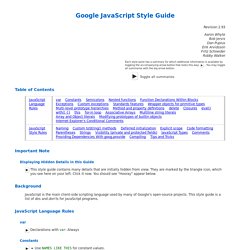 We follow the C++ formatting rules in spirit, with the following additional clarifications.
Apps Script - Google Code
Apps Script - Google Apps Script - Google Code
Voilà le pas à pas dont je parlais dans le Pearltree by bouche42 Feb 23
Script in Response to Event
Liens scripts feuille de calcul
Mastering Javascript Arrays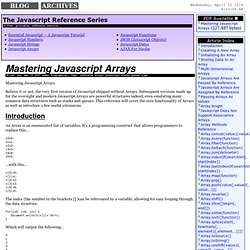 Warning: strtotime() [function.strtotime]: It is not safe to rely on the system's timezone settings. You are *required* to use the date.timezone setting or the date_default_timezone_set() function. In case you used any of those methods and you are still getting this warning, you most likely misspelled the timezone identifier.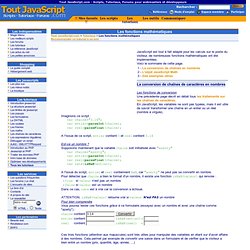 JavaScript est tout à fait adapté pour les calculs sur le poste du visiteur, de nombreuses fonctions mathématiques ont été implémentées.
Tout JavaScript.com [Tutoriaux javascript et PHP] - Scripts, Tutoriaux, Forums pour webmasters et développeurs
Fonction : isNaN() - Référence Tout JavaScript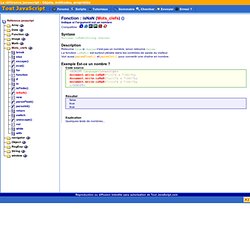 Fonction : isNaN (Mots_clefs) ()Indique si l'argument est un nombreCompatible : SyntaxeBoolean isNaN(String chaine)
JavaScript: Des fondamentaux aux concepts avancés (bibliothèques Prototype ... - Emmanuel Gutierrez
Javascript - Page 1
How to create UI using Apps Script
Ui Services - Google Apps Script - Google Code
Calendar Services - Google Apps Script - Google Code
Introducing the Script Service
Triggers in Apps Script allow you to schedule your script's execution in response to an event, at a specific time and date, or at given time intervals.
kh-samples.googlecode.com/svn/trunk/code/appsscript.js
script Class Contacts
Je ne vais pas détailler toute la classe Contact mais donner quelques astuces qui m'ont manquées quand j'ai voulu l'utiliser.
Grading Made Easy using Apps Script
Editor's Note: Guest author Dave Abouav is a Google employee who is a part-time instructor for a night class in physics.
Grading Made Easy using Apps Script
Repost from Google Apps Developer Blog.
Script : Facturation
Générer un pdf à partir d'un formulaire Google Spreadsheet
Google Spreadsheet Programming With JavaScript: Using the Google App Scripting API - Part 1
See chapters 4 and 5 in this book on Leanpub Introduction User-defined functions which were discussed previously take input either from spreadsheet cells or as user-supplied literals and return the value to the cell in which they are invoked.
Google Spreadsheet Programming With JavaScript: Using the Google App Scripting API - Part 2
Happy New Year - New Features in Flubaroo!! - Welcome to Flubaroo