Apple
Form and Fortune. Apple to announce tools, platform to "digitally destroy" textbook publishing. Apple is slated to announce the fruits of its labor on improving the use of technology in education at its special media event on Thursday, January 19.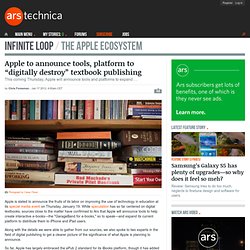 While speculation has so far centered on digital textbooks, sources close to the matter have confirmed to Ars that Apple will announce tools to help create interactive e-books—the "GarageBand for e-books," so to speak—and expand its current platform to distribute them to iPhone and iPad users. Along with the details we were able to gather from our sources, we also spoke to two experts in the field of digital publishing to get a clearer picture of the significance of what Apple is planning to announce. Kunming, la ville chinoise aux 22 faux magasins Apple. Steve Jobs: The man who polished Apple - Times Online. How Steve Jobs 'out-Japanned' Japan.
Jeff Yang muses on how Apple managed to beat the tech titans of Japan by playing their game, only better The better part of a month has gone by, and most pundits have already weighed in on this year's CES -- the global gadget extravaganza that makes Las Vegas the gravitational center of the geek universe every January.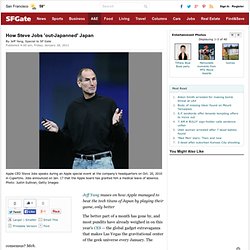 The consensus? Meh. Applestore after Job's Death. Analysts: Apple's growth next year to drop to half of what it could obtain during the recession. Apple is having difficulty meeting demand for the iPhone and the iPad.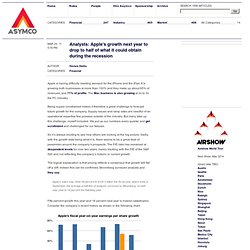 It is growing both businesses at more than 100% and they make up about 65% of revenues, and 71% of profits. The Mac business is also growing at 2x to 3x the PC industry. INCONVENIENT TRUTH: Your iPhone Was Built, In Part, By 13 Year-Olds Working 16 Hours A Day For $75 A Week. Steve Jobs's Real Genius. Not long after Steve Jobs got married, in 1991, he moved with his wife to a nineteen-thirties, Cotswolds-style house in old Palo Alto.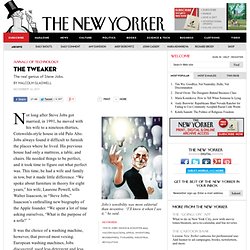 Jobs always found it difficult to furnish the places where he lived. His previous house had only a mattress, a table, and chairs. Pomme, philosophie et esthétique | Digital-In. Utilisateur régulier des produits Apple avant même que cela ne relève de la béate branchitude collective, c'est un sentiment de circonspection gênée qui m'avait envahi quelques heures après la mort de Steve Jobs.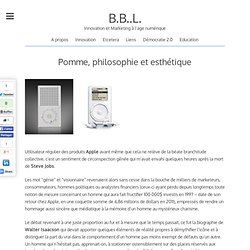 Les mot "génie" et "visionnaire" revenaient alors sans cesse dans la bouche de milliers de marketeurs, consommateurs, hommes politiques ou analystes financiers (ceux-ci ayant perdu depuis longtemps toute notion de mesure concernant un homme qui aura fait fructifier 100 000$ investis en 1997 – date de son retour chez Apple, en une coquette somme de 6,86 millions de dollars en 2011), empressés de rendre un hommage aussi sincère que médiatique à la mémoire d'un homme au mystérieux charisme.
---