Apple Sep1,2010 Tech Updates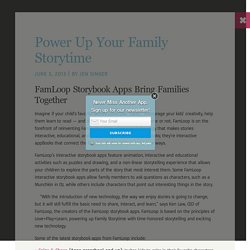 Power Up Your Family Storytime
June 3, 2013 | by Jen Singer Imagine if your child's favorite stories could talk, "listen," encourage your kids' creativity, help them learn to read — and share with you whether you're home or not.
Winky Google Glass App Takes Pictures When You Blink
Leave it to Disney to make the history of 44 Presidents (dare I say?) fun at Cool Mom Tech
Today's Inauguration gives us a great opportunity to talk to the kids about the role of our President and some of the more interesting and colorful figures to have graced the Oval Office. But, if you slept through history class as much as I did, you may also find it hard to remember the details and dates of all 44 presidencies. Which is where an incredibly smart app for the iPad will come in very handy.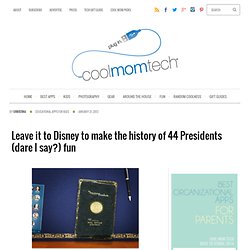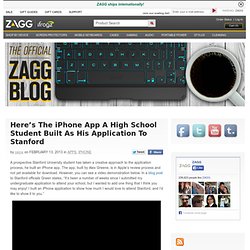 <div class="greet_block wpgb_cornered"><div class="greet_text"><div class="greet_image"><a href="http://www.zagg.com/community/blog/?
Here's The iPhone App A High School Student Built As His Application To Stanford
Make Your App Idea A Reality
Bravo unwrapped a new app for connected TV devices on Monday.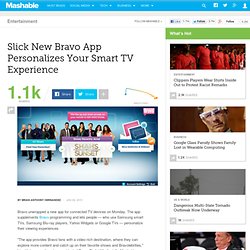 Slick New Bravo App Personalizes Your Smart TV Experience
Apple Event On for Oct 23: "Little More to Show" Us Likely iPad mini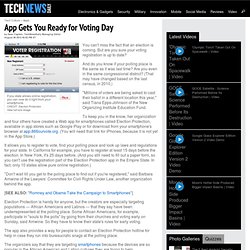 App Gets You Ready for Voting Day
You can't miss the fact that an election is coming. But are you sure your voting registration is up to date?
Hands-on with theBlu: Ocean Education App Helps You Explore the Deep
Microsoft Office Spotted on the iPad, Expected to Drop into the App Store Soon
Gadgetbox - As Apple and Microsoft unite mobile and desktop, where will Android go?
Toymakers gear up for year of the AppCessory
iTunes 10 Makeover: What Do YOU Think Of The New Logo? (PICTURES)
In addition to redesigned iPods, the next generation of Apple TV, the new iOS 4.1 and the forthcoming iOS 4.2, Apple CEO Steve Jobs also announced an iTunes upgrade at the September 1 press event in San Francisco Wednesday. The latest version of iTunes, iTunes 10 , includes a new layout and new organization options, Ping (Apple's social network for music), and a fresh logo. Steve Jobs explained the new look during the press conference. "We thought it was appropriate that since we're about to surpass CD sales...it may be time to ditch the CD," he said, according to Engadget.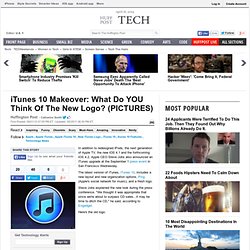 Didn't get an invite to Apple's September 1st music-themed event? You can still follow live! Apple has announced that it will be offering a live video stream of its press conference, which begins at 10AM PT. You'll be able to access the live video at Apple.com --but here's the catch: only users on Apple devices will be able to watch the live stream. Apple said in a press release , "Viewing requires either a Mac® running Safari® on Mac OS® X version 10.6 Snow Leopard®, an iPhone® or iPod touch® running iOS 3.0 or higher, or an iPad™."
Apple Announcement LIVE VIDEO: Streaming From September 2010 Apple Press Conference Available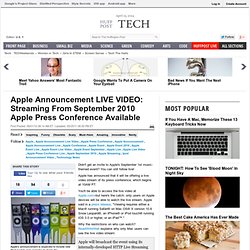 iOS 4.1 Features Unveiled: See What's New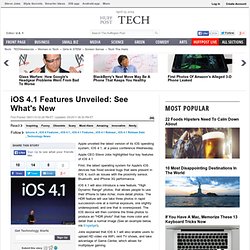 Apple unveiled the latest version of its iOS operating system, iOS 4.1, at a press conference Wednesday. Apple CEO Steve Jobs highlighted four key features of iOS 4.1 First, the latest operating system for Apple's iOS devices has fixed several bugs that were present in iOS 4, such as issues with the proximity sensor, Bluetooth, and iPhone 3G performance. iOS 4.1 will also introduce a new feature, "High Dynamic Range" photos, that allows people to use their iPhone to take richer, more detail photos. The HDR feature will use take three photos in rapid succession--one at a normal exposure, one slightly underexposed, and one that is overexposed. The iOS device will then combine the three photos to produce an "HDR photo" that has more color and detail than a normal image (See an example below, via Engadget ).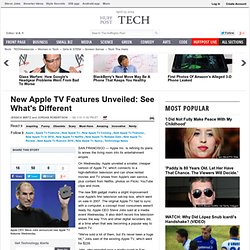 New Apple TV Features Unveiled: See What's Different
SAN FRANCISCO — Apple Inc. is refining its plans to annex the living room into its entertainment empire. On Wednesday, Apple unveiled a smaller, cheaper version of Apple TV, which connects to a high-definition television and can show rented movies and TV shows from Apple's own service, plus content from Netflix, photos on Flickr, YouTube clips and more. The new $99 gadget marks a slight improvement over Apple's first television set-top box, which went on sale in 2007. The original Apple TV had to sync with a computer, a concept most consumers weren't ready for, Apple CEO Steve Jobs said at a media event Wednesday.
Ping, Apple's New Social Network, Unveiled: What You Need To Know
Apple's latest version of iTunes, iTunes 10, will include not only a new logo and new layout, but also Apple's own social network for music, " Ping ." "It's like Twitter and Facebook meet iTunes," Apple CEO Steve Jobs said during the press conference. Mashable explains Ping's features: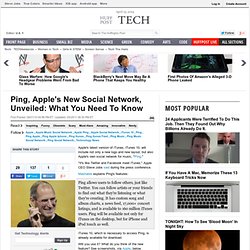 Users REACT To Apple News Announced At September Event
Apple TV Faces Obstacles to Conquer Living Room
A few upgrades later and with the creation of the iTunes Store, the iPod emerged as the dominant digital music player, eclipsing its rivals and turning Apple into the world's largest distributor of digital music. So last week when Mr. Jobs unveiled the second version of Apple TV, a product with limited capabilities and content, many in the consumer electronics industry wondered whether history would repeat itself in the market to deliver content to the TV from the Internet.
Apple is also talking up iOS 4.2 today, which will be everything iOS 4.1 is bringing , plus some extra goodies, and will finally bring iOS 4 (hello multitasking!) to the iPad. The most exciting of the new features is AirPlay, which is Apple's redub for AirTunes , with the important addition of being able to stream music and video to your i-device over WiFi (with an iPad even acting as host for the new Apple TV ). Also over WiFi is a new wireless printing feature, complete with a little Print Center applet that sits in the dock and lets you manage your print jobs.
Apple demoes iOS 4.2, features AirPlay media streaming
The new Apple TV for $99
Apple Premieres New Apple TV for Breakthrough Price of $99 Rent Commercial Free HD TV Episodes for Just 99 Cents SAN FRANCISCO-September 1, 2010-Apple® today announced the new Apple TV® which offers the simplest way to watch your favorite HD movies and TV shows on your HD TV for the breakthrough price of just $99. Apple TV users can choose from the largest online selection of HD movies to rent, including first run movies for just $4.99, and the largest online selection of HD TV show episodes to rent* from ABC, ABC Family, Fox, Disney Channel and BBC America for just 99 cents. Apple TV also streams content from Netflix, YouTube, Flickr and MobileMe™, as well as music, photos and videos from PCs and Macs to your HD TV. Enjoy gorgeous slideshows of your photos on your HD TV using Apple TV's selection of built-in slideshows.
Apple's just announced iOS 4.1 boasting a number bug fixes and some pretty notable additions. Those fixes include remedies for the proximity sensor issue, Bluetooth, and iPhone 3G performance, while the new features include High Dynamic Range photos, HD video uploads over WiFi, TV show rentals, and, at long last, Game Center. That latter bit is pretty much what we've been seeing all along, and boasts a range of new capabilities for multiplayer gaming including the ability to challenge friends, keep track of scores, and new ways to find games -- of which there will be some pretty interesting new ones that take advantage of the added capabilities. Look for the update to hit iTunes sometime next week as a free download for your iPhone or iPod touch. Check out our liveblog of the keynote event right here !
Apple announces iOS 4.1
Apple Introduces iTunes 10 With Ping Ping Social Music Discovery Now Available to 160 Million iTunes Users in 23 Countries SAN FRANCISCO-September 1, 2010-Apple® today introduced iTunes® 10 with Ping, a new music-oriented social network for following your favorite artists and friends to discover what music they're talking about, listening to and downloading. iTunes Ping lets you post your thoughts and opinions, your favorite albums and songs, the music you've downloaded from iTunes, plus view concert listings and tell your friends which concerts you plan to attend. iTunes 10 also features HD TV show rentals* for just 99 cents an episode and AirPlay wireless music playback. "iTunes is the number one music community in the world, with over 160 million iTunes users in 23 countries, and now we're adding social networking with Ping," said Steve Jobs, Apple's CEO.
Apple announces iTunes 10 with Ping social network
Apple TV (2010) first look / hands-on!
Apple claims 50 percent of portable gaming market, iPod touch 'outsells Nintendo and Sony combined'
iPod nano (2010) first hands-on! (update: video!)
iPod nano vs touch vs shuffle... fight!
Apple TV - Apple TV 2 introduced
iPod touch - iPod touch enters fourth generation with a bang
Apple Unveils New iPod nano Powered By iOS-like UI
Apple Is Live Streaming Sept. 1 Event To Test New Server Farm [Exclusive] (Leander Kahney/Cult of Mac)
Jobs: Hey Google, We're Activating 230,000 NEW iOS Devices A Day (MG Siegler/TechCrunch)
iOS 4.2 for iPad coming in November, adds wireless printing and Air Play (AppleInsider)
Apple Announces The New iPod Touch: Dual Cameras, Retina Screen (Devin Coldewey/CrunchGear)
iTunes Downloads: 100M Movies, 450M TV Episodes, 35M Books, 11.7B Songs (Leena Rao/TechCrunch)
iTunes 10 Is All About Ping, Apple's Social Network for Music (Matt Buchanan/Gizmodo)
The new Apple TV for $99  —  Steve Jobs just pulled … (Paul Miller/Engadget)