Piracy & Copyright
Get flash to fully experience Pearltrees
Image: Jude Buffum Face it, movie fans: the DVD is destined to be dead as a doornail. Only a few Blockbuster stores are still open.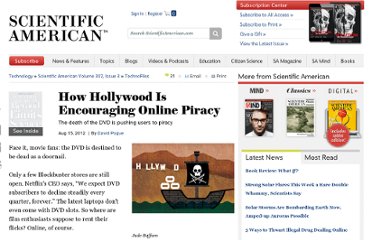 | Glyn Moody |
I would discourage worrying of any kind as a general principle. Worrying is a fear that something bad might happen — a negative emotional state with no external cause in reality.
I've had to think a lot about digital rights management lately. Not that I wanted to.
Rupert, my son had a simple request. "Daddy, can we watch last week's episode of The Simpsons?" No, son, we can't.
November 21st, 2011
Five years ago, when I founded the Swedish and first Pirate Party, we set three pillars for our policy: shared culture, free knowledge, and fundamental privacy.
Well, there is a video link it this that took over and allow a pop up -- that has not been on our computers in a very, very long time! Since we do run daily scans on all systems -- including the childrens. They have been in training to do the same! I will not wonder if it contained virsus's... Will have to start runnung virusus checks, now... just an F.Y.I. by steviesriver Jan 23
I inaugurated this column in 2008 with an editorial called ''Why I Copyfight'', which talked about the tricky balance between creativity, culture, and the relationship between audiences and creators. These have always been hard subjects, and the Internet has made them harder still, because the thing that triggers copyright rules – copying – is an intrinsic part of the functioning of the Internet and computers. There's really no such thing as ''loading'' a web-page – you make a copy of it.
When talking about piracy the entertainment industry and politicians often use the term "theft." This is a huge problem according to the Swedish sociologist of law Stefan Larsson. In his thesis "Metaphors and Norms – Understanding Copyright Law in a Digital Society," he explains that these metaphors are in part keeping the wide gap between people's norms and the law intact.
As an artist who probably makes a substantial income from licensing his music, you might think Neil Young would frown on piracy and file-sharing, but that appears not to be the case, according to an interview he gave at the Dive Into Media conference in Los Angeles . Instead of railing against file-sharers, Young called piracy "the new radio" because it's "how music gets around."
A new academic paper by researchers from the University of Minnesota and Wellesley College has examined the link between BitTorrent downloads and box office returns.
In a recent Search Engine podcast, host Jesse Brown wondered about music's ongoing centrality to the debate over file-sharing and freedom. After all, the music industry has all but abandoned lawsuits against fans, and services from Last.fm to the Amazon MP3 store present a robust set of legit ways of hearing and acquiring music.