Foursquare product evolutions
Foursquare Grows Up and Beyond the Check-In: Tech News and Analysis « UPDATED: Originally, Foursquare was designed with the goal of "making cities easier to use."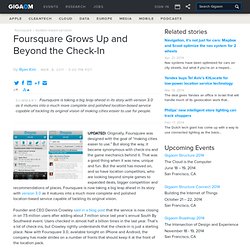 But along the way, it became synonymous with check-ins and the game mechanics behind it. That was a good thing when it was new, unique and fun. Foursquare Checks In Comments And Pictures; Instagram, PicPlz, Foodspotting On Board. Earlier this month, location-based service Gowalla went on the offensive against rival Foursquare — by linking up with them.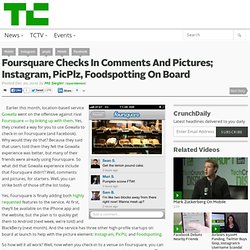 Yes, they created a way for you to use Gowalla to check-in on Foursquare (and Facebook). Why would they do that? Because they said that users told them they felt the Gowalla experience was better, but many of their friends were already using Foursquare. Foursquare Experimenting With Recommendation Engine. Dennis Crowley, co-founder of location based social network Foursquare, told attendees of the Picnic conference in Amsterdam today that the company has built a feature that recommends new locations users ought to visit, based on their past activity, their to-do lists and what's popular at the moment.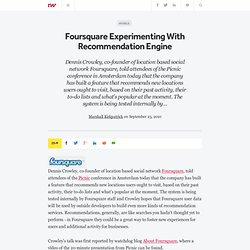 The system is being tested internally by Foursquare staff and Crowley hopes that Foursquare user data will be used by outside developers to build even more kinds of recommendation services. Recommendations, generally, are like searches you hadn't thought yet to perform - in Foursquare they could be a great way to foster new experiences for users and additional activity for businesses. Crowley's talk was first reported by watchdog blog About Foursquare, where a video of the 20 minute presentation from Picnic can be found. Introducing foursquare 2.0: Tips + To-Dos + Add to foursquare + More! UPDATE: Whoa guys!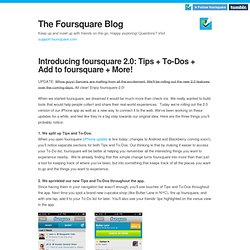 Servers are melting from all the excitement. We'll be rolling out the new 2.0 features over the coming days. All clear! Enjoy foursquare 2.0! When we started foursquare, we dreamed it would be much more than check-ins. Foursquare Launching New Must-Have Button for Websites. Foursquare has quietly added a new feature to its website this afternoon that you won't want to miss: a new "add to my foursquare" button that can be embedded on any website.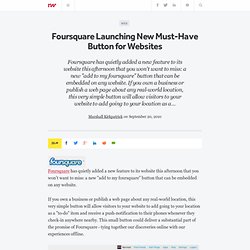 If you own a business or publish a web page about any real-world location, this very simple button will allow visitors to your website to add going to your location as a "to-do" item and receive a push-notification to their phones whenever they check-in anywhere nearby. This small button could deliver a substantial part of the promise of Foursquare - tying together our discoveries online with our experiences offline. The new feature was first seen and reported on by the watchdog blog AboutFoursquare and the Foursquare site has been experiencing unusual difficulties loading this afternoon. Marshall Kirkpatrick, Technology Journalist » I Don't Care What You Say – I Think Foursquare is Awesome. I wrote about a really cool new feature on Foursquare today, called it "must-have," and now am seeing a fair amount of cynical backlash.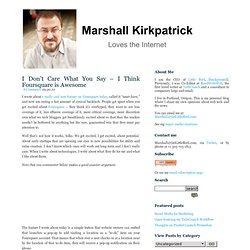 People get upset when you get excited about Foursquare – they think it's overhyped, they want to see less coverage of it, less effusive coverage of it, more critical coverage, more discretion over what we tech bloggers get breathlessly excited about so that they the readers needn't be bothered by anything but the rare, guaranteed win that they must pay attention to.
Well that's not how it works, folks. Foursquare 2.0 Goes Beyond The Check-In — By Reshuffling Old Features. Today, Foursquare has announced the arrival of version 2.0 of their service.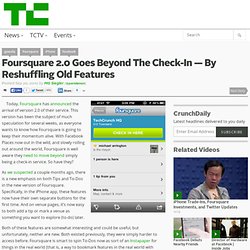 This version has been the subject of much speculation for several weeks, as everyone wants to know how Foursquare is going to keep their momentum alive. With Facebook Places now out in the wild, and slowly rolling out around the world, Foursquare is well aware they need to move beyond simply being a check-in service. Foursquare's New Site Design Starts To Roll Live As Gossip Girl. Since its launch almost exactly a year ago, Foursquare's website has largely had the same basic design.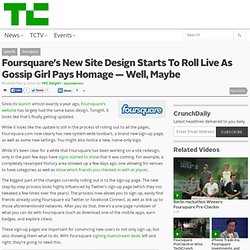 Tonight, it looks like that's finally getting updated. While it looks like the update is still in the process of rolling out to all the pages, Foursquare.com now clearly has new system-wide toolbars, a brand new sign-up page, as well as some new settings. You might also notice a new, name-only logo. While it's been clear for a while that Foursquare has been working on a site redesign, only in the past few days have signs started to show that it was coming. For example, a completely revamped History area showed up a few days ago, one allowing for venues to have categories as well as show which friends you checked-in with at places. Foursquare Adds Facebook "Like" Button to Venue Pages.
---