Foursquare
What Is Foursquare?
Bo Peabody: Dennis Crowley Should Sell Foursquare
Don't Sell Out, Foursquare. Not Now. Not To Yahoo.
It is becoming alarmingly apparent that Foursquare is strongly considering a sale to Yahoo. As of the end of last week they had put the venture capitalists vying for their attention on ice. Those VCs happily provided term sheets valuing the company at $80 million or so.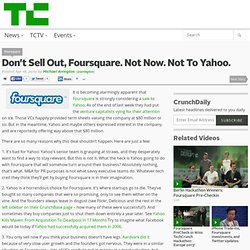 Smart: Foursquare Segregates Staff Check-Ins From Customer Check
Starbucks offers $1 discount to Foursquare mayors, gets customer
Becoming a Foursquare mayor is not about just bragging rights anymore. The coffee chain Starbucks announced today that it has started a nationwide "mayor reward" program with the popular location-based service.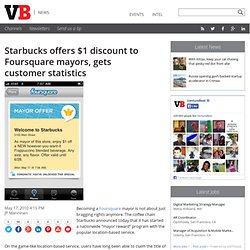 Another major milestone for 4sq: a HUGE biz dev deal by PED May 18
Location 2012: Death Of The Information Silos
Editor's note: The following is a guest post written by Robert Scoble, who travels the world for Rackspace interviewing tech geeks for building43.com.