Foursquare
What Is Foursquare?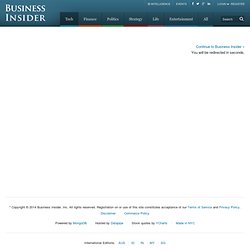 Village Ventures partner and Tripod founder Bo Peabody is famously bearish about the business prospects of social-media companies Facebook and Twitter, but he is VERY bullish about Foursquare and Groupon. Bo says that these two companies can easily monetize their products since they promote relationships between people and businesses. This is in contrast to Facebook and Twitter, which facilitate relationships between people and people. That said, Bo also thinks that, if Yahoo's really offering $125 million in cash, Foursquare should jump. "Take a good deal when it's there," says Bo.
Bo Peabody: Dennis Crowley Should Sell Foursquare
Don't Sell Out, Foursquare. Not Now. Not To Yahoo.
It is becoming alarmingly apparent that Foursquare is strongly considering a sale to Yahoo. As of the end of last week they had put the venture capitalists vying for their attention on ice. Those VCs happily provided term sheets valuing the company at $80 million or so.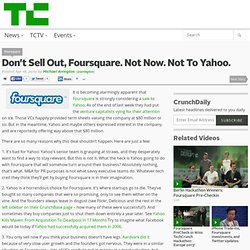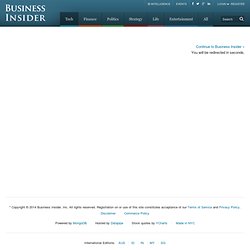 Smart: Foursquare Segregates Staff Check-Ins From Customer Check
Foursquare is now segregating staff check-ins from customer check-ins at business locations. This is smart, because local businesses -- and big, national ones, like Starbucks, via a new Foursquare deal -- need to be able to offer coupons to the people who check-in from their stores and restaurants the most. (The "mayor," in Foursquare lingo.) If the people who work at the those local businesses checked-in everyday, they would shoot to the top of the list, preventing real customers from getting the Foursquare badges and mayorships that trigger the coupons. Therefore, moving employee check-ins to a different list is the right move, so as not to mess up any coupon offers.
Starbucks offers $1 discount to Foursquare mayors, gets customer
Becoming a Foursquare mayor is not about just bragging rights anymore. The coffee chain Starbucks announced today that it has started a nationwide "mayor reward" program with the popular location-based service. On the game-like location-based service, users have long been able to claim the title of mayor at businesses like Starbucks coffee shops by "checking in," or announcing their presence to friends. Starbucks is now rewarding the mayors by knocking one dollar off the price of a frappucino, Mashable reported. News about Foursquare's deals with major brands such as Starbucks, MTV, PepsiCo and Bravo have been making the rounds for a while. The MTV collaboration lets Foursquare users check out celebrity tips and check-ins, while Starbucks has a "Barista Badge" on the gaming app that users can claim after five check-ins at a coffee shop.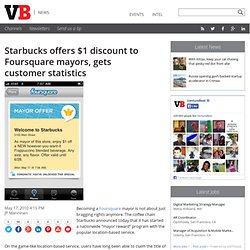 Location 2012: Death Of The Information Silos
Editor's note: The following is a guest post written by Robert Scoble, who travels the world for Rackspace interviewing tech geeks for building43.com. He's one of the most popular (stalked) users of location-based services and has 8,215 friends on Foursquare. Here he writes about what the location-based world could look like in 2012 and what might keep it from happening. It's January 2012 and you've just gotten your new Android 3.0-based phone. You're going on a road trip so you start up the newly-released Foursquare.