Utilities
Patchwork - Online modular sound synthesis. Laboratory Archive 2000-2010. 3D Cube Delounge Flower Isometric Lego Bricks Moon Patrol.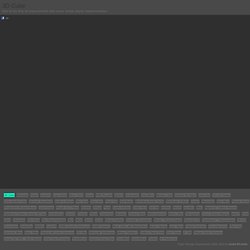 Qwerty Beats | Online Drum Machine | Keyboard Drum Loops | Remix | Samples | uπit. Isle of Tune. ♫ Tony-b Machine ♫ Otomata - Online Generative Musical Sequencer. New!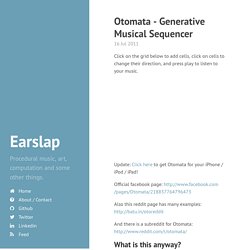 If you like Otomata, check out my new instrument Circuli by clicking here! Update: Click here to get Otomata for your iPhone / iPod / iPad! Official facebook page: Inudge.net - Nudge. Theremin - A Playable Touch Synthesizer Using Web Audio API. ✖Update: 7 February 2014 Thanks to everyone for sharing!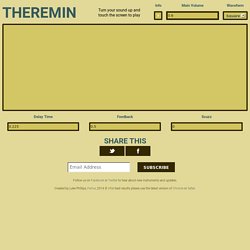 Over 100,000 people have played on the theremin in the last 3 days which is absolutely amazing. Due to a large number of requests, we've began working on a record function as well as an offline version of the app which will be available soon. Feel free to either subscribe at the bottom of the page or follow us on Facebook & Twitter for updates and future toys. Seaquence. ButtonBass Make Music online. Play the Virtual Piano With Your Keyboard. Incredibox. AudioSauna - Free Music Software - Make Music Online. How to Play Maple Leaf Rag By Scott Joplin. Get inspired by Beck's. Soundation — Make music online.
PRO GUITAR TUITION | GUITAR LESSONS. METRONOME ONLINE - free! Free printable staff paper @ Blank Sheet Music .net. Free Blank Guitar Tab and Chord Diagrams. Monkey Machine - online drum machine. Create Music Beats - The online music factory - Jam, remix, chords, loops.
BallDroppings. Play The Armonica. To play the armonica below, click on a glass bowl.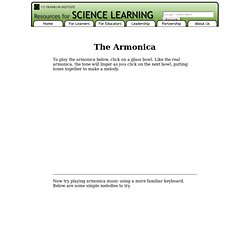 Like the real armonica, the tone will linger as you click on the next bowl, putting tones together to make a melody. Now try playing armonica music using a more familiar keyboard. Below are some simple melodies to try. Mary Had a Little Lamb: E D C D E E E rest D D D rest E E E rest E D C D E E E E D D E D C hold. Drumbot. André Michelle - Laboratory. Beatlab.
Let's get started making music... 1draw on the grid with your mouse to make a beatshow me2 save your track and share it with friends. show me3 out of ideas?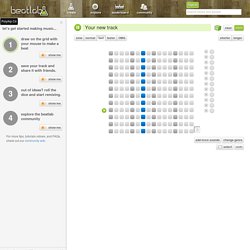 Roll the dice and start remixing. show me4 explore the beatlab community show me For more tips, tutorials vidoes, and FAQs, check out our community wiki. You can use the following keyboard shortcuts while composing a track. spacebar. Audiotool.
---