Virtual exchange tools
Watch this: Google Docs can automatically generate QR Codes
Did you know that Google Docs has support for QR codes built-in? That's right, if you know the right function, the Spreadsheets app can generate QR codes with whatever inputs you like. Don't believe us? Watch this video for the feature in action: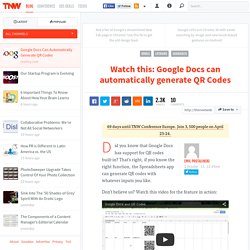 INTENT Reports 2012 | UNI-COLLABORATION | intercultural exchange
VMCOLAB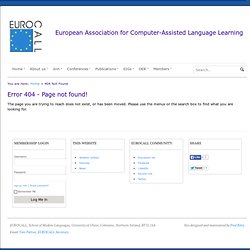 UROCALL 2010 Virtual Strand
The EUROCALL 2010 blog and Virtual Strand is now up and running at: http://virtualeurocall2010.blogspot.com/ We are embedding CoveritLive Windows into the blog so that live reporting on the events can take place - just like last year. EUROCALL 2010 is also represented on Twitter, Facebook, LinkedIn and Flickr - so if you can't be at the conference in person you can get a flavour of the events through these different social networks. If you will be at the conference in person then why not become one of the reporters and bloggers? Further information is available in the EUROCALL 2010 blog.
Telecollaboration in historical spaces - Tâches de sens...
Ten cool Chrome tricks you can use right now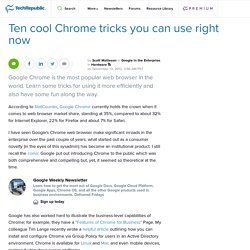 Takeaway: Google Chrome is the most popular web browser in the world. Learn some tricks for using it more efficiently and also have some fun along the way. According to StatCounter , Google Chrome currently holds the crown when it comes to web browser market share, standing at 35%, compared to about 32% for Internet Explorer, 22% for Firefox and about 7% for Safari. I have seen Google's Chrome web browser make significant inroads in the enterprise over the past couple of years; what started out as a consumer novelty (in the eyes of this sysadmin) has become an institutional product.
New from ICTP: an app that compiles images and audio into video-like recording
The International Centre for Theoretical Physics (ICTP) in Trieste plays a key role in training physicists from developing countries. Some readers will remember Enrique Canessa and Marco Zennaro's terrific presentation in London in May 2011 about ICTP's elegant low-tech automated lecture capture system, which allows archiving and sharing traditional lectures and talks carried out using, for example, very large chalkboards found in classrooms and/or using more modern presentations systems. ICTP has just released EyApp which is an iPhone app that applies the same principals. From the media release : EyApp enables your iPhone, iPad or iPod Touch to make a video composed of a series of captured images along with simultaneous audio recording.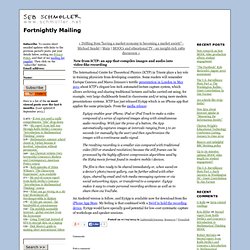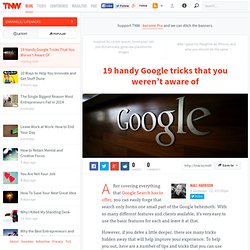 After covering everything that Google Search has to offer , you can easily forge that search only forms one small part of the Google behemoth. With so many different features and clients available, it's very easy to use the basic features for each and leave it at that. However, if you delve a little deeper, there are many tricks hidden away that will help improve your experience. To help you out, here are a number of tips and tricks that you can use for four of Google's more popular features: Gmail, Maps, Google Drive and Google News.
Pass999 000-105 Exam study guides liyoummm State of the Art IBM 000-105 Labspass999 actual-world situation is build for your practice of skills learned in the IBM 000-105 tutorials to answer difficult yet logical IBM 000-105 simulation questions. Even if you are a non-experienced exam-takers, you can overcome the toughest IBM 000-105 simulations according the foundations of any IBM 000-105 tutorials. Free IBM 000-105 DownloadIBM 000-105 questions and printable IBM 000-105 PDF files demo and sample are provided in pass999.
Advantages Of VOIP
BYOD Case Study: Sheffield High School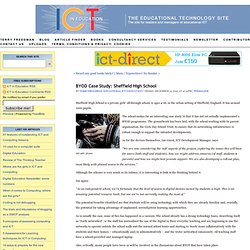 Sheffield High School is a private girls' all-through school, ie ages 4-18, in the urban setting of Sheffield, England. It has around 1000 pupils. Girl with phone The school makes for an interesting case study in that it has not yet actually implemented a BYOD programme. The groundwork has been laid, with the school working with its parent organisation, the Girls Day School Trust, to ensure that its networking infrastructure is robust enough to support the intended developments.
How I used a Cyrillic charset to solve the Gerbildoc mojibake problem | ulcc da blog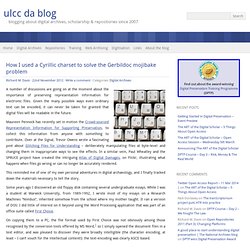 A number of discussions are going on at the moment about the importance of preserving representation information for electronic files. Given the many possible ways even ordinary text can be encoded, it can never be taken for granted that digital files will be readable in the future. Maureen Pennock has recently set in motion the Crowd-sourced Representation Information for Supporting Preservation , to collect this information from anyone with something to contribute.
So you want to create a digital magazine for your students but still did not find the right web tools to do so. Well now you can . we have just finished reviewing some great web services that you can use with your students to create and publish highly customizable magazines and newspapers for your class. I am pretty sure as you introduce the idea to your students everyone will want to have a say in their next e-magazine.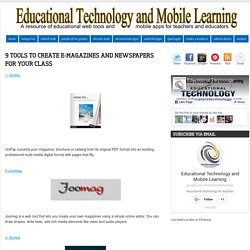 Un nouvel outil pour l'enseignement multimédia sur tablettes tactiles, version 2
La société de création de logiciels CREALOGIC a annoncé, au mois de juillet dernier la mise en marché d'un logiciel de diffusion de sources destiné au monde de l'éducation et de la formation professionnelle qui répondait au nom de LODIS. LODIS 1.0 reçut un accueil très favorable de la part des professionnels mais il fallait reconsidérer certains points qui affectaient ses performances ; TClass+ vient de voir le jour. Ce produit est une refonte totale de l'application originelle. Il n'a pas été possible d'intégrer, pour l'instant, le mode de fonctionnement en Peer-To-Peer et les recherches continuent pour mettre au point cette version. Le module de communication embarqué sur un PC reste donc indispensable pour faciliter la gestion des flux vidéo.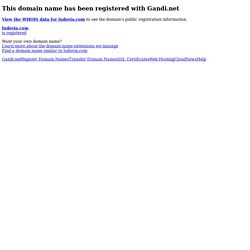 DOWNLOAD Design and Publish Your Own Free Digital Magazine
Want to put together your own digital magazine, but not sure where to start? Time to read "Design and Publish Your Own Free Digital Magazine", the latest manual from MakeUseOf. This guide outlines everything you need to put together your own gorgeous online publication, from logos to layout to online publication at Issuu. By Daniel Malpica, the Editor-in-chief and Designer of [Radiador] Magazine , this manual explains everything you need to know in order to put together a digital magazine of your own.
Blackboard Collaborate's Live Virtual Classrooms in New Era of Learning
Participants can join live sessions from anywhere: Blackboard , a recognized leader in enterprise technology products for education and training use, is now making its mark in delivering live collaboration for the virtual classroom with Blackboard Collaborate. Since acquiring the Elluminate and Wimba web conferencing products a couple years back, the company developed the newer product offering Blackboard Collaborate to integrate web, video, and voice conferencing as well as IM features that facilitate live learning anywhere with one product. To understand the need for virtual classrooms as a platform, the education sector in particular has several broader objectives to contend with.
Last Updated: 5 October, 2012 Section: news Bring languages to life with personalised online characters Ever thought of building a robot and having it do all your dirty work in the classroom? At the end of August, I discovered a resource that could potentially replace us teachers. I exaggerate: this resource could never replace you or me.
MFL - Let your alter ego out - news
No matter your command of the English language, we all have trouble defining, pronouncing, or even remembering certain words, which makes writing tough.
SnapWidget | Instagram Photo Gallery Widgets
Pinterest is a social bookmarking tool, and it's taking off like gangbusters. Right now there's a waiting list to be invited, but once you're in, you can create visual bookmarks on virtual pinboards. You can "pin" items from websites with images, and it turns out you can pin videos from YouTube as well. The handy part about pinned videos is that you don't even need to leave Pinterest to view the video. In order to pin a YouTube video, you need to make sure you use the video's URL rather than the embed code. Don't just copy the URL at the top of the screen.
Posting a YouTube on Pinterest
Another positive virtual world wave approaching
» Blog Archive » VSR44: A World of Difference
Twitter – A Teaching and Learning Tool
http://eduguide.googleapps.com/
Schools Awarded the European Quality Label, October 2011
Skype Calls for e-Twinning in L2