Permaculture Apprenticeships
Northeastern Permaculture Networ - Employment, Internships, Apprenticeships. Codecode DEAR COMMUNITY - PLEASE KEEP THIS NOTE AT THE TOP OF THE PAGE:Based on community feedback calling for clarity and access to the many permaculture sites and projects in our region, volunteers and members of PINE (Permaculture Institute of the Northeast / www.thepine.org) are developing an integrated and searchable database.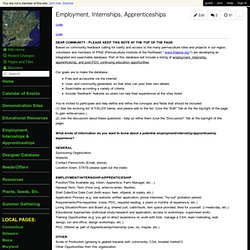 Part of this database will include a listing of employment, internship, apprenticeship, and post-PDC continuing education opportunities. Permaculture - Diploma Design Support Intensives. These two or three days offer you an opportunity to polish up your design skills in the company of your peers.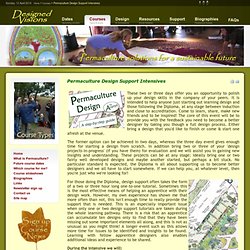 It is intended to help anyone just starting out learning design and those following the Diploma, at any stage between induction and close to accreditation. Come to learn, share, make new friends and to be inspired! The core of this event will be to provide you with the feedback you need to become a better designer by taking you though a full design process. Either bring a design that you'd like to finish or come & start one afresh at the venue. The former option can be achieved in two days, whereas the three day event gives enough time for starting a design from scratch. Roles of PDC apprentice.pdf (application/pdf Object)
Peace, Justice and Environment. Spring semester: 29 January 2014 to 29 May 2014 Fall semester: 20 August 2014 to 21 December 2014 Spring semester: January 2015 to May 2015 Explore the connections between land-based cultural and ethnic identity, social justice, community and ecological stewardship in one of the world's most intractable conflicts.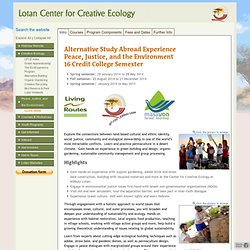 Learn and practice permaculture in a desert climate. Green Apprenticeship - Application Info. Application Forms Download the Green Apprenticeship application form HERE.Download the Summer Eco Experience application form HERE.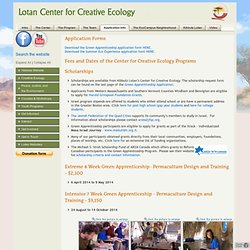 Fees and Dates of the Center for Creative Ecology Programs Scholarships Scholarships are available from Kibbutz Lotan's Center for Creative Ecology. The scholarship request form can be found on the last page of the Green Apprenticeship Application. What is the Green Apprenticeship? The Green Apprenticeship (GA) trains participants to understand and create sustainable solutions for the issues facing the modern world.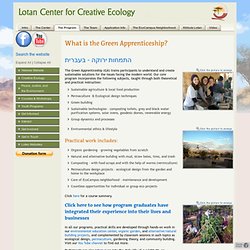 Our core program incorporates the following subjects, taught through both theoretical and practical instruction: Sustainable agriculture & local food production Permaculture & Ecological design techniques Green building Sustainable technologies – composting toilets, grey and black water purification systems, solar ovens, geodesic domes, renewable energy Group dynamics and processes. Apprenticeships. Les Compagnons de Permaculture Apprenticeships available Introduction We are working to extend the French PmC apprenticeship scheme so that French and Türk PDC 'postgrduates' would have more places to work, study and live.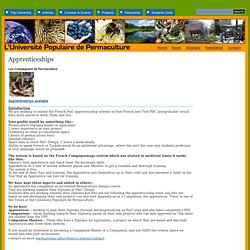 Gossamer Glass Studios at Inspiration Farm. We are offering limited apprenticeship positions for people interested in acquiring a deeper understanding of Permaculture related topics.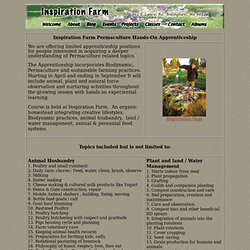 The Apprenticeship incorporates Biodynamic, Permaculture and sustainable farming practices. Starting in April and ending in September It will include animal, plant and natural force observation and nurturing activities throughout the growing season with hands on experiential learning. Course is held at Inspiration Farm, An organic homestead integrating creative lifestyles, Biodynamic practices, animal husbandry, land / water management, annual & perennial food systems. Advanced Permaculture Apprenticeship | Spiral Ridge Permaculture. The Ecovillage Training Center has been an integral part of the development of permaculture, natural building, ecovillage design, solar design, and other ecological systems.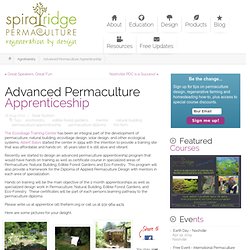 Albert Bates started the center in 1994 with the intention to provide a training site that was affordable and hands on. 16 years later it is still alive and vibrant. Recently we started to design an advanced permaculture apprenticeship program that would have hands on training as well as certificate course in specialized areas of: Permaculture, Natural Building, Edible Forest Gardens and Eco-Forestry. This program will also provide a framework for the Diploma of Applied Permaculture Design with mentors in each area of specialization.
Hands on training will be the main objective of the 2 month apprenticeships as well as specialized design work in Permaculture, Natural Building, Edible Forest Gardens, and Eco-Forestry. Opportunity | Garden apprentice and farm apprentice (or farmer) for Camphill community Sturts Farm. We are looking for two apprentices, or an apprentice and a farm worker, to come and join us in the garden and on the farm.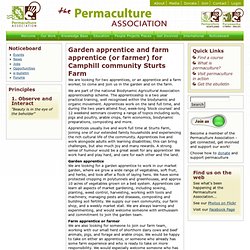 We are part of the national Biodynamic Agricultural Association apprenticeship scheme. The apprenticeship is a two year practical training, well recognised within the biodynamic and organic movement. Apprentices work on the land full time, and during the two years attend four, week-long 'block courses' and 12 weekend seminars covering a range of topics including soils, pigs and poultry, arable crops, farm economics, biodynamic preparations, composting and more. Apprentices usually live and work full time at Sturts Farm, joining one of our extended family households and experiencing the rich cultural life of the community. Apprenticeship scheme : Scheme structure. The Soil Association's Future Growers scheme offers work-based learning in organic fruit and vegetable production, delivered on organic farms with mentoring and support from expert organic growers, backed up by in-depth seminars at farms across the UK.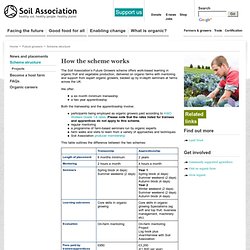 We offer: a six month minimum traineeshipa two year apprenticeship Both the traineeship and the apprenticeship involve: Apprenticeship scheme. The Soil Association's Future Growers scheme provides comprehensive training in organic horticulture, with participants working alongside organic experts who are passionate about training the next generation and passing on their skills and knowledge. Farm-based work is combined with a series of structured seminars to build upon the practical knowledge gained out in the field. The Soil Association's organic apprenticeship is widely recognised as the gold standard in providing comprehensive two-year training in organic horticulture, allowing apprentices to follow two whole growing seasons.
Ecovillage Training Center Apprenticeships. Q. What is a FAQ? A. A FAQ is Internet jargon for a Frequently Asked Question. Q. Apprenticeships at Pine Ridge : The Permaculture Guild. Apprenticeship, volunteer and internship programs on Pine Ridge. Our apprenticeship program on Pine Ridge reservation is currently on hold and should be available again in spring of 2012. At that time, we plan to complete planting of two or more food forests, to propagate perennial edibles for distribution, to offer classes, and other activities. AND/OR Purchase Books and Products.
---