Permaculture Apprenticeships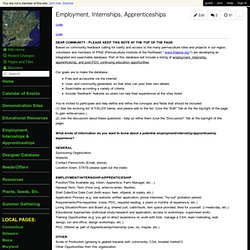 Northeastern Permaculture Networ - Employment, Internships, Apprenticeships
codecode DEAR COMMUNITY - PLEASE KEEP THIS NOTE AT THE TOP OF THE PAGE:Based on community feedback calling for clarity and access to the many permaculture sites and projects in our region, volunteers and members of PINE (Permaculture Institute of the Northeast / www.thepine.org) are developing an integrated and searchable database. Part of this database will include a listing of employment, internship, apprenticeship, and post-PDC continuing education opportunities.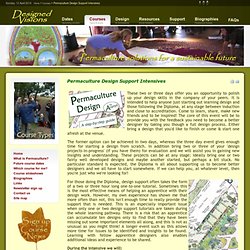 Permaculture - Diploma Design Support Intensives
These two or three day intensives offer you an opportunity to polish up your design skills at a beautiful permaculture venue and in the company of your peers. It is intended to help both those just starting out and those who feel close to accreditation.
Roles of PDC apprentice.pdf (application/pdf Object)
Spring semester: 29 January 2014 to 29 May 2014 Fall semester: 20 August 2014 to 21 December 2014 Spring semester: January 2015 to May 2015 Explore the connections between land-based cultural and ethnic identity, social justice, community and ecological stewardship in one of the world's most intractable conflicts. Learn and practice permaculture in a desert climate.
Peace, Justice and Environment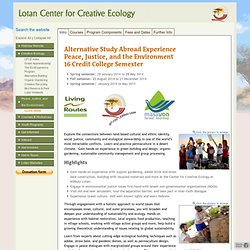 Application Forms Download the Green Apprenticeship application form HERE.Download the Summer Eco Experience application form HERE.Peace, Justice & the Environment Academic Semester application form HERE
Green Apprenticeship - Application Info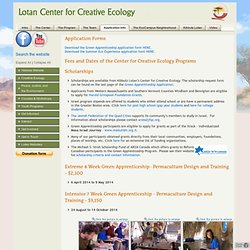 What is the Green Apprenticeship?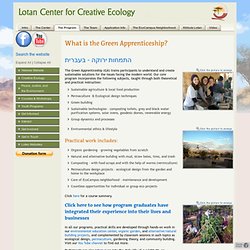 The Green Apprenticeship (GA) trains participants to understand and create sustainable solutions for the issues facing the modern world. Our core program incorporates the following subjects, taught through both theoretical and practical instruction: Sustainable agriculture & local food production Permaculture & Ecological design techniques Green building Sustainable technologies – composting toilets, grey and black water purification systems, solar ovens, geodesic domes, renewable energy Group dynamics and processes
Les Compagnons de Permaculture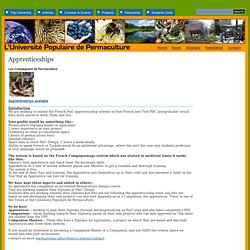 Apprenticeships | L'Université Populaire de Permaculture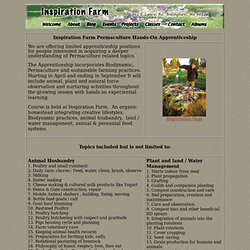 We are offering limited apprenticeship positions for people interested in acquiring a deeper understanding of Permaculture related topics.
Gossamer Glass Studios at Inspiration Farm
Advanced Permaculture Apprenticeship | Spiral Ridge Permaculture
We are looking for two apprentices, or an apprentice and a farm worker, to come and join us in the garden and on the farm.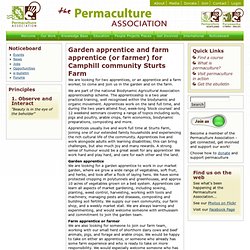 Permaculture Association | Opportunity | Garden apprentice and farm apprentice (or farmer) for Camphill community Sturts Farm
Soil Association : Apprenticeship scheme : Scheme structure
Soil Association : Apprenticeship scheme
Ecovillage Training Center Apprenticeships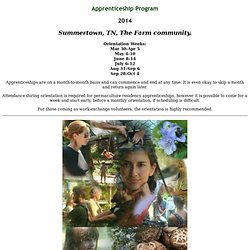 Q.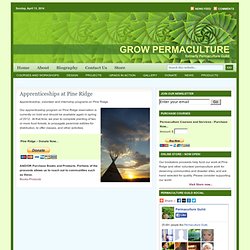 Apprenticeship, volunteer and internship programs on Pine Ridge.
Apprenticeships at Pine Ridge : The Permaculture Guild