Star Wars
These Aren't The Lines You're Looking For: New 'Star Wars' Blooper Reel Unveiled (VIDEO)
"George, you can type this shit, but you sure as hell can't say it," Harrison Ford once famously said to George Lucas. And this new 'Star Wars' blooper reel - discovered by writer J.W. Rinzler while he was researching a 'making of' series - does rather prove him right. Click play to enjoy a few hilarious outtakes from the 1977 classic - including stumbling Stormtroopers and, yes, fluffed lines. (And note: the first few clips are silent, as according to YouTuber Neil Bowyer, the original sound wasn't present.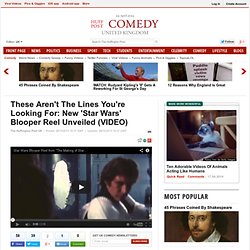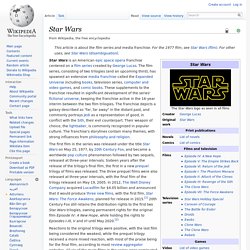 Star Wars is an American epic space opera franchise centered on a film series created by George Lucas . The film series has spawned a media franchise outside the film series called the Expanded Universe including books , television series, computer and video games , and comic books . These supplements to the film trilogies have resulted in significant development of the series' fictional universe . These media kept the franchise active in the interim between the film trilogies. The franchise portrays a galaxy that is described as far, far away in the distant past. It commonly portrays Jedi as a representation of good, in conflict with the Sith , their evil counterpart.
Category:Star Wars episodes
For other uses of "Star Wars", see Star Wars . Star Wars Episode IV: A New Hope is a 1977 space opera film. It was the first film released in the Star Wars saga. The film is set 19 years after the formation of the Galactic Empire; construction has finished on the Death Star, a weapon capable of destroying a planet. After Princess Leia Organa, a leader of the Rebel Alliance, receives the weapon's plans in the hope of finding a weakness, she is captured and taken to the Death Star. Meanwhile, a young farmer named Luke Skywalker meets Obi-Wan Kenobi, who has lived in seclusion for years on the desert planet Tatooine.
Star Wars Episode IV: Quotes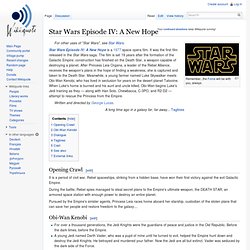 Star Wars Episode V: The Empire Strikes Back (also known as The Empire Strikes Back ) is a 1980 American epic space opera film directed by Irvin Kershner and written by Leigh Brackett and Lawrence Kasdan , with George Lucas writing the film's story and serving as executive producer. Of the six main Star Wars films, it was the second to be released and the fifth in terms of internal chronology. The film is set three years after the original Star Wars . The Galactic Empire , under the leadership of the villainous Darth Vader , is in pursuit of Luke Skywalker and the rest of the Rebel Alliance . While Vader chases a small band of Luke's friends— Han Solo , Princess Leia Organa , and others—across the galaxy, Luke studies the Force under Jedi Master Yoda . But when Vader captures Luke's friends, Luke must decide whether to complete his training and become a full Jedi Knight or to confront Vader and save his comrades.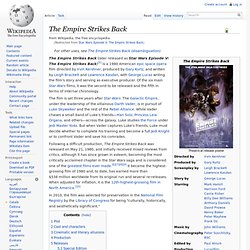 Un article de Wikipédia, l'encyclopédie libre. Le logo de Star Wars tel qu'il apparaît en introduction des films et sur de nombreux produits dérivés. Star Wars (à l'origine nommée sous son titre français, La Guerre des étoiles ) est une épopée cinématographique de science-fiction créée par George Lucas en 1977 .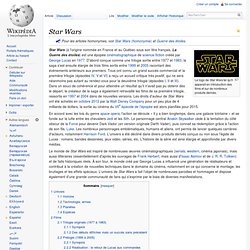 Star Wars
Star Wars Episode IV: A New Hope , originally released as Star Wars , [ 3 ] is a 1977 American epic space opera film [ 4 ] written and directed by George Lucas . It is the first film released in the Star Wars saga and is the fourth in terms of the series' internal chronology. Groundbreaking in its use of special effects , unconventional editing, and science fiction/fantasy storytelling, the original Star Wars is one of the most successful and influential films of all time. Set "a long time ago in a galaxy far, far away ", the film follows a group of freedom fighters known as the Rebel Alliance as they plot to destroy the powerful Death Star space station, a devastating weapon created by the evil Galactic Empire .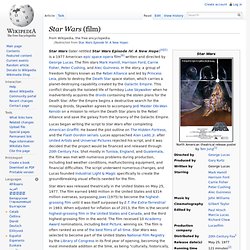 Français: Arts: Audiovisuel: Cinéma: Films: S: Star Wars - série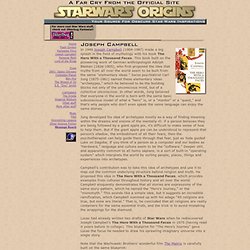 Star Wars Origins - Joseph Campbell and the Hero's Journey
In 1949 Joseph Campbell (1904-1987) made a big splash in the field of mythology with his book The Hero With a Thousand Faces . This book built on the pioneering work of German anthropologist Adolph Bastian (1826-1905), who first proposed the idea that myths from all over the world seem to be built from the same "elementary ideas." Swiss psychiatrist Carl Jung (1875-1961) named these elementary ideas "archetypes," which he believed to be the building blocks not only of the unconscious mind, but of a collective unconscious . In other words, Jung believed that everyone in the world is born with the same basic subconscious model of what a "hero" is, or a "mentor" or a "quest," and that's why people who don't even speak the same language can enjoy the same stories.
Hopefully reading this infographic will give you a nice break, writing about it has for me. I sit here amidst a slew of homework, from writing a paper on Rousseau and his Discourses to studying Chinese Politics. Now after finding this infographic, all I want to do is put everything away and watch Star Wars. Whether you are a fan of the double triology (? Sixology?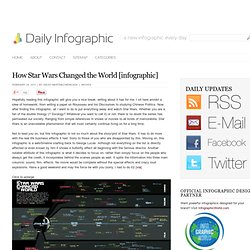 How Star Wars Changed the World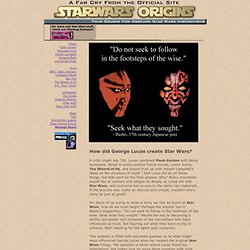 Star Wars Origins: How did George Lucas create Star Wars?
A critic might say "Oh, Lucas combined Flash Gordon with Akira Kurosawa, threw in some science fiction novels, comic books, The Wizard of Oz , and sewed it all up with Joseph Campbell's ideas on the structure of myth." And Lucas did do all those things, but that can't be the final answer. Why? Every storyteller would like to connect with people as deeply as Lucas did with Star Wars , and everyone has access to the same raw materials.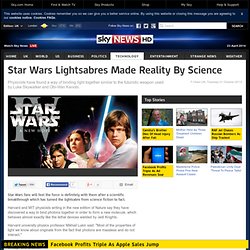 Star Wars Lightsabres Made Reality By Science
Star Wars fans will feel the force is definitely with them after a scientific breakthrough which has turned the lightsabre from science fiction to fact. Harvard and MIT physicists writing in the new edition of Nature say they have discovered a way to bind photons together in order to form a new molecule, which behaves almost exactly like the lethal devices wielded by Jedi Knights. Harvard university physics professor Mikhail Lukin said: "Most of the properties of light we know about originate from the fact that photons are massless and do not interact." This is illustrated when two laser beams are shone at each other, and they pass through one another. Professor Lukin said: "What we have done is create a special type of medium in which photons interact with each other so strongly that they act as though they have mass, and bind together to form molecules.
Star Wars: A Myth for Our Time
[This article appeared in Literature/Film Quarterly 6.4 (Fall 1978): 314-26. It was reprinted, slightly revised, in Screening the Sacred: Religion, Myth, and Ideology in Popular American Film , ed. Joel W. Martin and Conrad E. Ostwalt Jr. (Boulder, Co.: Wsetview Press, 1995): 73-82.
Mythology in Star Wars
By Steve Persall, Times Film Critic Nobody paid $7 to hear Homer read The Odyssey, or lined up to buy Thomas Malory's 15th-century version of King Arthur's legend. But, when Star Wars Episode 1: The Phantom Menace opens at 12:01 a.m.
These Aren't The Lines You're Looking For: New 'Star Wars' Blooper Reel Unveiled (VIDEO)
HeroJourneyStarWars.pdf (Objet application/pdf)
The Mythology of Star Wars [FULL DOCUMENTARY]
thx to notice, I keep it until I find a new one.... by noosquest Sep 24
it's dead. the user removed the video by finneycanhelp Sep 23
Star Wars Facts (starwars_facts) on Twitter
SWTOR-GUIDE
As Star Wars has gone on to become a popular culture phenomenon, much of the credit goes to its characters. Darth Vader, for one, has helped the films achieve massive success. His rise as a Jedi Knight to his fall to the dark side as documented in the six "episodes" of the franchise is not only regarded as one of the most iconic villains in the history of film, but also one of the best characters in cinema. Despite being billed as the main antagonist in the latter trilogy of the series, one of the reasons for the popularity of Darth Vader among people is his depth and complexity. The Dark Lord may have gotten his moral allegiance twisted along the way, but no one can deny that he is indeed badass when it counted the most. Heavy breathing and iconic costume aside, the cultural impact of Darth Vader outside film is undeniable, as proven by the tributes and parodies in the media.
The Darkest Lord – 25 Spine-Chilling Darth Vader Fan Art
The Force is a binding, metaphysical , and ubiquitous power in the fictional universe of the Star Wars galaxy created by George Lucas . Mentioned in the first film in the series , it is integral to all subsequent incarnations of Star Wars , including the expanded universe of comic books , novels , and video games . Within the franchise, it is the object of the Jedi and Sith monastic orders . [ edit ] Origin Lucas has attributed the origins of "The Force" to a 1963 abstract film by Arthur Lipsett , which sampled from many sources. One of the audio sources Lipsett sampled for 21-87 was a conversation between artificial intelligence pioneer Warren S.
Force (Star Wars)
Jedi Temple vs Library in Dublin
Introduction Disclaimer This article is for entertainment only and makes no claims as to the scientific value or exactness of the contents! The research preceding the writing of this article utilised doubtful methods and was critisized heavily even by the author. Read on at own risk..... Introduction
Star Wars and Wagner's Ring
R2D2Central.com
R2-D2 Central (r2d2central) on Twitter
Mark Hamill (HamillHimself) on Twitter
Lucasfilm Recruiting (JoinTheForce) on Twitter
star-wars-galaxy-map-big-version-detailed12.jpg (Image JPEG, 2786x1904 pixels) - Redimensionnée (41%)
Star Wars Incredible Cross Sections - Technology photo album
Star Wars (StarWars) on Twitter
Yodasnews.com (Yodasnews) on Twitter
Leaked Footage Of Star Wars' Newest Take On Battlefield And Call of Duty
This Is Madness: The Star Wars Character Tournament
100+ amazing pieces of Star Wars concept art
ANAKINWORLD : L'Encyclopédie Star Wars
1: Tusken Raider Riding a Bantha | See The Galaxy's Biggest Star Wars Memorabilia Collection
Strictly Star Wars... Why not?
Kitbashed