Librarian/Education Bloggers
http://www.thinkinginmind.com/
By: Maria Popova "Through our scopes, we see ourselves. Every new lens is also a new mirror." Given my longtime fascination with the so-termed digital humanities and with data visualization, and my occasional dabbles in the intersection of the two, I've followed the work of data scholars Erez Aiden and Jean-Baptiste Michel with intense interest since its public beginnings. Now, they have collected and contextualized their findings in the compelling Uncharted: Big Data as a Lens on Human Culture (public library) — a stimulating record of their seven-year quest to quantify cultural change through the dual lens of history and digital data by analyzing the contents of the 30,000 books digitized by Google, using Google's Ngram viewer tool to explore how the usage frequency of specific words changes over time and what that might reveal about corresponding shifts in our cultural values and beliefs about economics, politics, health, science, the arts, and more.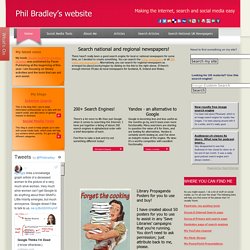 Internet search, search engines, search techniques, Web 2.0 information and resources are all things that I try and cover, with the emphasis being on librarians and librarianship. Regular visitors will see that the site is currently undergoing a make over, so there'll be a little disruption for a while until I get all of my pages ported across to the new version. Hopefully however it won't cause too much of a problem for you. New Articles
As someone who inhabits multiple learning worlds in libraries and public schools, concepts of literacy–traditional and emerging–are central to my work as I think about pedagogies that inform literacy practices in these spaces. Educational policies and curricular standards, economic factors, local and federal legislation, and political mandates are increasingly a driving force in the literacy practices championed by libraries (public, academic, K-12) and public schools.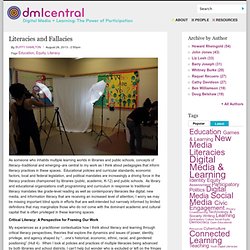 Literacies and Fallacies
This week's "So You Want to Read YA?" contribution comes from teacher Jillian Heise! Jillian Heise has been teaching middle school language arts for eight years giving her the opportunity to discuss thoughts and insights about books with real teen readers. She is currently teaching 7th & 8th graders at a K-8 school near Milwaukee, Wisconsin.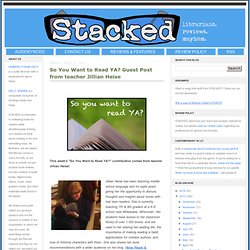 Stacked: So You Want to Read YA? Guest Post from teacher Jillian Heise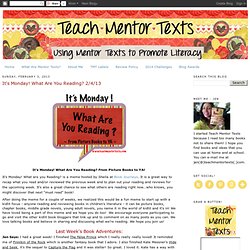 It's Monday! What Are You Reading? From Picture Books to YA! It's Monday!
Teach Mentor Texts: It's Monday! What Are You Reading? 2/4/13
Libraries of all types across the country are on the move – they are transforming their programs, collections, and services to provide equitable access to information and meet the priorities of the communities they serve. Libraries are stepping up to become centers of conversation, community engagement, learning, and innovation. One important goal area in ALA's 2015 strategic plan is Transforming Libraries.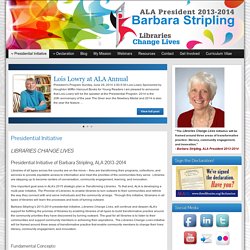 Barbara Stripling for ALA President » It is the time for us to transform our libraries!
Children's Book Reviews by StorySnoops - Home (Find-A-Book) and Holiday Reading Lists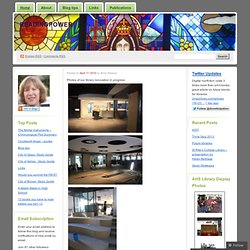 Trivia Quiz 2013 Posted on December 25, 2013 by Anne Weaver Future libraries Posted on October 20, 2013 by Anne Weaver Study Strategies Posted on September 6, 2013 by Anne Weaver
READINGPOWER
Listen A few weeks ago I worked and attended North Carolina's ISTE affiliate conference. I opened the NCTIES conference with a breakfast keynote address and Marc Prensky closed it with a luncheon keynote the next day.
Two Peas in a Pod
Last year we put together the Gateway Readers Award Basket with all the supplies necessary to host a Gateway Readers Party. We've had a couple of requests for the invitations, ballots, and other stuff. So… here you go. 1011 gateway bookmarks for books11011Gateway SignGateway Readers Award Party Invite 1011Gateway 1011 Ballot1011GatewayForm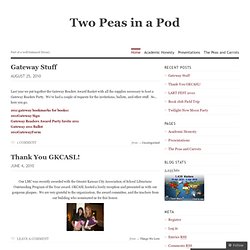 Internet Librarian 2013 – Holistic UX: Applying Lessons From the Web Everywhere Aaron Schmidt Websites are an important touch point for your users, but they are just one of many touchpoints of the overall user experience with the library. Most library tasks require interaction with multiple touchpoints.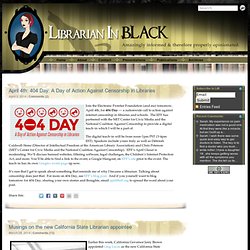 A number of folks I've bumped into lately ask me why I stopped blogging. I haven't. I simply can't maintain both of my blogs, work, travel, and have a life. So, while I may continue to post in this blog occasionally, I have an obligation to post on SLJ space. So please, please link to NeverEnding Search here. Here's the direct feed: http://feeds.feedburner.com/SLJNeverEndingSearch
Joyce Valenza's Neverending Search
From yesterday's headlines: Air Force pulls 34 nuclear officers off job for alleged test cheating (Associated Press)... 34 are suspected of cheating several months ago on a routine proficiency test that includes checking missile launch officers' knowledge of how to handle an "emergency war order," which is the term for the authorization required to launch a nuclear weapon.... [Air Force Secretary Deborah Lee James] suggested that the cheating was confined to this single case involving 34 officers, although numerous missile officers have told the AP confidentially that some feel compelled to cut corners on their monthly proficiency tests because of intense pressure to score at the highest levels to advance in the force....The 341st Missile Wing at Malmstrom, where all 34 suspected cheaters are based, is responsible for 150 of the 450 ICBMs....The Malmstrom unit failed a nuclear safety and security inspection in August but succeeded on a redo in October.
Original photo by Buffy Hamilton Earlier this month, my colleague Jennifer Lund and I attended a half day workshop sponsored by our Gwinnett County School District. We spent a Saturday morning with the smart and funny Harvey "Smokey" Daniels, who engaged us in a variety of strategies for helping learners transact with text more deeply while building writing fluency. Through his presentation as well as our hands-on exercises based on his new book, The Best-Kept Teaching Secret: How Written Conversations Engage Kids, Activate Learning, and Grow Fluent Writers K-12, we came away energized with concrete and meaningful strategies we felt we could apply right away in a variety of ways with teachers and students across multiple subject areas.
Awesome – every library with a makerspace should get a copy! http://www.wired.com/design/2013/12/characters-come-alive-in-this-3-d-printable-book/ "Leo the Maker Prince is a twee tale about a Brooklyn-based engineer-in-training named Diana, and Leo, a 3-D printer robot that transforms her drawings into functional objects. It's a heartwarming story, equal parts The Little Prince and Bre Pettis, and it's squarely aimed at the bedtime rotation of children with maker parents.