Librarian/Education Bloggers
http://www.thinkinginmind.com/
By: Maria Popova What a 13,000-year-old eucalyptus tree reveals about the meaning of human life. "Our overblown intellectual faculties seem to be telling us both that we are eternal and that we are not," philosopher Stephen Cave observed in his poignant meditation on our mortality paradox And yet we continue to long for the secrets of that ever-elusive eternity. For nearly a decade, Brooklyn-based artist, photographer, and Guggenheim Fellow Rachel Sussman has been traveling the globe to discover and document its oldest organisms — living things over 2,000 years of age. Her breathtaking photographs and illuminating essays are now collected in The Oldest Living Things in the World (public library) — beautiful and powerful work at the intersection of fine art, science, and philosophy, spanning seven continents and exploring issues of deep time, permanence and impermanence, and the interconnectedness of life. Llareta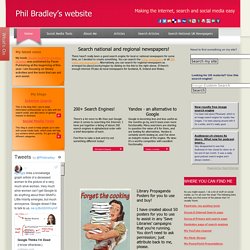 Internet search, search engines, search techniques, Web 2.0 information and resources are all things that I try and cover, with the emphasis being on librarians and librarianship. Regular visitors will see that the site is currently undergoing a make over, so there'll be a little disruption for a while until I get all of my pages ported across to the new version. Hopefully however it won't cause too much of a problem for you. New Articles
As someone who inhabits multiple learning worlds in libraries and public schools, concepts of literacy–traditional and emerging–are central to my work as I think about pedagogies that inform literacy practices in these spaces. Educational policies and curricular standards, economic factors, local and federal legislation, and political mandates are increasingly a driving force in the literacy practices championed by libraries (public, academic, K-12) and public schools.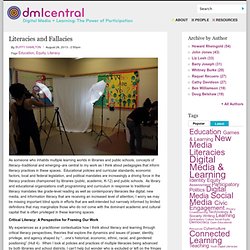 Literacies and Fallacies
This week's "So You Want to Read YA?" contribution comes from teacher Jillian Heise! Jillian Heise has been teaching middle school language arts for eight years giving her the opportunity to discuss thoughts and insights about books with real teen readers. She is currently teaching 7th & 8th graders at a K-8 school near Milwaukee, Wisconsin.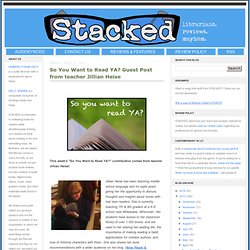 Stacked: So You Want to Read YA? Guest Post from teacher Jillian Heise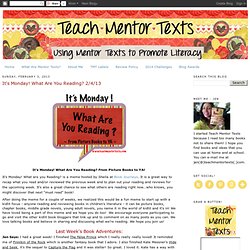 It's Monday! What Are You Reading? From Picture Books to YA! It's Monday!
Teach Mentor Texts: It's Monday! What Are You Reading? 2/4/13
Libraries of all types across the country are on the move – they are transforming their programs, collections, and services to provide equitable access to information and meet the priorities of the communities they serve. Libraries are stepping up to become centers of conversation, community engagement, learning, and innovation. One important goal area in ALA's 2015 strategic plan is Transforming Libraries.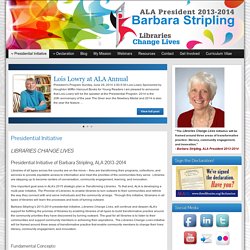 Barbara Stripling for ALA President » It is the time for us to transform our libraries!
Children's Book Reviews by StorySnoops - Home (Find-A-Book) and Holiday Reading Lists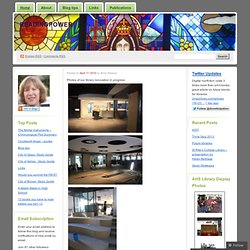 Posted on April 17, 2014 by Anne Weaver Photos of our library renovation in progress Filed under: Uncategorized | Leave a comment » Trivia Quiz 2013 Posted on December 25, 2013 by Anne Weaver Future libraries
READINGPOWER
Listen A few weeks ago I worked and attended North Carolina's ISTE affiliate conference. I opened the NCTIES conference with a breakfast keynote address and Marc Prensky closed it with a luncheon keynote the next day.
Two Peas in a Pod
Last year we put together the Gateway Readers Award Basket with all the supplies necessary to host a Gateway Readers Party. We've had a couple of requests for the invitations, ballots, and other stuff. So… here you go. 1011 gateway bookmarks for books11011Gateway SignGateway Readers Award Party Invite 1011Gateway 1011 Ballot1011GatewayForm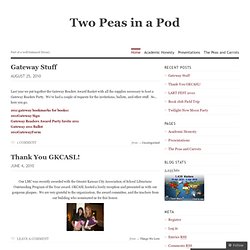 Earlier this week, California Governor Jerry Brown appointed Greg Lucas as the new California State Librarian. The appointment requires state senate confirmation, which has not happened yet. Lucas is not a librarian, nor has he ever (per information readily available online) worked in a library, volunteered for a library, served on a library Board or Commission, or…well…had any involvement with libraries at all. So what has Lucas done?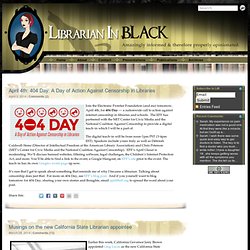 A number of folks I've bumped into lately ask me why I stopped blogging. I haven't. I simply can't maintain both of my blogs, work, travel, and have a life. So, while I may continue to post in this blog occasionally, I have an obligation to post on SLJ space. So please, please link to NeverEnding Search here. Here's the direct feed: http://feeds.feedburner.com/SLJNeverEndingSearch
Joyce Valenza's Neverending Search
A weekend Blue Skunk "feature" will be a revision of an old post. I'm calling this BFTP: Blast from the Past. Original post March 3, 2009.
The grand finale to Teen Tech Week 2014 was the first step in a partnership (more details later in this post!) between our media center and our friends from the Gwinnett County Public Library. Training Manager Christopher Baker, Information Technology Director Michael Casey, and Grayson Assistant Branch Manager Steve Thomas joined us for three lunch/guided study periods to introduce 3D printing to our teens. Christina Gangwisch, Public Services Librarian from our neighboring Peachtree Corners branch, was also part of the festivities and provided students information on getting a public library card as well as details about the library's eBook collection and activities for teens.
From HBR Blog: How to engage your employees and stop wasting everyone's time: http://bit.ly/1hIzC8O Stephen Librarians are #38 on the list.