Linux Servers
DNS. LSBInitScripts. Translation(s): none A status page for dependency based boot sequencing is available.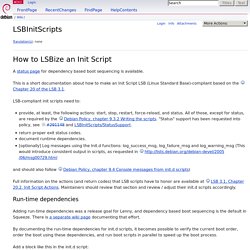 This is a short documentation about how to make an Init Script LSB (Linux Standards Base)-compliant based on the Chapter 20 of the LSB 3.1. LSB-compliant init scripts need to: provide, at least, the following actions: start, stop, restart, force-reload, and status. All of those, except for status, are required by the Debian Policy, chapter 9.3.2 Writing the scripts. Nmap - Free Security Scanner For Network Exploration & Security. Nmap tutoriel « Kediad. ICMP types ! Format de la commande "time" Bonjour, J'ai un pépin avec la commande time l'option format (ainsi que pas mal d'autres) n'ont pas l'air accessibles Exemple pourtant tiré du man de time :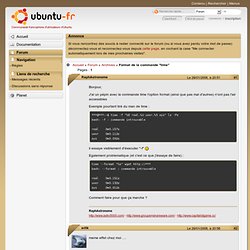 Databases. Webcam Bot ! Assistance. Documentation Before searching for support from someone else, it's usually good to try to find an answer to your problem yourself.
That way you will usually get the answers you need, and even if you don't, the experience of reading the documentation will likely be useful for you in the future. There is a fair amount of documentation available in Debian — please refer to the Debian documentation web page. Known problems. HTTP performance testing with httperf, autobench and openload. Update 02/26/07--------The link to the old httperf page wasn't working anymore.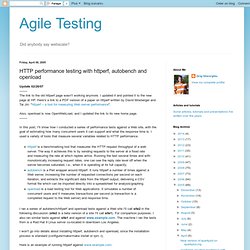 I updated it and pointed it to the new page at HP. Here's a link to a PDF version of a paper on httperf written by David Mosberger and Tai Jin: "httperf -- a tool for measuring Web server performance". Debugging Tip: Trace the Process and See What It is Doing with s. Strace is a useful diagnostic, instructional, and debugging tool.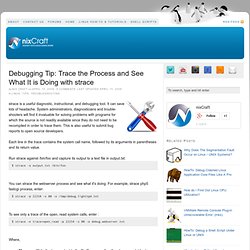 It can save lots of headache. System administrators, diagnosticians and trouble-shooters will find it invaluable for solving problems with programs for which the source is not readily available since they do not need to be recompiled in order to trace them. This is also useful to submit bug reports to open source developers. 20 Linux System Monitoring Tools Every SysAdmin Should Know. Need to monitor Linux server performance?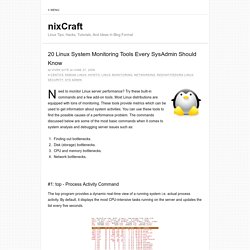 Try these built-in commands and a few add-on tools. Most Linux distributions are equipped with tons of monitoring. These tools provide metrics which can be used to get information about system activities. You can use these tools to find the possible causes of a performance problem. The commands discussed below are some of the most basic commands when it comes to system analysis and debugging server issues such as:
20 Linux Server Hardening Security Tips. Securing your Linux server is important to protect your data, intellectual property, and time, from the hands of crackers (hackers).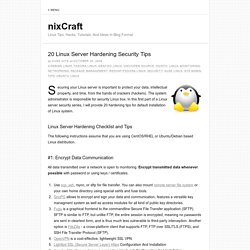 The system administrator is responsible for security Linux box. In this first part of a Linux server security series, I will provide 20 hardening tips for default installation of Linux system. Linux Server Hardening Checklist and Tips The following instructions assume that you are using CentOS/RHEL or Ubuntu/Debian based Linux distribution.
Chartbeat - real-time website analytics and uptime monitoring.
Mes manuels. Serveurs. KeepAlived - HowTo. VSFTPD. Serveur IRC (hybrid-ircd + hybserv) TeamSpeak. Tomcat 6. Debian 5. NFS. Divers. Langage ANT(pdf) ParaVM or full-VM or Cloud ? Xen. Mozilla Firefox. Low Power Servers. Remote Administration with DSH. Discover dsh, a utility to run arbitrary commands on any number of remote machines.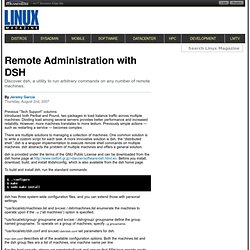 Previous "Tech Support" columns introduced both Perlbal and Pound, two packages to load balance traffic across multiple machines. Dividing load among several servers provides better performance and increased reliability. However, more machines translates to more tedium. Exploitation.
KeepAlived
---