Linux Servers
Translation(s): none A status page for dependency based boot sequencing is available. This is a short documentation about how to make an Init Script LSB (Linux Standards Base)-compliant based on the Chapter 20 of the LSB 3.1. LSB-compliant init scripts need to: provide, at least, the following actions: start, stop, restart, force-reload, and status. All of those, except for status, are required by the Debian Policy, chapter 9.3.2 Writing the scripts.
LSBInitScripts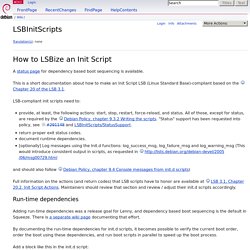 j'adore nmap, plus je l'utilise et plus je me dis que c'est un vilain outil pour les méchants pirates by uglycharly Feb 1
Nmap tutoriel « Kediad
c'est une science, le tuto est un peu simple ! Cela dit, je crois que dans "Matrix" ils utilisent nmap : Très bon outil pour pénétrer la matrice ! by uglycharly Mar 8
ce bon vieux nmap cé toute ma jeunesse :)) ! by deepy Mar 8
ICMP types !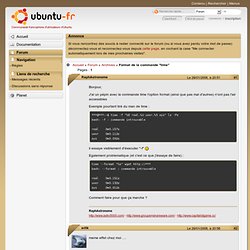 Format de la commande "time"
Bonjour, J'ai un pépin avec la commande time l'option format (ainsi que pas mal d'autres) n'ont pas l'air accessibles Exemple pourtant tiré du man de time :
Documentation
Assistance
HTTP performance testing with httperf, autobench and openload
Update 02/26/07--------The link to the old httperf page wasn't working anymore. I updated it and pointed it to the new page at HP. Here's a link to a PDF version of a paper on httperf written by David Mosberger and Tai Jin: "httperf -- a tool for measuring Web server performance".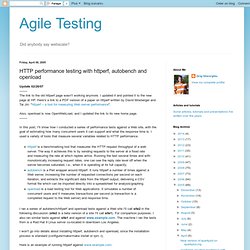 strace is a useful diagnostic, instructional, and debugging tool.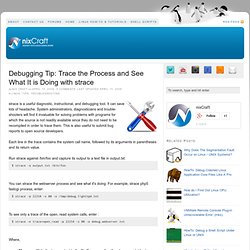 Debugging Tip: Trace the Process and See What It is Doing with s
Need to monitor Linux server performance? Try these built-in commands and a few add-on tools.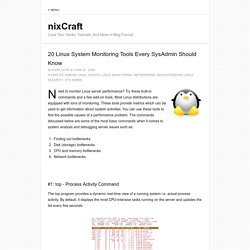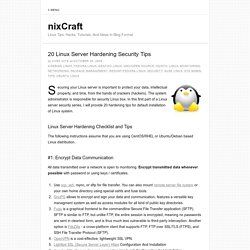 Securing your Linux server is important to protect your data, intellectual property, and time, from the hands of crackers (hackers).
des promesses toujours des promesses ; au final c'est toujours au pauvre ingénieur de prod de tester by uglycharly Feb 1
KeepAlived - HowTo
Serveur IRC (hybrid-ircd + hybserv)
langage ANT(pdf)
ParaVM or full-VM or Cloud ? Xen
Mozilla Firefox
Discover dsh, a utility to run arbitrary commands on any number of remote machines. Previous "Tech Support" columns introduced both Perlbal and Pound, two packages to load balance traffic across multiple machines. Dividing load among several servers provides better performance and increased reliability. However, more machines translates to more tedium.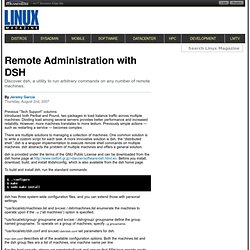 Remote Administration with DSH