Linux Servers
Translation(s) : none A status page for dependency based boot sequencing is available. This is a short documentation about how to make an Init Script LSB (Linux Standards Base)-compliant based on the Chapter 20 of the LSB 3.1 .
LSBInitScripts
j'adore nmap, plus je l'utilise et plus je me dis que c'est un vilain outil pour les méchants pirates by uglycharly Feb 1
Nmap tutoriel « Kediad
c'est une science, le tuto est un peu simple ! Cela dit, je crois que dans "Matrix" ils utilisent nmap : Très bon outil pour pénétrer la matrice ! by uglycharly Mar 8
ce bon vieux nmap cé toute ma jeunesse :)) ! by deepy Mar 8
ICMP types !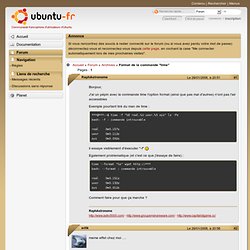 Format de la commande "time"
L'Europe est passée à l'heure d'été ! Si vous êtes concerné, n'oubliez pas de cocher "ajustement pour l'heure d'été" dans votre profil ! Le forum rencontre en ce moment quelques soucis de charge, il est possible qu'une erreur soit affichée quand vous postez un message, ne rechargez pas la page au risque de poster une seconde fois votre message
Documentation
Assistance
HTTP performance testing with httperf, autobench and openload
Update 02/26/07 -------- The link to the old httperf page wasn't working anymore. I updated it and pointed it to the new page at HP. Here's a link to a PDF version of a paper on httperf written by David Mosberger and Tai Jin: " httperf -- a tool for measuring Web server performance ".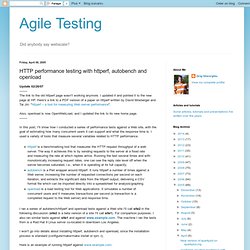 Voilà comment très simplement utiliser SSH derrière un proxy SOCKS . Présentation
SSH derrière un proxy SOCKS - Blog de Pingoomax
strace is a useful diagnostic, instructional, and debugging tool.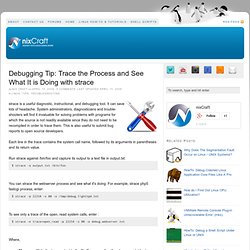 Debugging Tip: Trace the Process and See What It is Doing with s
Need to monitor Linux server performance? Try these built-in commands and a few add-on tools.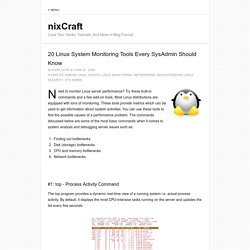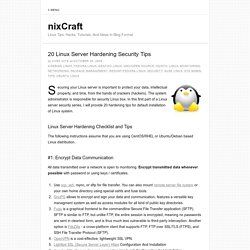 Securing your Linux server is important to protect your data, intellectual property, and time, from the hands of crackers (hackers).
des promesses toujours des promesses ; au final c'est toujours au pauvre ingénieur de prod de tester by uglycharly Feb 1
KeepAlived - HowTo
Serveur IRC (hybrid-ircd + hybserv)
langage ANT(pdf)
ParaVM or full-VM or Cloud ? Xen
Mozilla Firefox
Discover dsh, a utility to run arbitrary commands on any number of remote machines. <a href="http://o1.qnsr.com/cgi/r?WT.qs_dlk=UVnrOwrIZ1YAAFNmRywAAAAj;;n=203;c=883215/883211/883203/882257/581034;s=13044;x=2304;f=178284428;u=j;z=20130401201659" target="_blank"><img border="0" width="300" height="250" src="http://o1.qnsr.com/cgi/x?;n=203;c=883215/883211/883203/882257/581034;s=13044;x=2304;f=178284428;u=j;z=20130401201659" alt="Click here"></a>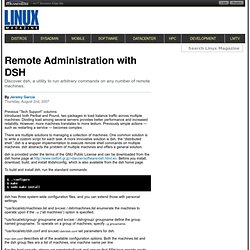 Remote Administration with DSH