How to build container home
Building with Shipping Containers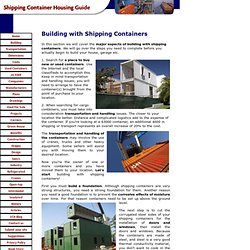 In this section we will cover the major aspects of building with shipping containers. We will go over the steps you need to complete before you actually begin to build your house, garage etc. 1. Search for a place to buy new or used containers.
A temporary bank branch built from shipping containers in Germany Shipping container architecture is a form of architecture using steel intermodal containers (shipping containers) as structural element, because of their inherent strength, wide availability and relatively low expense. Advantages[edit]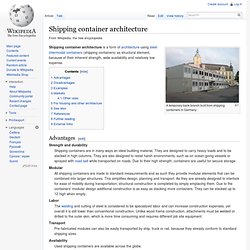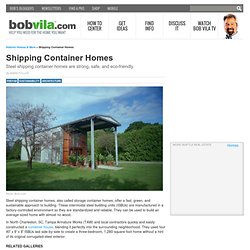 Container House, Shipping Container Homes
Photo: flickr.com Steel shipping container homes, also called storage container homes, offer a fast, green, and sustainable approach to building. These intermodal steel building units (ISBUs) are manufactured in a factory-controlled environment so they are standardized and reliable. They can be used to build an average-sized home with almost no wood. In North Charleston, SC, Tampa Armature Works (TAW) and local contractors quickly and easily constructed a container house, blending it perfectly into the surrounding neighborhood.
Design & Build With Metal: Metal Building & Cold-Formed Steel Framing Information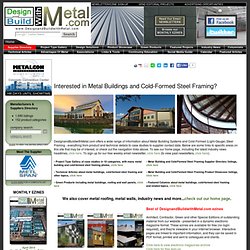 Best of DesignandBuildwithMetal.com ezines Architect, Contractor, Green and other Special Editions of outstanding material from our website - presented in a dynamic electronic magazine format. These ezines are available for free (no login required), and they're viewable in your internet browser. Interactive pages are linked to important information, and they can be saved in PDF format, printed and sent to colleagues and clients.
Your Shipping Container Home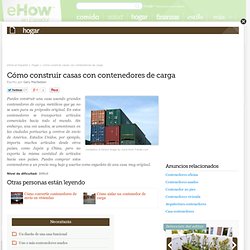 Puedes construir una casa usando grandes contenedores de carga metálicos que ya no se usen para su próposito original. En estos contenedores se transportan artículos comerciales hacia todo el mundo. Sin embargo, una vez usados, se amontonan en las ciudades portuarias y centros de envío de América. Estados Unidos, por ejemplo, importa muchos artículos desde otros países, como Japón y China, pero no exporta la misma cantidad de artículos hacia esos países. Puedes comprar estos contenedores a un precio muy bajo y usarlos como esqueleto de una casa muy original. Nivel de dificultad:
Cómo construir casas con contenedores de carga
Shipping Container Homes - building- Construction - Prefab Home-products
by Kelly Hart An idea whose time seems to have arrived is the use of stockpiled shipping containers as modular units for building homes. Because of the balance of trade in the United States, these hefty steel boxes are piling up in ports around the country and posing a storage problem. Several architects and builders are taking advantage of this surplus to recycle the containers.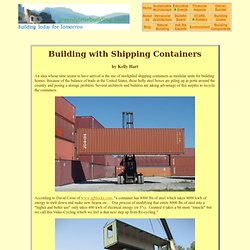 Hace tiempo que he escuchado a mi socio en bodegamia.com Gary Bedell y a Elias Simon (gran arquitecto y mejor amigo) hablar sobre edificar una casa con contenedores maritimos, si si .. de estos que se usan para transportar mercancias en barcos. La idea parece algo estrafalaria, pero tiene varias ventajas: 1. El precio, un contenedor maritimo Iso 40 está en el mercado de segunda mano por 1.800 € mas o menos, a esto habría que añadir los precios de gruas, soldadura, pintura y aislamiento, asi como solado y carpinteria metalica
Construye tu casa con contenedores | Juan Ignacio Acosta
Shipping Container Homes - How to Plan, Design and Build your own House out of Cargo Containers »