Water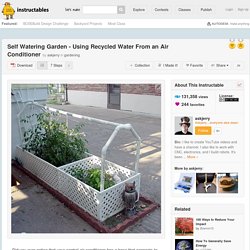 Did you ever notice that your central air conditioner has a hose that connects to the drain? I never really thought about it until one night I almost tripped because ours went across the basement floor. I cut the hose and placed a trash can there to collect the water... I figured that I would just dump it each day. I was surprised the next day to find that it had filled the trash can and made a fair sized puddle on the floor, and quite a mess with a stack of papers that was sitting there. After some rough calculations I discovered that about 350 gallons (1300 liters) was being wasted annually. ( )
Water Plants With Your Air Conditioner
Free Books: Water Sanitation Books
Even in places where there's a severe lack of water, there's one thing every place has. Air. And even in the most arid of climes, there's moisture in the air, even if it's not enough to be felt on your skin. So there's water everywhere, it's just a matter of getting to it, and that's what Edward Linnacre did with his brilliantly simple low tech air harvester called the Airdrop. With a deceptively modest design, Airdrop filters hot environmental air through a turbine, feeding it through a copper tubing system—with copper wool to maximize surface area—and into the earth where it cools and releases moisture. The dry air is then re-released into the atmosphere and the collected water pumped through semi-porous hoses to the plant roots.
Amazing Low-Tech Water Harvester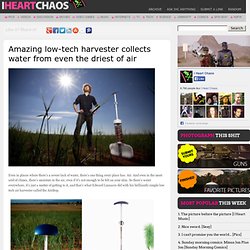 Survival: Emergency Water
Here in New England, we just recently had a severe ice-storm that brought the power down for over a week in some places.
Water Procurement and Purification Methods
DIY: Field-Expedient Water Filter
We all know how important water is in a survival situation. Without it, you don't stand to last long.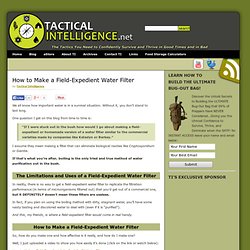 Create An Off The Grid Source Of Water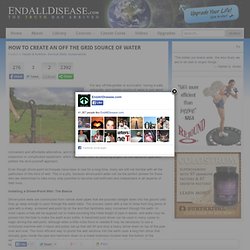 For any off-the-gridder or survivalist, having a safe, adequate, and reliable source of water is just about as basic as it gets. Water independence is the clear goal for all who want to be prepared for all contingencies, and digging your own well is the obvious way to set yourself up in anticipation of a time when utility companies can no longer be relied upon to supply vital services to their customers. But digging a traditional well is not the only option. There is another type of well that is perfectly capable of providing sufficient supplies of fresh, clean, potable water to meet the needs of most households, especially if at least a degree of water conservation is practiced. Driven-point wells are a convenient and affordable alternative, and in most instances they can be installed without the use of expensive or complicated equipment, which can make them an amazing project for the hands-on type who prefers the do-it-yourself approach.
Besides air, water is of primary importance if you hope to stay alive longer than a few days in a survival situation. And if you're stuck in a place where your source of water becomes polluted and you have no filter available there is still a way to get distilled, potable water — and that is through dew. Collecting dew is a rather simple process, however there are a few guidelines that need to be followed if you plan on using this method: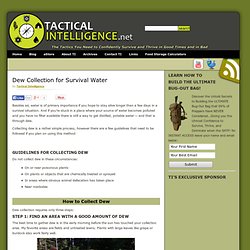 Dew Collection for Survival Water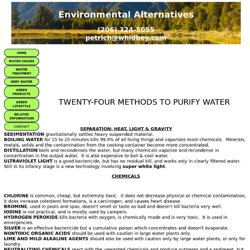 24 Purification Methods
Content for id "text" Goes Here SEDIMENTATION gravitationally settles heavy suspended material. BOILING WATER for 15 to 20 minutes kills 99.9% of all living things and vaporizes most chemicals. Minerals, metals, solids and the contamination from the cooking container become more concentrated.
In a SHTF situation, clean drinking water is a must. Why spend hundreds on a filter when you can make a quality one at home for a fraction of the price? If things were to go south and clean drinking water became unavailable, your Brita filter is not going to cut it. Having a quality filtration system that can turn contaminated water into life-saving drinkable water is an absolute must for every preparedness-minded person. Despite knowing this, many preppers will hold off on buying one because of the price.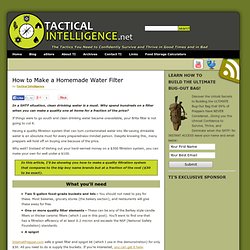 How To Make A Homemade Water Filter
Determining The Depth Of A Well
Hand-Digging & Bricking A Well (Mexico)
Drill A Water Well In Your Backyard!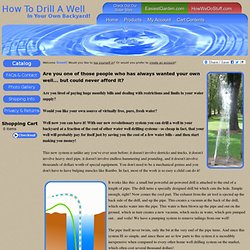 It works like this: a small but powerful air-powered drill is attached to the end of a length of pipe. The drill turns a specially designed drill bit which cuts the hole. Simple enough, right?
Tap Water Database 2009
Local Drinking Water Information | Local Drinking Water Information
Jump to main content or area navigation . Contact Us Water: Local Drinking Water Information You are here: Water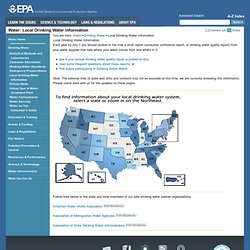 UTEC - Potable Water Generator
DIY Water Projects - Catching It, Saving It, Treating It ...
Home-made Hydraulic Ram Pump
This information is provided as a service to those wanting to try to build their own hydraulic ram pump. The data from our experiences with one of these home-made hydraulic ram pumps is listed in Table 4 near the bottom of this document. The typical cost of fittings for an 1-1/4" pump is currently $120.00 (U.S.A.) regardless of whether galvanized or PVC fittings are used. Table 1. Image Key All connectors between the fittings are threaded pipe nipples - usually 2" long or shorter.
Abstract
Homemade pH Indicator – DIY Experiments | Myles Power (powerm1985)
Soil and Water Conservation Society
Understanding and Working with Wilderness Water Systems Summary: Understanding how nature processes and reuses "wastes" is a prerequisite not only to camping responsibly, but to designing any ecological wastewater system.
Understanding Wild Water
Prepared by: Gregory D. Jennings Extension Agricultural Engineering Published by: North Carolina Cooperative Extension Service Publication Number: AG 473-15
Protecting Water Supply Springs
Protecting Springs: Alternative To Spring Boxes (PDF)