Future Homes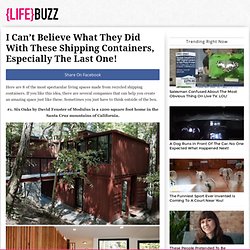 I Can't Believe What They Did With These Shipping Containers, Especially The Last One!
Here are 8 of the most spectacular living spaces made from recycled shipping containers.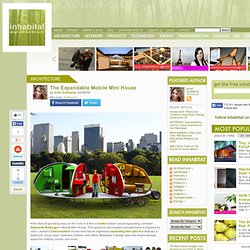 If the idea of spending days on the road in a tent or trailer doesn't sound appealing, consider Stéphanie Bellanger's Mobile Mini House. The spacious yet compact concept home is inspired by John Lautner's Chemosphere house and has an ingenious expanding floor plan that features a bathroom, living room, bedroom, kitchen, and office. Bellanger's design also has ample storage space for clothing, books, and more. The Mobile Mini House's walls and floors run on rails which allow them to easily fan out to a comfortable 252° radius. In case of rain, the home also features a sliding screen. We love the colorful rooms and spaciousness of the design, but wonder about its durability during long trips.
The Expandable Mobile Mini House
Casa de Bambú::. FOA
Homestead House, Michael Jantzen, world architecture news, archi
The Homestead House is a conceptual design for alternative housing that explores the potential use of a commercially available steel, prefabricated, modular, high strength, low cost, arch building system normally used for agricultural purposes.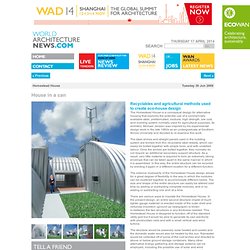 Nomadhome
CONVERTING CARGO CONTAINERS INTO BUILDINGS
h3ar: 'houses on the shelf'
Future-proof homes
Heliotrop - Freiburg
Login « Register « Menu Home » Categories » ART » Homes that Defy Gravity » Heliotrope Rotating House (Freiburg, Germany) Menu
Heliotrope Rotating House
waterstudio
F2H: Flood Harnessing Housing
BBC News Should we build new cities at sea?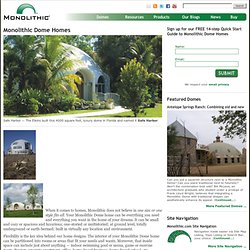 Monolithic Homes
When it comes to homes, Monolithic does not believe in one size or one style fits all. Your Monolithic Dome home can be everything you need and everything you want in the home of your dreams.
The Eco-Dome is a small home design of approximately 400 square feet (40 sq. meters) interior space. It consists of a large central dome, surrounded by four smaller niches and a wind-scoop, in a clover leaf pattern. Learning and building an Eco-Dome is the next stage after building a small emergency shelter and provides hands-on learning experience in the essential aspects of Superadobe construction. It's small size of approximately 400 square feet (interior space), makes it a manageable structure for the first time owner builder. The finished "very small house" is self-contained and can become a small guest house, studio apartment, or be the first step in a clustered design for community use in an Eco-Village of vaults and domes.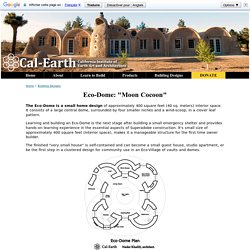 Slums, sadly, look largely the same the world over -- rickety metal roofed huts thrown together on the edges of vast metropolises to provide some rudimentary shelter for the destitute who live there. A model of the new paper house was set up in Kiel in December. But if a newly designed pre-fabricated house developed in conjunction with the Bauhaus University in the eastern German city of Weimar catches on, the world's shantytowns could get a new look. The buildings are cheap, sturdy -- and made out of paper.
Paper Houses: New Design Could Revolutionize World Slums - SPIEG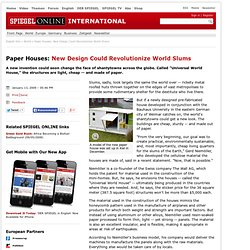 SwissCell
Jellyfish House
FutureHotel – Fraunhofer-Institut für Arbeitswirtschaft und Organisation
The Snail