App center
App Center recommendation engine drives more repeat app users than previous Facebook games dashboard
App Center recommendation engine drives more repeat app users than previous Facebook games dashboard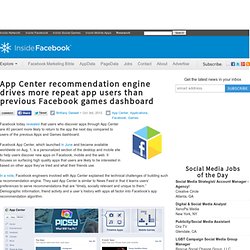 App Center Now Available in More Countries
Last week we got a little clue that Facebook was gearing up to take its App Center to markets outside the U.S., when it began to appear in the UK. As of today, it's official: Facebook has now extended the App Center to Australia, Canada, India, Ireland, New Zealand, South Africa, and the United Kingdom, with Brazil, France, Germany, Russia, Spain, Taiwan, and Turkey coming in following weeks.
Facebook's App Center Goes International: Open To English-Speaking Countries; Translation Tool Added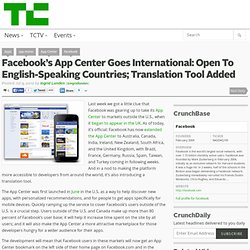 How Facebook is redefining mobile app discovery
Facebook launched two game-changing features for mobile app developers this week: App Center and mobile-only Sponsored Stories. App Center's "send to mobile" button is an efficient way to get users to download a mobile app after learning about it on a desktop, and Sponsored Stories offer unparalleled targeting options for advertising on mobile devices. These things, combined with Facebook single sign-on and Open Graph, give developers important new channels for growing their mobile apps.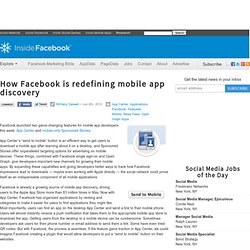 Growing quality apps with the App Center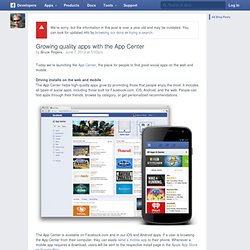 Today we're launching the App Center, the place for people to find great social apps on the web and mobile.
Facebook launches App Center with 600+ apps; new charts and categories improve discovery
Facebook App Center Launch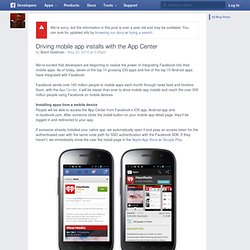 Driving mobile app installs with the App Center
We're excited that developers are beginning to realize the power of integrating Facebook into their mobile apps. As of today, seven of the top 10 grossing iOS apps and five of the top 10 Android apps have integrated with Facebook.
Facebook mobile integration will be key to get to the top charts in the appstore by PED May 23
App Center Best Practices
Last week, we announced the App Center, a new channel to grow canvas, mobile, and web apps that integrate Facebook.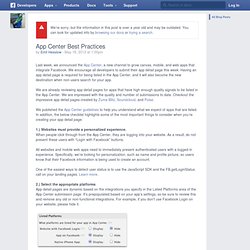 SAN FRANCISCO — It's getting bigger.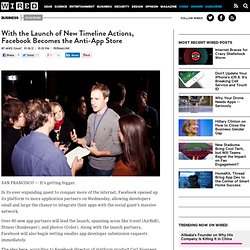 With the Launch of New Timeline Actions, Facebook Becomes the Anti-App Store | Epicenter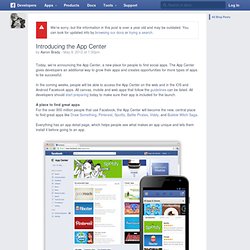 Today, we're announcing the App Center, a new place for people to find social apps. The App Center gives developers an additional way to grow their apps and creates opportunities for more types of apps to be successful. In the coming weeks, people will be able to access the App Center on the web and in the iOS and Android Facebook apps.
Introducing the App Center