App center
App Center recommendation engine drives more repeat app users than previous Facebook games dashboard. App Center recommendation engine drives more repeat app users than previous Facebook games dashboard Facebook today revealed that users who discover apps through App Center are 40 percent more likely to return to the app the next day compared to users of the previous Apps and Games dashboard.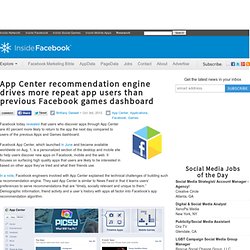 Facebook App Center, which launched in June and became available worldwide on Aug. 1, is a personalized section of the desktop and mobile site to help users discover new apps on Facebook, mobile and the web. It focuses on surfacing high quality apps that users are likely to be interested in based on other apps they've tried and what their friends use. App Center Now Available in More Countries. Facebook's App Center Goes International: Open To English-Speaking Countries; Translation Tool Added. Last week we got a little clue that Facebook was gearing up to take its App Center to markets outside the U.S., when it began to appear in the UK.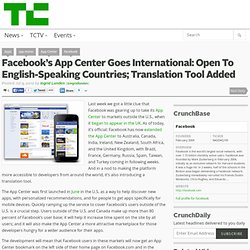 As of today, it's official: Facebook has now extended the App Center to Australia, Canada, India, Ireland, New Zealand, South Africa, and the United Kingdom, with Brazil, France, Germany, Russia, Spain, Taiwan, and Turkey coming in following weeks. And in a nod to making the platform more accessible to developers from around the world, it's also introducing a translation tool. The App Center was first launched in June in the U.S. as a way to help discover new apps, with personalized recommendations, and for people to get apps specifically for mobile devices. Quickly ramping up the service to cover Facebook's users outside of the U.S. is a crucial step. How Facebook is redefining mobile app discovery. Facebook launched two game-changing features for mobile app developers this week: App Center and mobile-only Sponsored Stories.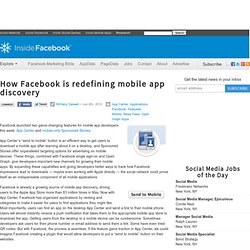 App Center's "send to mobile" button is an efficient way to get users to download a mobile app after learning about it on a desktop, and Sponsored Stories offer unparalleled targeting options for advertising on mobile devices. These things, combined with Facebook single sign-on and Open Graph, give developers important new channels for growing their mobile apps. Growing quality apps with the App Center. Today we're launching the App Center, the place for people to find great social apps on the web and mobile.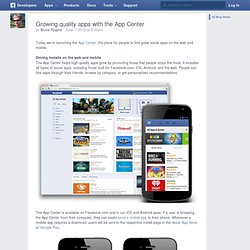 Driving installs on the web and mobile The App Center helps high-quality apps grow by promoting those that people enjoy the most. It includes all types of social apps, including those built for Facebook.com, iOS, Android, and the web. People can find apps through their friends, browse by category, or get personalized recommendations. The App Center is available on Facebook.com and in our iOS and Android apps. If a user is browsing the App Center from their computer, they can easily send a mobile app to their phone.
Facebook launches App Center with 600+ apps; new charts and categories improve discovery. Facebook App Center Launch. Driving mobile app installs with the App Center. We're excited that developers are beginning to realize the power of integrating Facebook into their mobile apps.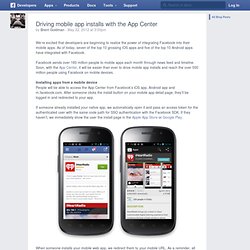 As of today, seven of the top 10 grossing iOS apps and five of the top 10 Android apps have integrated with Facebook. Facebook sends over 160 million people to mobile apps each month through news feed and timeline. Soon, with the App Center, it will be easier than ever to drive mobile app installs and reach the over 500 million people using Facebook on mobile devices. Installing apps from a mobile device People will be able to access the App Center from Facebook's iOS app, Android app and m.facebook.com. After someone clicks the install button on your mobile app detail page, they'll be logged in and redirected to your app. App Center Best Practices. Last week, we announced the App Center, a new channel to grow canvas, mobile, and web apps that integrate Facebook.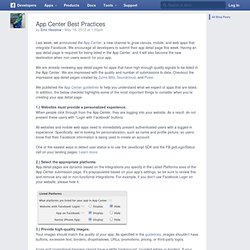 We encourage all developers to submit their app detail page this week. Having an app detail page is required for being listed in the App Center, and it will also become the new destination when non-users search for your app. We are already reviewing app detail pages for apps that have high enough quality signals to be listed in the App Center. We are impressed with the quality and number of submissions to date. With the Launch of New Timeline Actions, Facebook Becomes the Anti-App Store | Epicenter. SAN FRANCISCO — It's getting bigger.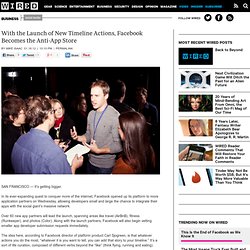 In its ever-expanding quest to conquer more of the internet, Facebook opened up its platform to more application partners on Wednesday, allowing developers small and large the chance to integrate their apps with the social giant's massive network. Over 60 new app partners will lead the launch, spanning areas like travel (AirBnB), fitness (Runkeeper), and photos (Color).
Along with the launch partners, Facebook will also begin vetting smaller app developer submission requests immediately. The idea here, according to Facebook director of platform product Carl Sjogreen, is that whatever actions you do the most, "whatever it is you want to tell, you can add that story to your timeline." Introducing the App Center. Today, we're announcing the App Center, a new place for people to find social apps.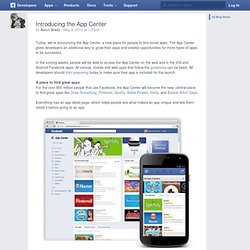 The App Center gives developers an additional way to grow their apps and creates opportunities for more types of apps to be successful. In the coming weeks, people will be able to access the App Center on the web and in the iOS and Android Facebook apps. All canvas, mobile and web apps that follow the guidelines can be listed. Courting Precious Developers, Facebook Announces an App Center - Mike Isaac - Social.
---