Europe
Behind the mask of far-right leaders in Europe. Why is Sweden closing its prisons? | Society. Swedish prisons have long had a reputation around the world as being liberal and progressive.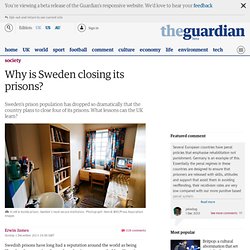 So much so that in 2005 even Saddam Hussein requested to be transferred to a Swedish prison to await his trial – a request that was rejected by the Swedish authorities. But are the country's prisons a soft option? The head of Sweden's prison and probation service, Nils Oberg, announced in November that four Swedish prisons are to be closed due to an "out of the ordinary" decline in prisoner numbers. Reframing Europe in unfriendly times. The EU must move fast and persistently to convince potential voters to gain confidence in its relevance and abilities.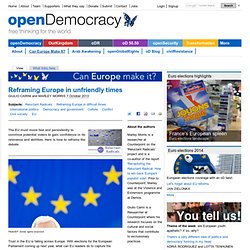 Here is how to reframe the debate. Flickr/EP. Some rights reserved. Trust in the EU is falling across Europe. A Continent Mired in Crisis Coins a Language of Economic Pain. Carlos Lujan for the International Herald Tribune Darío Villanueva of the Spanish Royal Academy, which has updated a dictionary with new terms spawned by the economic crisis.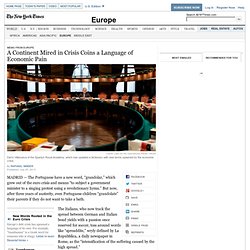 The Italians, who now track the spread between German and Italian bond yields with a passion once reserved for soccer, toss around words like "spreaddite," wryly defined by La Repubblica, a daily newspaper in Rome, as the "intensification of the suffering caused by the high spread." In Greece, crisis-born phrases pepper conversations in cafes and offices and on subway trains, particularly the ironic use of expressions or slogans uttered by political leaders, like a claim in 2009 by George A. Papandreou, then the prime minister, that there was money, when clearly there was not. "Don't worry, I'll get it," a Greek man celebrating his birthday at an Athens taverna told his friends recently when they reached for their wallets.
Europe's Austerity Madness. But the purveyors of conventional wisdom forgot that people were involved.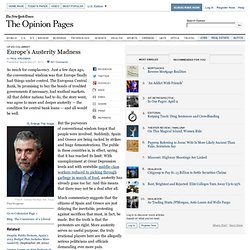 Suddenly, Spain and Greece are being racked by strikes and huge demonstrations. The public in these countries is, in effect, saying that it has reached its limit: With unemployment at Great Depression levels and with erstwhile middle-class workers reduced to picking through garbage in search of food, austerity has already gone too far. And this means that there may not be a deal after all.
Much commentary suggests that the citizens of Spain and Greece are just delaying the inevitable, protesting against sacrifices that must, in fact, be made. But the truth is that the protesters are right. Ship Europe. Film Socialisme, Wild Bunch, 2012 by Srećko Horvat Costa Concordia, the famous cruise ship that hit a rock in the Tyrrhenian Sea in January 2012 might furnish another aptly-named example for symbolizing the harmony and unity between European nations.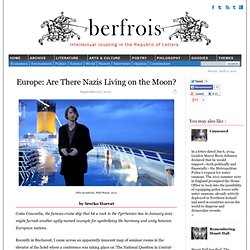 Death at the global frontier. More than 16,000 people have died at the borders of Europe since 1993, but who is responsible?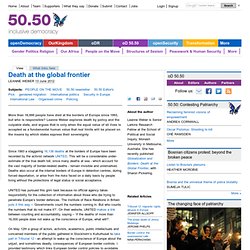 Leanne Weber explores death by policy and the culpable state, and argues that is only when the equal value of all lives is accepted as a fundamental human value that real limits will be placed on the means by which states express their sovereignty Since 1993 a staggering 16,136 deaths at the borders of Europe have been recorded by the activist network UNITED. This will be a considerable under-estimate of the true death toll, since many deaths at sea - which account for the vast majority of border-related deaths - remain invisible and unremarked.
France. Greece. Britain. Germany. Spain. "Justice for Sweden" by Marten Schultz. Exit from comment view mode.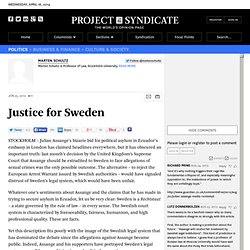 Click to hide this space STOCKHOLM – Julian Assange's bizarre bid for political asylum in Ecuador's embassy in London has claimed headlines everywhere, but it has obscured an important truth: last month's decision by the United Kingdom's Supreme Court that Assange should be extradited to Sweden to face allegations of sexual crimes was the only possible outcome.
Lm Tóibín on Joyce's Dublin: city of dreamers and chancers. One hundred and eight years ago today James Joyce and Nora Barnacle went out walking together for the first time.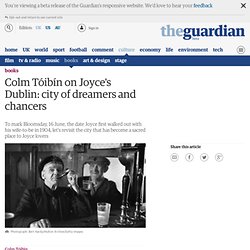 "Bloomsday", the day on which the novel Ulysses takes place, happens also on 16 June 1904. Hidden aspects of his own life nourished the narrative for Joyce. His own mythology could thus merge with a number of other mythologies to add weight and substance to what was, on the surface and maybe buried in the depths too, an ordinary day in an ordinary place. Nora worked in Finn's Hotel, and the walk between there and Merrion Square, where they originally arranged to meet, passed by 6 Clare Street, from where Samuel Beckett's father ran his business, and where Beckett would write some of his novel Murphy.
The fall and future of Dutch neo-liberal nationalism. The collapse of budget negotiations and the upcoming elections in Holland provide opportunities for the emergence of better answers to the violence done by nationalist antagonisms, imposed through neo-liberal austerity programmes Jusqu'ici tout va bien, jusqu'ici tout va bien… But what is important is not the fall itself but the landing… The Dutch minority coalition has abruptly imploded only a week after the publication of my article on the rise of a contradictory form of nationalist neo-liberalism.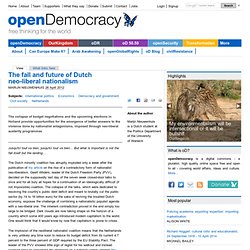 Geert Wilders, leader of the Dutch Freedom Party (PVV), decided on the supposedly last day of the seven week closed-door talks to once and for all bury all hopes for a continuation of an ideologically difficult (if not impossible) coalition.
Poland Has Become the Success Story of Eastern Europe. There are cities that are as uninteresting as the stone they are made of, rigid and heavy, done up as stylishly as if they had been completely untarnished by the vagaries of history.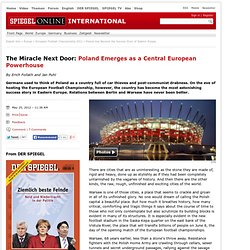 And then there are the other kinds, the raw, rough, unfinished and exciting cities of the world. Warsaw is one of those cities, a place that seems to crackle and groan in all of its unfinished glory. No one would dream of calling the Polish capital a beautiful place. But how much it breathes history, how many critical, comforting and tragic things it says about the course of time to those who not only contemplate but also scrutinize its building blocks is evident in many of its structures. With 'Polish Death Camps' Remark, Barack Obama Stumbled Into a Raging Debate About Poles' WWII History. During Tuesday's awards ceremony for this year's recipients of the Presidential Medal of Freedom, President Barack Obama honored Polish resistance hero Jan Karski as a man who was "smuggled into the Warsaw Ghetto and a Polish death camp to see for himself" the savagery of Nazi anti-Semitism.
What appeared to most American political observers a minor gaffe—the infelicitous word choice of a White House speechwriter—quickly metastasized into a diplomatic incident between the United States and Poland. As was quickly pointed out by angry Poles, the death factories were built on German-occupied Polish soil by Germans. Europe's star? This year's Euro 2012 host has been untouched by the financial crisis, but for Poland, success has not come without strain Chuck Norris, a cult figure in Poland, advertises bank services. A cautious financial culture helped the nation avoid the worst of the crisis Flying into Rzeszów on a clear day, the company name "Zelmer" appears in bold letters across a vast factory roof, surrounded by acres of birch trees.
Last summer, after 60 years in a warren of old workshops in the middle of the city, an unshowy city in southeastern Poland, the company moved into a purpose-built plant on the edge of town. While manufacturers in almost every other corner of Europe have spent recent years desperately cutting costs, Poland's number one domestic brand of vacuum cleaners and kitchen appliances (meat mincers, juice mincers, multi-purpose mincers) was executing "Project Junior": an ambitious plan to modernise its production lines, increase its profits and break open new markets in Russia and Ukraine.
National Subjects. Ethnic identity training in Bosnia and Herzegovina begins in the classroom. There was no Santa Claus in the Sarajevo and Bosnia and Herzegovina of my childhood. The white-bearded fat man who assessed the worth of children's obedience and brought them presents was called Deda Mraz—Grandpa Frost. Having dispatched his proxies to schools and kindergartens in the preceding weeks, he showed up at your home in person (though always unseen) on New Year's Eve, at midnight or so, just for you.
He was non-denominational and non-ideological and delivered presents to all obedient children regardless of their ethnicity or political convictions. Unforgiven, unforgotten, unresolved: Bosnia 20 years on. Visegrad, site of one of the worst atrocities of the Bosnian war, is still in denial about the past Mayor Tomislav Popovic has a dark three-piece suit, a diffident demeanour and weighs every syllable as if his career depends on it.
He reminds me of a small-town Yugoslav bureaucrat from the old days; he even favours the wooden party language of Josip Broz Tito's era. Only the picture of Prince Lazar, Serbia's medieval tragic hero, on the wall of his office marks the change of tone in his town since Yugoslavia's fall. My home, ripped apart. My American friend James and I were watching soccer at a restaurant in Queens, but I couldn't stop reading a story about Ratko Mladic's trial at the Hague. There were two pictures with the story: One showed him smiling as he listened to his indictment at a pretrial hearing, and another of a mass grave he created. "What's that?" James asked. I wanted to tell James how personal this was. Serbia's election: more defeat than victory. Sarajevo's Lingering Tensions.
Hungary
Opening Europe's Mediterranean Window - Ana Palacio. "A Post-Arab Spring Strategy" by Volker Perthes. "Islam's European Hope" by Shlomo Ben-Ami. U.S.-Europe-Asia: The new strategic triangle. "Europe's Three Eastern Questions" by Javier Solana. Europe's Grandma Crisis. The Myth of Europe - by Gareth Harding. European Identities Part I | Francis Fukuyama. European Identities Part II | Francis Fukuyama. The Strange Triumph of Liberal Democracy. The Weekend Interview With Norman Davies: The Emperor of Vanished Kingdoms. EU democracy in crisis: mired in a perfect storm or rebounding? Amitai Etzioni | The Construction of Europe - The Time for Games is Over | The European Magazine. Does it get more transparent than this? "Dark Continent" by Paulina Neuding.
Europe's Own Human Rights Crisis. Europe invents the Gypsies - Klaus-Michael Bogdal The dark side of modernity. The EU's Roma role. Europe's Squandered Minority - Zeljko Jovanovic. Jeremy Harding · Europe at Bay: The Immigration Battle · LRB 9 February 2012. "The Euro's Imagined Community" by Robert J Shiller. The Eurocratic assault on democracy | Bruno Waterfield. "Europe's Trust Deficit" by Barry Eichengreen. Southern Europe fears summer of violence | World news. Austerity and the End of the European Model. "The Triumph of Politics in Europe" by Shlomo Ben-Ami. Making the fiskalpakt Ireland-proof | Bruno Waterfield. The Crisis of European Democracy. An open letter to the leaders of Europe: abandon the Euro's 'gold fetters' "Shards of Europe" by Harold James. Beware the rise of EU anti-populists | Patrick Hayes.
The Euromess: A Letter from Madrid - Ana Palacio. "Europe's Fairness Crisis" by Giles Merritt. All over Europe: from Pirates to Le Pen. "Who's Afraid of Europe's Human-Rights Court?" by James A. Goldston and Yonko Grozev. Václav Havel's Life in Truth - Jiří Pehe. Interview with Czech Foreign Minister: 'We Have to Move Away from a Europe of Small Minds' - SPIEGEL ONLINE - News - International. Havel's Specter: On Václav Havel. Art and Politics: What Would Vaclav Havel Do? What Integration Means For Germany's Guest Workers.
---