ARQUITECTURA Y URBANISMO
Niemeyer, a arquitetura da destruição - opiniao - versaoimpressa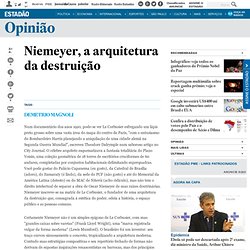 Num documentário dos anos 1920, pode-se ver Le Corbusier esfregando um lápis preto grosso sobre uma vasta área do mapa do centro de Paris, "com o entusiasmo do Bombardeiro Harris planejando a aniquilação de uma cidade alemã na Segunda Guerra Mundial", escreveu Theodore Dalrymple num saboroso artigo no City Journal. O célebre arquiteto esquematizava a fantasia totalitária do Plano Voisin, uma coleção geométrica de 18 torres de escritórios cruciformes de 60 andares, completadas por conjuntos habitacionais delimitando superquadras. Você pode gostar do Palácio Capanema (eu gosto), da Catedral de Brasília (adoro), do Itamaraty (é lindo), da sede do PCF (não gosto) e até do Memorial da América Latina (detesto) ou do MAC de Niterói (acho ridículo), mas não tem o direito intelectual de separar a obra de Oscar Niemeyer de suas raízes doutrinárias.
Metropol Parasol: The World's Largest Wooden Structure Opens in Seville
Share on Tumblr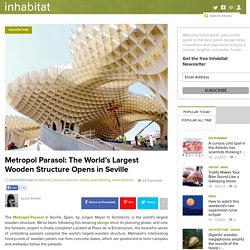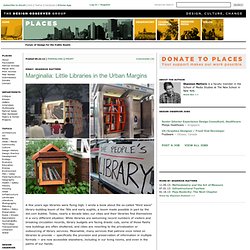 Little Libraries and Tactical Urbanism
Essay: Shannon Mattern
Christopher Alexander ( n. 4 de octubre de 1936 en Viena, Austria) es un arquitecto, reconocido por sus diseños destacados de edificios en California, Japón y México. Partiendo de la premisa de que los usuarios de los espacios arquitectónicos saben más que los arquitectos sobre el tipo de edificios que necesitan, creó y validó (junto a Sarah Ishikawa y Murray Silverstein) el término lenguaje de patrón, un método estructurado que pone la arquitectura al alcance de personas no especializadas profesionalmente en la materia, y que popularizó en su libro A Pattern Language.
Christopher Alexander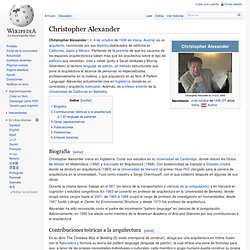 The Architecture of Cooperation - Richard Sennett
Arquitectura y sostenibilidad