Food for thought and hunger
Whipped Frosting. Virginia Willis' Cola-glazed Wings. Image Credit: Jaden Hair This is a recipe that I return to time and time again -- it's a friends and family favorite, and the entire plate gets devoured every time.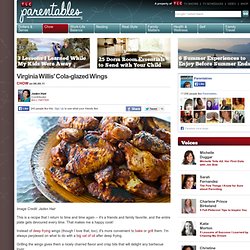 That makes me a happy cook! Instead of deep frying wings (though I love that, too), it's more convenient to bake or grill them. I'm always perplexed on what to do with a big vat of oil after deep frying. Grilling the wings gives them a nicely charred flavor and crisp bits that will delight any barbecue lover. Best Steak Marinade in Existence Recipe. Make Your Own Ice Cream in Five Minutes. Photo Credit: Sarah Fernandez I have such fond memories of making homemade ice cream in the summer when we were kids.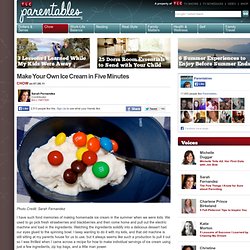 We used to go pick fresh strawberries and blackberries and then come home and pull out the electric machine and load in the ingredients. Watching the ingredients solidify into a delicious dessert had our eyes glued to the spinning bowl. 3 Ultra-Satisfying Vegetarian Fall Soup Recipes. Image via: Sneakerdog Every year, when it starts getting cold, I crave soups and stews packed with greens and garlic.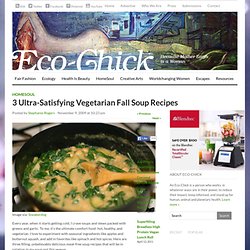 To me, it's the ultimate comfort food: hot, healthy, and vegetarian. I love to experiment with seasonal ingredients like apples and butternut squash, and add in favorites like spinach and hot spices. Refrigerator Soup is a delicious photo collection of recipes, cooking, baking, photo contests and culinary giveaways! The best recipes by the best food bloggers on the planet! Stylish Cuisine. Seven Soup Spoons: Summer Vegetable Soup. Make Your Own Corn Dogs - Project.
Drinks. Untitled. * Exported from MasterCook * Mcdonald's Big Mac Sauce Recipe By : Serving Size : 6 Preparation Time :0:00 Categories : Copycat Amount Measure Ingredient -- Preparation Method -------- ------------ -------------------------------- 1 Cup Miracle whip 1/2 Cup Relish 1/3 Cup Kraft creamy french dressing Orange Kind--Not Red Kind 1 Tablespoon Sugar 1/4 Teaspoon Black pepper 1 Teaspoon Dry minced onion Stir together and chill. - - - - - - - - - - - - - - - - - -
Ten Bizarre Restaurants to Eat in Before you Die | AnyTrip Blog. Whether it's sipping lattes in a treehouse or devouring seafood at the bottom of the ocean, dining at these bizarre restaurants deserves a spot on your "Things to do before I die" list.
If you've got a penchant for eating in eye-popping circumstances, keep an eye out for these restos on your travels… 1. Ithaa Restaurant, Indian Ocean No, it's not a typo, the Ithaa (translation: pearl) is totally underwater and can comfortably seat 14 diners in a transparent acrylic bubble that allows you to have a 270° panoramic view of the ocean life all around you. Offshore from Rangalifinolhu island in the Maldives, this expensive and exclusive dining experience is located by a tunnel from the shoreline Conrad Maldives that leads you down five metres below sea level.
Dollhouse Bake Shoppe Blog: "Cupcake" Fudge Cups. Today is National Fudge Day!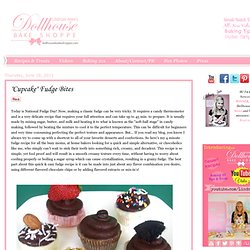 Now, making a classic fudge can be very tricky. It requires a candy thermometer and is a very delicate recipe that requires your full attention and can take up to 45 min. to prepare. Junk Food News.
Rumali Roti, Roomali Roti, Recipe For Rumali Roti, How To Make Roomali Roti. Ingredients: 11/2cup Whole Wheat Flour (Atta) 50 gms Maida 1/2 tsp Baking powder 2 tbsp oil Water to knead How To Make Roomali Roti: Mix wheat flour, maida, salt and baking powder and sieve them together.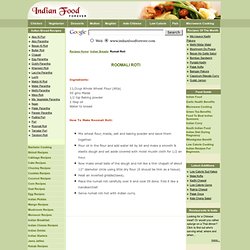 Greek Garlic-Lemon Potatoes Recipe | Patates sto Fourno. About a month back, a dear reader Sudha asked me for a Potato recipe which is my all time fav.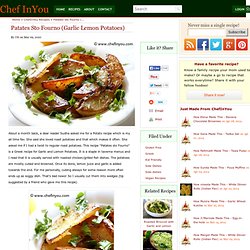 She said she loved roast potatoes and that which makes it often. She asked me if I had a twist to regular roast potatoes. This recipe "Patates sto Fourno" is a Greek recipe for Garlic and Lemon Potatoes. It is a staple in taverna menus and I read that it is usually served with roasted chicken/grilled fish dishes. Potatoes.
How To Make Sushi | Make My Sushi. Vegetables. CheapCooking.com: Cheap Quick Easy Recipes for your Family, Cheap Healthy Recipes, Grocery List on a Budget. How to Cook Food in a Hotel Room: 11 steps (with video) Edit Article Cooking HelpBreakfastLunch/Dinner Edited by Sondra C, Audriusa, Tom Viren, Maluniu and 32 others.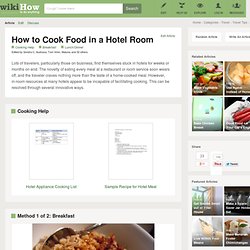 100 Delicious, Dirt-Cheap Recipes for the Starving Student. Most students don't have a lot of cash to spend on food, but that doesn't mean you have to go hungry.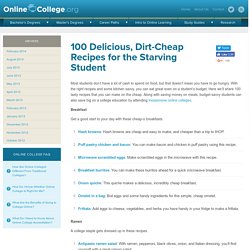 With the right recipes and some kitchen savvy, you can eat great even on a student's budget. Here we'll share 100 tasty recipes that you can make on the cheap. Along with saving money on meals, budget-savvy students can also save big on a college education by attending inexpensive online colleges. 42968098_dfPdIkJ3_c.jpg (JPEG Image, 553x1743 pixels) Food cravings... HomeEmail The information on this site is for educational purposes only. It is not intended to diagnose, treat or cure any diseases or illnesses. The statements on this website have not been evaluated by the Food and Drug Administration. The Perfect Pantry Article. Fine Cooking - quick recipes, ingredients guide, how-to videos and community. Encyclopedia of spices.
Badcondiment-lg.jpg (JPEG Image, 800x631 pixels) 10 Foods to Wake Up Your Workday. 8. Quinoa "Quinoa is a gluten-free grain that contains more protein than any other grain or rice. The grain is so rich in amino acids, that it is considered a complete source of protein, high in lysine, methionine and cysteine—ideal for post-workout meals to help build muscle.
Sweet nothings
Texas Chocolate Sheet Cake. This Texas Sheet Cake is a family tradition, we grew up eating it and my kids are growing up devouring it. I've had many Texas Sheet Cakes or Texas Chocolate Cakes or Chocolate Sheet cakes, as everyone down here as their own version of it. This is hands down the best one that I've ever eaten and everyone that we make it for falls instantly in love with it. It's quite addictive, you can't eat just one bite, trust me… you keep going back for more. For the cake you need; flour, sugar, salt, margarine (the original recipe calls for Oleo), water, Cocoa, eggs, baking soda, buttermilk, vanilla and cinnamon. Put the margarine, cocoa and water into a pan and bring to a boil. Dessert & Sweets | foodgawker - page 12.
---