Israel
Simulation: Israeli strike on Iran would work. An Israeli newspaper recently hosted a war simulation that showed an Israeli strike on Iran's nuclear facilities causing severe damage and the Jewish state not suffering any major consequences for that action.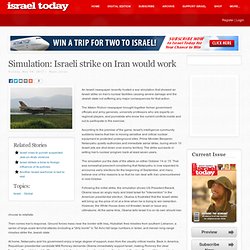 The Makor Rishon newspaper brought together former government officials and army generals, university professors who are experts on regional players, and journalists who know the current conflicts inside and out to participate in the exercise. According to the premise of the game, Israel's intelligence community suddenly learns that Iran is moving sensitive and critical nuclear equipment to protected underground sites. Prime Minister Benjamin Netanyahu quietly authorizes and immediate aerial strike, during which 10 Israeli jets are shot down over enemy territory. The strike succeeds in setting Iran's nuclear program back at least seven years.
The simulation put the date of the attack on either October 14 or 15.
Iran vs. Israel - No Fear. Iran vs. Israel - Back to the Future. Return to Zion - IFCJ. Episode 24A Sad and Tragic History The deep pain caused by historical anti-Semitism and the Holocaust still lingers… Episode 23The Second Temple.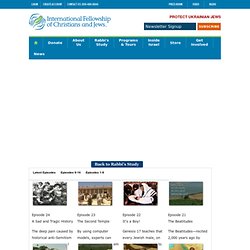 Holocaust. Israeli TV report shows air force gearing up for Iran attack, says moment of truth is near. A major Israel TV station on Sunday night broadcast a detailed report on how Israel will go about attacking Iran's nuclear facilities in the event that diplomacy and sanctions fail and Israel decides to carry out a military strike.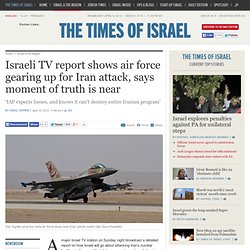 Get The Times of Israel's Daily Edition by email and never miss our top stories Free Sign up! The report, screened on the main evening news of Channel 10, was remarkable both in terms of the access granted to the reporter, who said he had spent weeks with the pilots and other personnel he interviewed, and in the fact that his assessments on a strike were cleared by the military censor. No order to strike is likely to be given before the P5+1 talks with Iran resume in May, the reporter, Alon Ben-David, said. Are you United with Israel? Stand for Israel: Israel's War of Independence. The 1948 War, Israel's War of Independence, was the first of Israel's many wars fought against its Arab neighbors.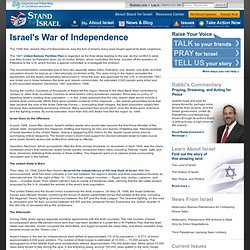 The 1947 United Nations Partition Plan is regarded as the final straw leading to the war. As the conflict in what was then known as Palestine spun out of control, Britain, which controlled the area, handed off the question of Palestine to the U.N, which formed a special committee to investigate the problem. The recommendation presented was to form two separate states within Palestine, one Jewish, one Arab, and that Jerusalem should be kept as an internationally controlled entity. Stand for Israel: Holocaust Resources. U.S.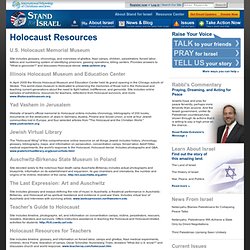 Holocaust Memorial Museum Site includes glossary, chronology, and overviews of ghettos, Nazi camps, children, perpetrators, forced labor, tattoos and numbering system of identifying prisoners, gassing operations, killing centers. Provides answers to "What is genocide? " and discusses Holocaust denial. www.ushmm.org Illinois Holocaust Museum and Education Center.
Stand for Israel: War, Peace and Politics. War and terrorism directed against Jews has been a fact of life for Israel ever since the modern Zionist movement began to bring Jews from around the world to resettle their biblical and ancestral homeland.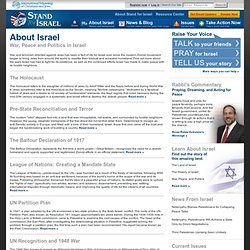 Find out more about the wars Israel has had to fight for its existence, as well as the continued efforts Israel has made to make peace with its hostile neighbors. The Holocaust. Stand for Israel: History of Israel : Stand for Israel. The columnist Charles Krauthammer once said about the history of Israel, "Israel is the very embodiment of Jewish continuity: It is the only nation on earth that inhabits the same land, bears the same name, speaks the same language, and worships the same God that it did 3,000 years ago.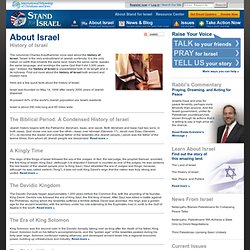 " Indeed, the history of Israel is unparalleled both in its length and in its richness. Find out more about the history of Israel both ancient and modern here. Stand for Israel: Land of Israel: Stand for Israel. Over the years what we now know as the land of Israel was known by many names - Eretz Yisrael (Land of Israel); Zion, one of Jerusalem's hills which came to signify both the city and the Land of Israel as a whole; Palestine, derived from Philistia, and first used by the Romans; the Promised Land; and the Holy Land, to mention but a few.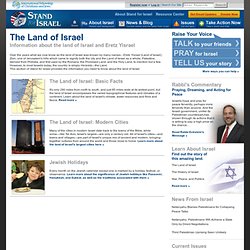 However, to most Israelis today, the country is simply Ha'aretz—the Land. This section of Stand for Israel provides the information you need to know about the land of Israel. Stand for Israel: New Book Explores Why Israel Matters. New Book Explores Why Israel Matters April 12, 2012 Dear Friend of Israel, Why does Israel matter?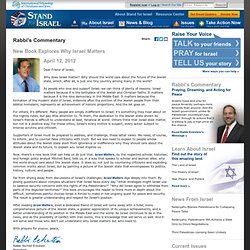 Stand for Israel: Israel's Impact on the World : Religion in the Holy Land. For a country with a relatively tiny population and size, Israel has rather a disproportionate impact on the world: Israeli researchers have produced advances in medicine, industry, agriculture, technology, and science that have saved lives, expanded knowledge, and broadened horizons around the world.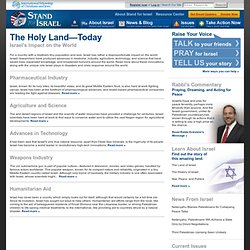 Read more about these innovations, along with the unique role Israel plays in disasters and crisis response around the world. Pharmaceutical Industry.
Al Qaeda rocked by apparent cyberattack. But who did it? Jewish World Review Al Qaeda rocked by apparent cyberattack. But who did it? By Mark Clayton. Ed Koch: The chickens are coming home to roost in the Middle East. Jewish World Review April 3, 2012/ 11 Nissan, 5772 The chickens are coming home to roost in the Middle East By Ed Koch. Palestinian Identity Theft. During the fighting instigated by five Arab nations, 700,000 Palestinians abandoned their homes, some in fear of the Israeli army and others in obedience to the instructions of their own leaders.
(A similar number of Jews, expelled from Arab countries, found safe refuge in Israel.) By now, the number of Palestinian "refugee" claimants is nearly 5 million, all of whom receive UNRWA funding and none of whom seem inclined to leave their refugee camps in Jordan, Lebanon, Syria, or even the West Bank and Gaza, which Palestinians control. Passover: Offering sight to the blind by Rabbi Yonason Goldson. Jewish World Review Passover: Offering sight to the blind By Rabbi Yonason Goldson | But I will harden Pharaoh's heart, and multiply My signs and My wonders in the land of Egypt. Israeli Democracy vs. Arab Apartheid. This is a grave and toxic travesty that needs to be made right. In light of the "Arab Spring" spreading seeds of sharia law throughout the Middle East, Western civilization needs to see the truth. Americans are being hijacked by propaganda against Israel...and not defending Israel's right to be a Jewish state will lead to our own eventual downfall.
The analogy of Israel to South African apartheid commands a response. Because of its catchy, slick word combination and its connotations that evoke vivid images of human unfairness and suffering, it has became a fashionable narrative for the media and international community's discourse. 2nd Jewish Temple just 'waiting to be unearthed' IDF nabs terrorist butchers of Jewish family. American Thinker: Sister Rose and the Vatican Synod. Vatican synod calls for end to Israel's 'occupation' I Am Israel - Documentary Film HD Version. Israel stations nuclear missile subs off Iran - Times Online. Gaza flotilla: Statement by PM Netanyahu 31-May-2010. Gaza blockade: Iran offers escort to next aid convoy | World new. Wesley Pruden. American Thinker Blog: Helen, Hitler and Hezb'allah. New aid ship heads to Gaza, Israel vows to stop it. Krauthammer: Those troublesome Jews. Caroline B. Glick: Israel's daunting task.
The real reason why Jews are Liberals. Dennis Prager. Dennis Prager. Is Obama Winning His War on Jerusalem? American Thinker: Why Israel and the U.S. Are In Crisis.
---