Israel - God's chosen
Internet Ancient History Sourcebook: Israel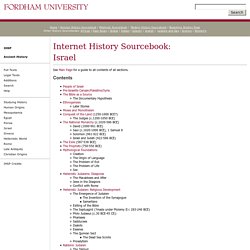 Back to Index Conquest of the Land (1250-1000 BCE?) The National Monarchy (c.1020-586 BCE) Problems with Philistines: 1-2 Samuel Saul (c.1020-1000 BCE), 1 Samuel 8 [At Bible Gateway] David (1000-961 BCE)
Home (Joshua Fund Home)
Christians United for Israel - We speak and act with one voice in support of Israel: Magazine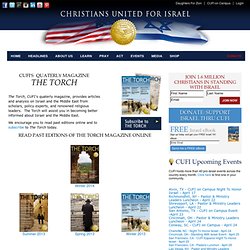 Children's Online Privacy We are concerned about the privacy of young children and do not knowingly collects any personal information from a child under 13. We encourage you to become involved with your child's access to the Internet and to our site in order to ensure that his or her privacy is well protected. To read more about online safety and how to become more involved with your child's online experience, visit the Federal Trade Commission Web site. You may also benefit from the information and resources available on ProtectKids.com. Shipping Policy All orders are shipped via FedEx and UPS or comparable carrier. Processing time of your order can vary from 3-14 days depending on product availability, or in some cases up to 4-6 weeks.
HaYesod | Front Page
Jewish Voice Ministries International: Jewish Voice Ministries I
Chosen People Ministries
(Exo 25:8-9) "Then have them make a sanctuary for Me, and I will dwell among them. Make this tabernacle and all its furnishings exactly like the pattern I will show you." God had Moses build the Tabernacle EXACTLY like the pattern He showed him. The Tabernacle was designed by God Himself.
The Pattern of Worship
Abram Poljak Auf Dem Wege Auf Dem Wege ("On the Way") is an anthology of articles written by Abram Poljak originally appearing in the monthly periodical Die Judenchristliche Gemeinde ("The Hebrew Christian Community") from 1954 to 1957. Auf_Dem_Wege_(German)_Poljak.pdf | Size: 5.3MB Der Oelzweig
Vine of David | Remnant Repository