History...
Neandertal's prehistoric diet may have lacked a crucial element (4/1/2008) One of the most mysterious creatures that ever walked the earth was Neandertal, a prehistoric human-like being who first appeared about 230,000 years ago in Europe.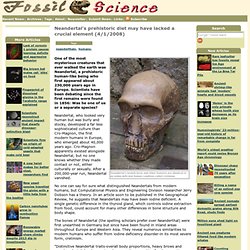 Scientists have been debating since the first remains were found in 1856: Was he one of us or a separate species? Neandertal, who looked very human but was burly and stocky, developed a far less sophisticated culture than Cro-Magnon, the first modern humans in Europe, who emerged about 40,000 years ago. Cro-Magnon apparently existed alongside Neandertal, but no one knows whether they made contact or not, either culturally or sexually. Powerpoint Palooza. 10 Civilizations That Disappeared Under Mysterious Circumstances. Ancient Tunisia - The Ancient Punic and Carthaginian Empires. Early Carthage A statue found at Carthage, possibly of Dionysus or Apollo, deities imported from Greek colonists While the culture and commercial genius of the cities of Phoenicia enabled them to preserve their independence through many centuries, in a sort of scornful supremacy over earth's military conquerors, they never themselves attained, nor did they seem to aspire to, the physical dominion over the world.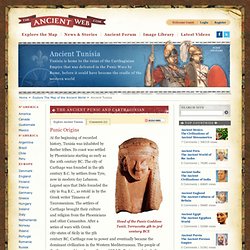 A far nearer approach to this was made by their celebrated colony, Carthage. Starting from Utica or Carthage on the African shore, the earliest explorers searched the entire coast of western Africa. Tradition tells us of their strange "silent trade" with the Negroes there. Legendary Diamonds from History. If you like this story feel free to share... 10.Tiffany Yellow Diamond The Tiffany Yellow Diamond is one of the largest yellow diamonds ever discovered; it weighed 287.42 carats in the rough when discovered in 1878 in the Kimberley mine in South Africa.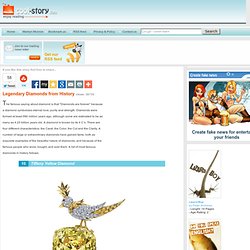 Founded by Charles Lewis Tiffany in 1837, Tiffany & Co. came to the fore among diamond merchants during the second half of the 1800s. During the political disturbances in Paris in 1848, which cumulated in the overthrough of King Louis Philippe, the firm bought a large quantity of jewels. At the sale of the French Crown Jewels in 1887, Tiffany's bought a great diamond necklace of Empress Eugénie, considered at the time to have been the finest single item to go on sale.
Theories about the Lost City of Atlantis. If you like this story feel free to share...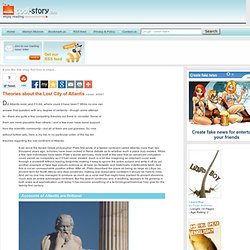 Ever since the famed Greek philosopher Plato first wrote of a fabled continent called Atlantis more than two thousand years ago, scholars have been locked in fierce debate as to whether such a place truly existed. While a few rare individuals have taken Plato's words seriously, most scoff at the idea that an advanced civilization could vanish as completely as if it had never existed. Such is a bit like imagining an elephant could walk through a snowdrift without leaving footprints, making it easy to ignore the entire subject and write it off as yet another example of New Age pseudo-science or, at best, an fantastic and historically indefensible fable.
And this is not an unreasonable position either. After all, Plato described the place as being as large as Libya (an ancient term for North Africa) and Asia combined, making one reasonably confident it should be hard to miss. Ancient underwater cities being found that are 10,000 years old.
Lost city 'could rewrite history' By BBC News Online's Tom Housden The remains of what has been described as a huge lost city may force historians and archaeologists to radically reconsider their view of ancient human history.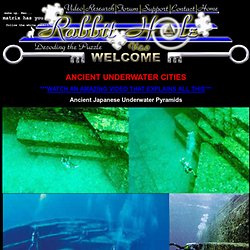 BBC News | SOUTH ASIA | Lost city 'could rewrite history' By BBC News Online's Tom Housden The remains of what has been described as a huge lost city may force historians and archaeologists to radically reconsider their view of ancient human history.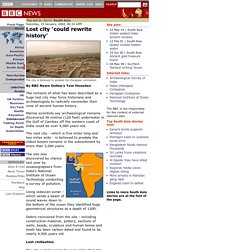 Marine scientists say archaeological remains discovered 36 metres (120 feet) underwater in the Gulf of Cambay off the western coast of India could be over 9,000 years old. The vast city - which is five miles long and two miles wide - is believed to predate the oldest known remains in the subcontinent by more than 5,000 years. The site was discovered by chance last year by oceanographers from India's National Institute of Ocean Technology conducting a survey of pollution. Using sidescan sonar - which sends a beam of sound waves down to the bottom of the ocean they identified huge geometrical structures at a depth of 120ft. Writing_French_caves.jpg (1584×1056) Epic of Gilgamesh. The Epic of Gilgamesh is, perhaps, the oldest written story on Earth.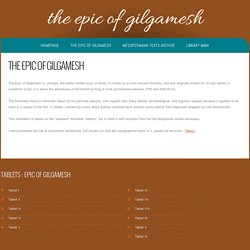 It comes to us from Ancient Sumeria, and was originally written on 12 clay tablets in cunieform script. It is about the adventures of the historical King of Uruk (somewhere between 2750 and 2500 BCE). The translator chose to eliminate Tablet XII for personal reasons, with support from many literary, archaeological, and linguistic experts because it appears to be more of a sequel to the first 11 tablets, containing a story about Enkidu volunteering to retrieve some objects that Gilgamesh dropped into the Netherworld. This translation is based on the "standard" Akkadian "edition", but is filled in with excerpts from the Old Babylonian where necessary.
I have proofread this set of documents extensively, but should you find any typographical errors in it, please let me know. The Roman Army Knife. ORBIS. Ancient warrior king statue discovered - Technology & science - Science - LiveScience - NBCNews.com. A newly discovered statue of a curly haired man gripping a spear and a sheath of wheat once guarded the upper citadel of an ancient kingdom's capital.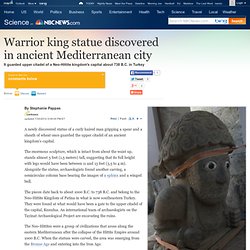 The enormous sculpture, which is intact from about the waist up, stands almost 5 feet (1.5 meters) tall, suggesting that its full height with legs would have been between 11 and 13 feet (3.5 to 4 m). Alongside the statue, archaeologists found another carving, a semicircular column base bearing the images of a sphinx and a winged bull. The pieces date back to about 1000 B.C. to 738 B.C. and belong to the Neo-Hittite Kingdom of Patina in what is now southeastern Turkey. They were found at what would have been a gate to the upper citadel of the capital, Kunulua. The story behind the world's oldest museum, built by a Babylonian princess 2,500 years ago. I'll admit, it's a best guess based on the available evidence.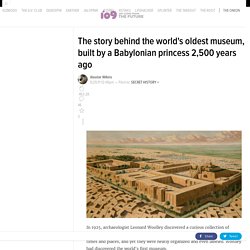 And, quite honestly, the museum is not in and of itself evidence of overwhelming nostalgia. But I do think when you look at the linguistic evidence - particularly their use of 1,500 year old sayings on their inscriptions, which is sorta like if politicians started randomly quoting Beowulf (which, now that I type it, sounds pretty awesome actually) - there's good evidence of this particular society having an unusually strong affinity for its past. Indeed, you might look at the fact that they were some of the first known antiquarians/museum builders as support that they were more nostalgic/past-oriented than the rest of their ancient counterparts.
Fall of the Roman Empire… In the 15th Century. When a killer cloud hit Britain. When a killer cloud hit Britain - A little over 200 years ago, the eruption of a volcano in Iceland sent a huge toxic cloud across Western Europe.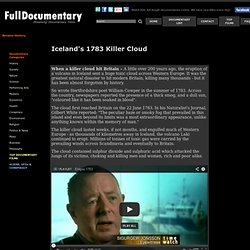 It was the greatest natural disaster to hit modern Britain, killing many thousands - but it has been almost forgotten by history. So wrote Hertfordshire poet William Cowper in the summer of 1783. Across the country, newspapers reported the presence of a thick smog, and a dull sun, "coloured like it has been soaked in blood". Petra: Lost City of Stone.
Deep within the deserts of Jordan lies the ancient city of Petra. Through a narrow gorge it emerges into view, revealing awe-inspiring monuments cut into the surrounding cliffs. What is this astonishing city? Who built it, and why? Ancient Civilizations. Rare and very interesting photos. Interesting and very rare photographs, you may never see.
The first McDonald's. Che Guevara and Fidel Castro. Capital of Brazil, on the beginning. Pius XII and Hitler. Maps. Home page Down to: 6th to 15th Centuries | 16th and 19th Centuries | 1901 to World War Two | 1946 to 21st Century The Ancient World ... index of places. Voices of History - Old Time Radio Shows - OTR. Maps of War ::: Visual History of War, Religion, and Government. A . Family tree of the Greek gods. The Philosophy of Pythagoras. World, 500-1000 A.D. Chronology of Events in Science, Mathematics, and Technology.
Philosophy Timeline. Ancient Civilizations. Marcusaurelius picture on VisualizeUs. Mythology, folklore, and religion. College Museum of Ancient Inventions: Baghdad Battery. Myth, Legend, Folklore, Ghosts.
---