Leadership & Teambuilding
Do great leaders need experience? | Barking Up The Wrong Tree
Strategic Leadership: How To Avoid The Most Common Error Leaders Make
5 Leadership Lessons You Won't Learn in B-School
Leadership: 4 Traits of Incredibly Effective Delegators
Much of the content of this post comes from my girlfriend's masters thesis on the subject though it is quite relevant to our industry as we seem to use many words wrong and have some misguided ideas.
Situational Leadership and Coaching | Greg Young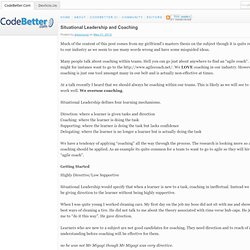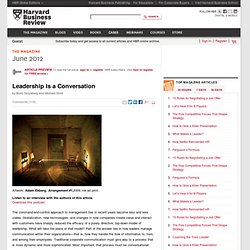 Artwork: Adam Ekberg, Arrangement #1,2009, ink-jet print Listen to an interview with the authors of this article.
Leadership Is a Conversation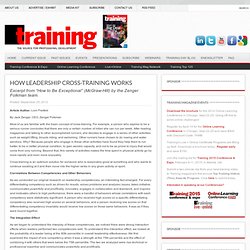 How Leadership Cross-Training Works
By Jack Zenger, CEO, Zenger Folkman
What are the 10 most common failures of bad leaders
What makes a great leader
This article was taken from the November 2011 issue of Wired magazine.
Lab notes #12: Leadership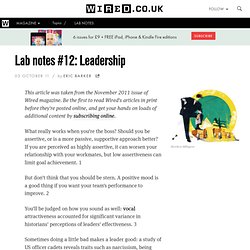 Are men or women more democratic leaders
What can leaders do to enhance team success
Do we judge our leaders by their voices
Are extraverts better leaders
When do groups prefer female leaders? When do they prefer male leaders
Does leadership matter
To be good, do leaders need to be a little bad
Why your boss is incompetent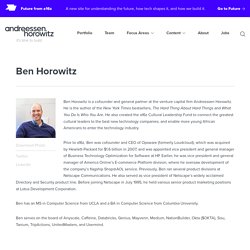 Some say that I'm they favorite But I aint hearing none of that I'm about my team ho Young money running back —Drake, 4 My Town Artist: Birdman Feat.
The Right Kind of Ambition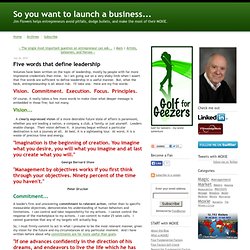 Volumes have been written on the topic of leadership, mostly by people with far more impressive credentials than mine.
Five words that define leadership - So you want to launch a business... (Build 20100722155716)
Thoughts on Leadership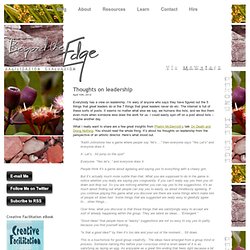 Thoughts on leadership April 10th, 2012
Leadership Is a Conversation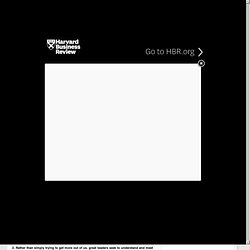 The Four Capacities Every Great Leader Needs
by Tony Schwartz | 10:30 AM October 13, 2010 When I was a very young journalist, full of bravado and barely concealed insecurity, Ed Kosner, editor of Newsweek, hired me to do a job I wasn't sure I was capable of doing. Thrown into deep water, I had no choice but to swim. But I also knew he wouldn't let me drown. His confidence buoyed me. Some years later, I was hired away by Arthur Gelb, the managing editor of the New York Times.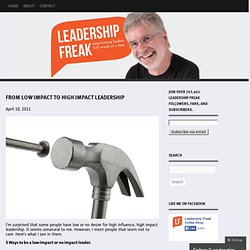 I'm surprised that some people have low or no desire for high influence, high impact leadership. It seems unnatural to me. However, I meet people that seem not to care.
From Low impact to High impact leadership
October 5, 2010 by Marty Zwilling Creating and building a business is not a one-man show.
Nine Principles of Leadership for Entrepreneurs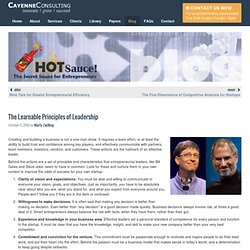 Lately the topic of leadership & teams has been coming up a lot in my daily life. Some investors are team focused, others market focused, others seems to look for product / market fit. I'm in the team centric sphere so every investment decision I make first & foremost centers on this plane.
On Leadership, Teams, Success & Happiness | Both Sides of the Table
Good Leaders: Tough and Tender
Everyone agreed George was a tough boss.
Responsibility and authority
Achievers in traditional organizations often say, "I want more authority."
Team Building
We use high energy activities to create a sense of urgency and competition amongst teams on our training programmes which results in a more dynamic team that wants to make a difference when they return to the working environment.
Four Stages for Team Effectiveness by Techdoer Times
A few years ago, I was part of a software development group stressed by a combination of challenges. The first was our ability to quickly assemble small effective teams to take on an increasing amount of short term consulting assignments. The second was ensuring that these same people could divide their attention and continue their contribution to a core team focused on a longer term and more strategic software product.
Two principles of highly productive teams | Savage Thoughts
Virtuoso Teams
Self-effacing Entrepreneurs Put Their Team Above Their Personal Self-interest
It's All about the Team
Ten techniques for total team accountability - National Startup Business
The Three Functions of a Management Team