Leadership & Teambuilding
Do great leaders need experience? Strategic Leadership: How To Avoid The Most Common Error Leaders Make. 5 Leadership Lessons You Won't Learn in B-School. First he spoke about the importance of inspiration.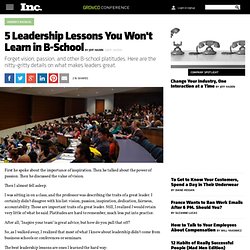 Then he talked about the power of passion. Then he discussed the value of vision. Then I almost fell asleep. I was sitting in on a class, and the professor was describing the traits of a great leader. I certainly didn't disagree with his list: vision, passion, inspiration, dedication, fairness, accountability. Leadership: 4 Traits of Incredibly Effective Delegators. Before opening my business, I worked for a lot of companies--big and small, corporate and family run, traditional and innovative.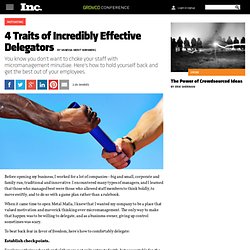 I encountered many types of managers, and I learned that those who managed best were those who allowed staff members to think boldly, to move swiftly, and to do so with a game plan rather than a rulebook. When it came time to open Metal Mafia, I knew that I wanted my company to be a place that valued motivation and maverick thinking over micromanagement. The only way to make that happen was to be willing to delegate, and as a business owner, giving up control sometimes was scary. Situational Leadership and Coaching. Much of the content of this post comes from my girlfriend's masters thesis on the subject though it is quite relevant to our industry as we seem to use many words wrong and have some misguided ideas.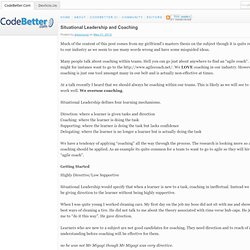 Many people talk about coaching within teams. Hell you can go just about anywhere to find an "agile coach". We might for instance want to go to the. Leadership Is a Conversation. Artwork: Adam Ekberg, Arrangement #1,2009, ink-jet print The command-and-control approach to management has in recent years become less and less viable.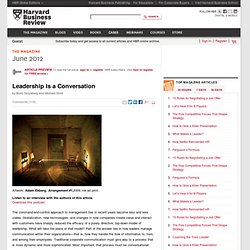 Globalization, new technologies, and changes in how companies create value and interact with customers have sharply reduced the efficacy of a purely directive, top-down model of leadership. What will take the place of that model? Part of the answer lies in how leaders manage communication within their organizations—that is, how they handle the flow of information to, from, and among their employees. Traditional corporate communication must give way to a process that is more dynamic and more sophisticated. How Leadership Cross-Training Works. By Jack Zenger, CEO, Zenger Folkman Most of us are familiar with the basic concept of cross-training.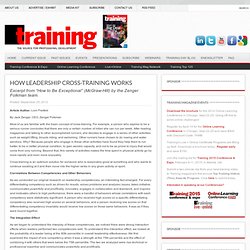 For example, a person who aspires to be a serious runner concludes that there are only a certain number of miles she can run per week. After reading magazines and talking to other accomplished runners, she decides to engage in a series of other activities such as weight lifting, bicycle riding, and swimming. Other runners have chosen to do rowing and water aerobics. What are the 10 most common failures of bad leaders. What makes a great leader. Lab notes #12: Leadership. This article was taken from the November 2011 issue of Wired magazine.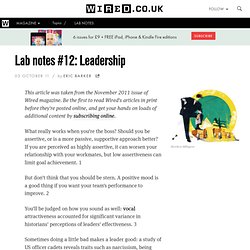 Be the first to read Wired's articles in print before they're posted online, and get your hands on loads of additional content by subscribing online. What really works when you're the boss? Should you be assertive, or is a more passive, supportive approach better? If you are perceived as highly assertive, it can worsen your relationship with your workmates, but low assertiveness can limit goal achievement. 1. Are men or women more democratic leaders. What can leaders do to enhance team success. Do we judge our leaders by their voices. Are extraverts better leaders. When do groups prefer female leaders? When do they prefer male leaders.
Does leadership matter. To be good, do leaders need to be a little bad. Why your boss is incompetent. The Right Kind of Ambition. Some say that I'm they favouriteBut I aint hearing none of thatI'm about my team hoYoung money running back—Drake, 4 My Town In my last post, I mentioned that you should strive to hire people with the right kind of ambition.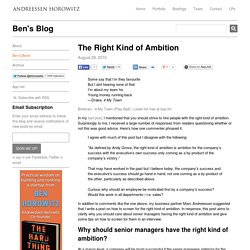 Surprisingly to me, I received a large number of responses from readers questioning whether or not this was good advice. Here's how one commenter phrased it: Five words that define leadership - So you want to launch a business... (Build 20100722155716) Volumes have been written on the topic of leadership, mostly by people with far more impressive credentials than mine.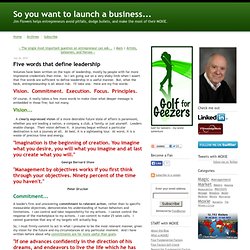 So I am going out on a very shaky limb when I assert that five words are sufficient to define leadership in a useful manner. But, what the heck, entrepreneurship is all about risk. I'll take one. Here are my five words: Thoughts on Leadership. Thoughts on leadership April 10th, 2012 Everybody has a view on leadership.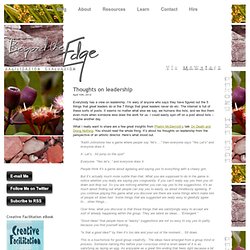 I'm wary of anyone who says they have figured out the 5 things that great leaders do or the 7 things that great leaders never do etc. The internet is full of these sorts of posts. It seems no matter what else we say, we humans like lists, and we like them even more when someone else does the work for us. Leadership Is a Conversation. The Four Capacities Every Great Leader Needs. By Tony Schwartz | 10:30 AM October 13, 2010 When I was a very young journalist, full of bravado and barely concealed insecurity, Ed Kosner, editor of Newsweek, hired me to do a job I wasn't sure I was capable of doing.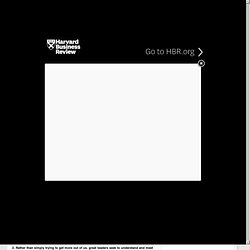 Thrown into deep water, I had no choice but to swim. But I also knew he wouldn't let me drown. His confidence buoyed me. Some years later, I was hired away by Arthur Gelb, the managing editor of the New York Times. From Low impact to High impact leadership. I'm surprised that some people have low or no desire for high influence, high impact leadership. It seems unnatural to me.
However, I meet people that seem not to care. 7 Tips for Developing Your Leadership Skills. Nine Principles of Leadership for Entrepreneurs. October 5, 2010 by Marty Zwilling Creating and building a business is not a one-man show. It requires a team effort, or at least the ability to build trust and confidence among key players, and effectively communicate with partners, team members, investors, vendors, and customers.
These actions are the hallmark of an effective leader. Behind the actions are a set of principles and characteristics that entrepreneurial leaders, like Bill Gates and Steve Jobs, seem to have in common. Look for these and nurture them in your own context to improve the odds of success for your own startup: On Leadership, Teams, Success & Happiness. Lately the topic of leadership & teams has been coming up a lot in my daily life. Some investors are team focused, others market focused, others seems to look for product / market fit. I'm in the team centric sphere so every investment decision I make first & foremost centers on this plane. Good Leaders: Tough and Tender. Everyone agreed George was a tough boss. He was demanding, settling for nothing less than one's best. He was goal-oriented, charismatic and driven. He pushed when outcomes weren't up to par; he beamed when they were.
Responsibility and authority. Achievers in traditional organizations often say, "I want more authority. " They mean that they want the power to make things happen, the mantle of authority that will allow them to get things done. This is an industrial-era mindset. Management by authority is top-down, risk-averse, measurable and perfect for the org chart. 9 Bad Habits That Every Entrepreneur Struggles With. Team Building. Four Stages for Team Effectiveness by Techdoer Times. Two principles of highly productive teams | Savage Thoughts. Virtuoso Teams. Self-effacing Entrepreneurs Put Their Team Above Their Personal Self-interest. It's All about the Team. Ten techniques for total team accountability - National Startup Business. The Three Functions of a Management Team.
---