Artists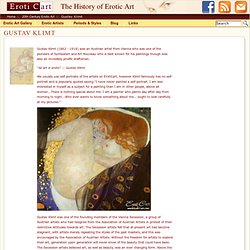 Gustav Courbet : History of Erotic Art
Gustav Klimt ( 1862 - 1918 ) was an Austrian artist from Vienna who was one of the pioneers of Symbolism and Art Nouveau who is best known for his paintings though was also an incredibly prolific draftsman. "All art is erotic" — Gustav Klimt We usually use self portraits of the artists on ErotiCart, however Klimt famously has no self portrait and is popularly quoted saying "I have never painted a self-portrait. I am less interested in myself as a subject for a painting than I am in other people, above all women...There is nothing special about me. I am a painter who paints day after day from morning to night...Who ever wants to know something about me... ought to look carefully at my pictures." Gustav Klimt was one of the founding members of the Vienna Secession, a group of Austrian artists who had resigned from the Association of Austrian Artists in protest of their restrictive attitudes towards art.
Loss (1964)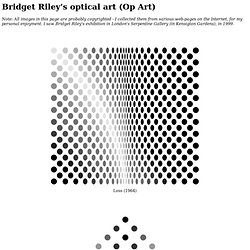 Bridget Riley
Robert Buelteman uses high voltage photography Forget the notion of a reverent nature photographer tiptoeing through the woods, camera slung over one shoulder, patiently looking for perfect light.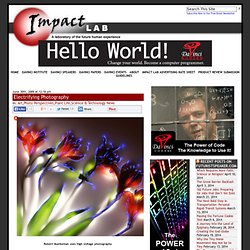 Electrifying Photography
Egon Schiele Image Gallery
mc escher
Art of M. C. Escher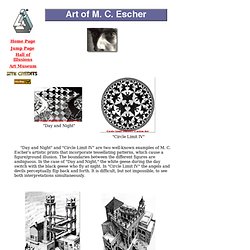 "Waterfall" and "Ascending and Descending" are two of M. C.
Born in Chelmsford Braintree College of Further Education, Art Foundation Course Portsmouth Polytechnic, Fine Art BA
Grayson Perry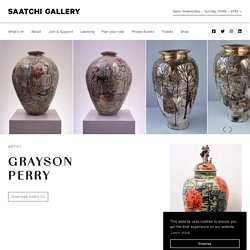 Matisse: Life and Painting
philmiddleton's deviantART gallery
WebMuseum: Freud, Lucian
joni mitchell - Paintings by year
Artist/Naturalist Andy Goldsworthy
Baby Smith - mixed media artist
Mary Ellen Taylor | Contemporary botanical painter | Amicus Botanicus
…she left her home in the Andes Mountains after 21 years and moved to Battersea, London to pursue Botanical Painting at The English Gardening School nearly 10 years ago.