Net artists #2
Artist Turns the Google Art Project's Blurry Canvases Into Hazy Abstract Paintings. For his ongoing "Copyrights" project , the British artist Phil Thompson has actual paintings manufactured based on the copyright-restricted — and therefore blurred out — images of paintings found on the Google Art Project .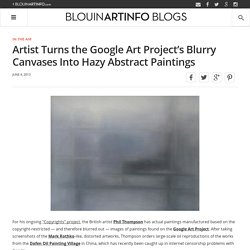 After taking screenshots of the Mark Rothko -like, distorted artworks, Thompson orders large-scale oil reproductions of the works from the Dafen Oil Painting Village in China, which has recently been caught up in internet censorship problems with Google. "The internet provides a huge amount of material which otherwise would be unattainable to most people," the artist told Wired . "It has led to a lot of creativity — whether it is with memes or highly skilled photoshop jobs — everyone is now able to create and edit images." Google Art Project: Phil Thompson Talks Copyright Issues And Outsourcing Chinese Talent (PHOTOS) British artist Phil Thompson has imagined a playful way to address issues of appropriation and ownership in the art world.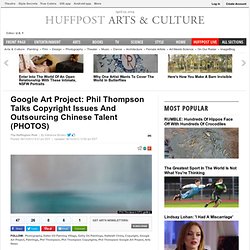 The mind behind projects like "Getty Oil Paintings" and "Hallstatt, China" has taken to recreating the artworks he finds on Google Art Project -- an archive of over 45,000 works of art online. Using the program, which functions much like the tech behemoth's other app, Google Street View, art admirers can traverse the halls of art museums from the confines of their own home, shifting the perspective at will.
Except there's one hitch, or glitch, which Thompson's project "Copyrights" so cleverly points out. Because of legal restrictions, a number of the paintings have been censored; blurred like the faces of unsuspecting individuals caught off-guard by a roving Google car. Thompson's project focuses not on the crystal clear images of uncensored artworks but instead on the blurry boxes that occupy a significant portion of Google Art's displays. Manu | ambientTV.NET. Klangfiguren – Material Tweet. Netart or notart? || brian mackern || net art or not art? Totally Fucking Radical.
Molly Dilworth - projects. August 2010, Google Earth view of 16 Manhattan Avenue, Brooklyn NY Paintings for Satellites I have an inclination to work with materials that have had an obvious life before I use them; it's a challenge and a pleasure to make something from nothing.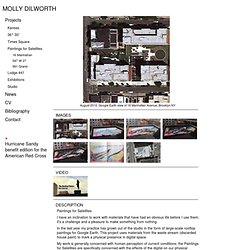 In the last year my practice has grown out of the studio in the form of large-scale rooftop paintings for Google Earth. This project uses materials from the waste stream (discarded house paint) to mark a physical presence in digital space. My work is generally concerned with human perception of current conditions; the Paintings for Satellites are specifically concerned with the effects of the digital on our physical bodies.
Mapmaker, Artist, or Programmer? Some people look at the abundance of urban data out there and see an academic research paper.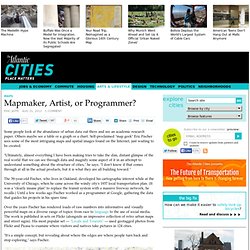 Others maybe see a table or a graph or a chart. Self-proclaimed "map geek" Eric Fischer sees some of the most intriguing maps and spatial images found on the Internet, just waiting to be created. Janet Sobel by Chandler McWilliams, Jackson Pollock by Miltos Manetas, original design by Stamen, press any key to s. David Morgan-Mar - DM's Esoteric Programming Languages - Piet. Introduction Piet is a programming language in which programs look like abstract paintings.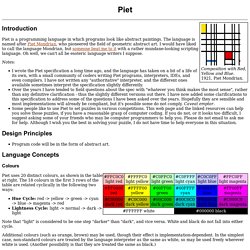 The language is named after Piet Mondrian, who pioneered the field of geometric abstract art. I would have liked to call the language Mondrian, but someone beat me to it with a rather mundane-looking scripting language. Thomas Schoch - Obfuscated Programming – Piet. Jerome Saint-Clair (01010101) Arend deGruyter-Helfer. Vision - Neen Art | Tracks | Echappées culturelles. (Dina Kelberman) GIF-iti Is Street Art That You Can See Only Online. An artist's quest to make art tailored to the Internet, in the physical spaces of modern Los Angeles, London, and Newcastle That up there might look like some very cool but not particularly unusual street art.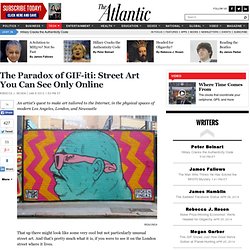 And that's pretty much what it is, if you were to see it on the London street where it lives. But that physical instantiation is only a remnant of an art project, not its final stage -- an art project meant not for a city's streets, but for the Internet's showrooms. Here is it in its completed form, a GIF: GIF-iti, as the artist INSA has called it, is a response to the way the Internet simultaneously makes art much easier to access, but constrains our ability to take in. Net Art by Scott Blake. Barcode Marilyn Monroe. Jennifer Dewalt | 180 Websites. Raquel meyers. 11 Net Artists You Should Know. "Internet art" has been around as long as long as the Internet itself.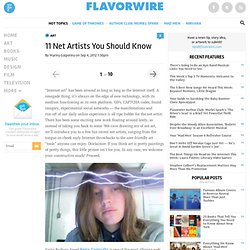 A renegade thing, it's always on the edge of new technology, with its medium functioning as its own platform. GIFs, CAPTCHA codes, found imagery, experimental social networks — the manifestations and run-off of our daily online experience is all ripe fodder for the net artist. Top Expiring Internet Artists - Guido Segni, 2013.
---