RPG Stuff
harlekin-maus.com | Games – Lots of 'em
Design | Old School RPGs | Cartography
playextempore
Wolsung: Steam Pulp Fantasy | a roleplaying game of cinematic action
Contents (Monstrous Manual)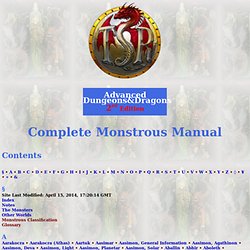 AdvancedDungeons&Dragons2nd Edition Contents Site Last Modified: January 17, 2014, 20:48:10 GMT Index Notes The Monsters Other Worlds Monstrous Classification Glossary Random Monster
wuthering heights
Wuthering Heights roleplay By Philippe Tromeur Introduction This work is an adaptation of René le jeu de Rôle Romantique for British gentlemen. Here the Work of reference shall be Wuthering Heights, of course. Some original rules were not translated; in the French version, you'll find rules about large battles, psionic powers, vampyres, martial arts and more ...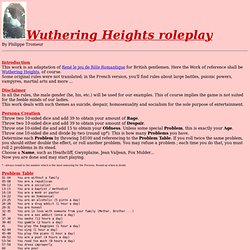 Basic Roleplaying Central
The Free RPG Blog
BofferWiki
PAX BRITANNICA | A pen & paper steampunk RPG.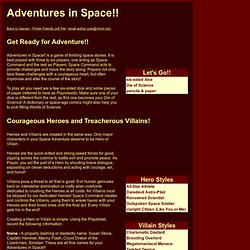 Space Command now begins the Adventure. This can be anything from the arrival of Lord Ka and his laser-eyed Ka-Grool minions, to a mysterious S.O.S. picked up from Ursa Major. In any case, Space Command now leads you through your own Adventure in Space!! Changing the Plot You may expect Space Command to dictate all events outside of the Heroes' intentions.
Adventures in Space!! - Roleplaying Game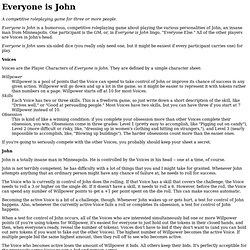 A competitive roleplaying game for three or more people.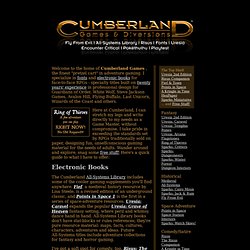 Cumberland Games & Diversions
Welcome to the home of Cumberland Games , the finest "pretzel cart" in adventure gaming.
The Ghostbusters role-playing game is set in the same fictional universe as the Ghostbusters films, but in a period sometime after the first film. In the game, the original Ghostbusters have created a corporation known as Ghostbusters International, which sells Ghostbusters franchises to individuals around the world. Most player characters in the Ghostbusters role-playing game are franchisees who operate in cities outside the film's New York locale. The game does, however, include profiles of the original four Ghostbusters for gamers who wish to role-play the cinematic characters or have them appear as non-player characters. While the Ghostbusters films limit the Ghostbusters to combating ectoplasmic entities such as ghosts and demons, the Ghostbusters game expands the setting to pit Ghostbusters against numerous other paranormal creatures and incidents.
Ghostbusters Role Playing Game - Games - Ghostbusters Fans Wiki