RPG Stuff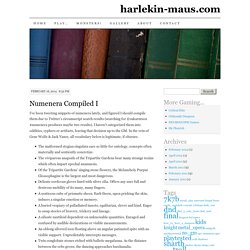 harlekin-maus.com | Games – Lots of 'em
Cast of Characters: Player CharactersNewton the Flask-Filler: Antisocial alchemist looking to secure his apprenticeship under the suspicious Dr. MouldypagePeyton of the Devil's Causeway (Known in Skolos as Leofrick Liontear): Unscrupulous scoundrel fleeing a death sentence in Hollow Cove.Frodrick Tenpenny Goodspell: Heartbroken holyman seeking to drown his sorrows in cheap liquor since the discovery of his love with the mayor's son, Bartholomew Greatmoor V.Non-Player CharactersDr. Mouldypage: An alchemist and tenured fellow at one of Skolos' revered scholarly institutions, having recently received a budgetary constraint.Cordelia Mouldypage: An archer and swordhand in the city guard, former lover of Frodrick (among others) and currently bedding both Bartholomew and Kur.Bartholomew Cumberland Goodhead Greatmoor V: Dr.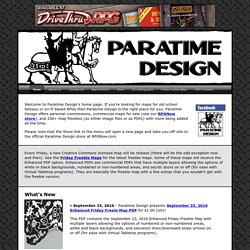 Design | Old School RPGs | Cartography
Welcome to Paratime Design's home page. If you're looking for maps for old school fantasy or sci-fi based RPGs then Paratime Design is the right place for you. Paratime Design offers personal commissions, commercial maps for sale (see our RPGNow store), and 250+ map freebies (as either image files or as PDFs) with more being added all the time. Please note that the Store link in the menu will open a new page and take you off-site to the official Paratime Design store at RPGNow.com.
playextempore
Many of you asked us, what to use as tokens or Challenge markers during your Wolsung gaming sessions. It seems, we managed to find a great answer Use our Extraordinary Do-It-Yourself Wolsung Tokens! Printable DIY Wolsung tokens and Challenge markers are available now thanks to our friends from GRAmel.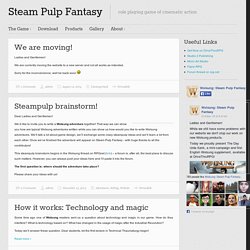 Wolsung: Steam Pulp Fantasy | a roleplaying game of cinematic action
Contents (Monstrous Manual)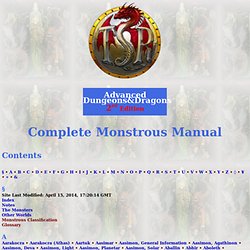 AdvancedDungeons&Dragons2nd Edition Contents Site Last Modified: January 17, 2014, 20:48:10 GMT Index Notes The Monsters Other Worlds Monstrous Classification Glossary Random Monster
wuthering heights
Wuthering Heights roleplay By Philippe Tromeur Introduction This work is an adaptation of René le jeu de Rôle Romantique for British gentlemen. Here the Work of reference shall be Wuthering Heights, of course. Some original rules were not translated; in the French version, you'll find rules about large battles, psionic powers, vampyres, martial arts and more ...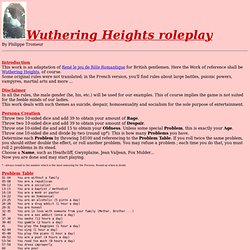 Basic Roleplaying Central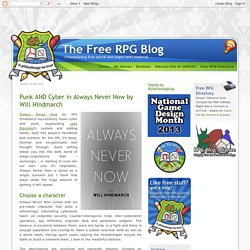 The 2013 Harder Than Granite competition set a high bar. Complete an RPG in 24 hours, during November 2013, in pocketmod format and with no-numbers. What's more, being the greedy sort that I am, I wanted character sheets, front pages, indexes (if possible) and everything wrapped in a beautiful wrapper. The mind bending Heist Aces by Fred Bednarski won. Thank you to all those that took part.
The Free RPG Blog
BofferWiki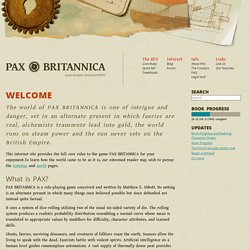 PAX BRITANNICA | A pen & paper steampunk RPG.
The world of PAX BRITANNICA is one of intrigue and danger, set in an alternate present in which faeries are real, alchemists transmute lead into gold, the world runs on steam power and the sun never sets on the British Empire. This internet site provides the full core rules to the game PAX BRITANNICA for your enjoyment.To learn how the world came to be as it is, our esteemed reader may wish to peruse the timeline and world pages. PAX BRITANNICA is a role-playing game conceived and written by Matthew E. Abbott.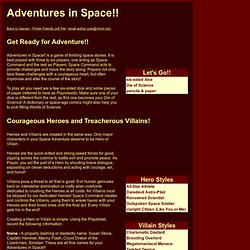 Space Command now begins the Adventure. This can be anything from the arrival of Lord Ka and his laser-eyed Ka-Grool minions, to a mysterious S.O.S. picked up from Ursa Major. In any case, Space Command now leads you through your own Adventure in Space!! Changing the Plot You may expect Space Command to dictate all events outside of the Heroes' intentions.
Adventures in Space!! - Roleplaying Game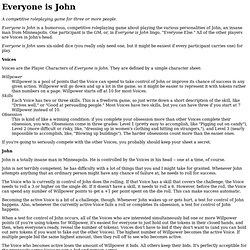 A competitive roleplaying game for three or more people. Everyone is John is a humorous, competitive roleplaying game about playing the various personalities of John, an insane man from Minneapolis. One participant is the GM, or, in Everyone is John lingo, "Everyone Else." All of the other players are Voices in John's head. Everyone is John uses six-sided dice (you really only need one, but it might be easiest if every participant carries one) for play.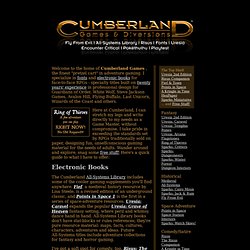 Cumberland Games & Diversions
Welcome to the home of Cumberland Games , the finest "pretzel cart" in adventure gaming. I specialize in fonts and electronic books for face-to-face RPGs - specialty titles built on twenty years' experience in professional design for Guardians of Order, White Wolf, Steve Jackson Games, Avalon Hill, Flying Buffalo, Last Unicorn, Wizards of the Coast and others. Here at Cumberland, I can stretch my legs and write directly to my needs as a Game Master, without compromise. I take pride in exceeding the standards set by RPGs traditionally sold on paper, designing fun, unselfconscious gaming material for the needs of adults. Wander around and explore; snag some free stuff!
The Ghostbusters role-playing game is set in the same fictional universe as the Ghostbusters films, but in a period sometime after the first film. In the game, the original Ghostbusters have created a corporation known as Ghostbusters International, which sells Ghostbusters franchises to individuals around the world. Most player characters in the Ghostbusters role-playing game are franchisees who operate in cities outside the film's New York locale. The game does, however, include profiles of the original four Ghostbusters for gamers who wish to role-play the cinematic characters or have them appear as non-player characters. While the Ghostbusters films limit the Ghostbusters to combating ectoplasmic entities such as ghosts and demons, the Ghostbusters game expands the setting to pit Ghostbusters against numerous other paranormal creatures and incidents.
Ghostbusters Role Playing Game - Games - Ghostbusters Fans Wiki