D.I.K.W Infografics
hierarchy-of-visual-understanding.png
pirmaid+1.jpg (Image JPEG, 460x372 pixels)
Data to Wisdom
MentorshipART mapXchange(cc) / DIKW
PBworks provides an easy way for instructors to lay out their course for the term. Give your students a central place to look up classes, refer to materials, and copy down their assignments. You can even create a separate page for each session, and link the session names to those pages. To extend this template, you can either click within the table and use the "Row > Insert Row" command, or use "Table Properties" to expand the table as desired. Remember, you can create your own customized version of any PBworks template simply by tagging that page with the keyword "template".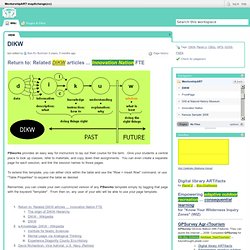 vizio-en-Fundamental-model-of-inventory-management-in-knowledge-based-company.png (Image PNG, 4131x3319 pixels) - Redimensionnée (24%)
http://derivadow.files.wordpress.com/2010/02/shedriff.gif
"Wisdom Hierarchy" OR "Knowledge Hierarchy" OR "Information Hierarchy" OR "Knowledge Pyramid" - Recherche Google
orp, Inc.
Science v. Faith
eclectisism-pragmatism-utilitarianism...
Infocology thinkstate