Game Design Theory: The Game Designer
What Games Are: Is Formal Game Design Valuable? Editor's note: Tadhg Kelly is a consultant game designer and creator of leading game design blog What Games Are.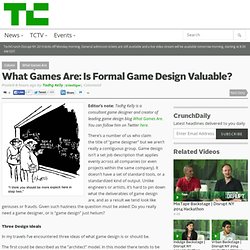 You can follow him on Twitter here. There's a number of us who claim the title of "game designer" but we aren't really a contiguous group. Plagiarism as a moral choice. Plagiarism is defined in dictionaries as the "wrongful appropriation," "close imitation," or "purloining and publication" of another author's "language, thoughts, ideas, or expressions," and the representation of them as one's own original work, but the notion remains problematic with nebulous boundaries.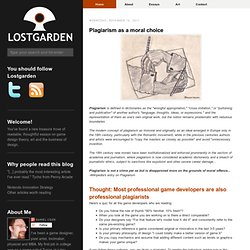 The modern concept of plagiarism as immoral and originality as an ideal emerged in Europe only in the 18th century, particularly with the Romantic movement, while in the previous centuries authors and artists were encouraged to "copy the masters as closely as possible" and avoid "unnecessary invention. The 18th century new morals have been institutionalized and enforced prominently in the sectors of academia and journalism, where plagiarism is now considered academic dishonesty and a breach of journalistic ethics, subject to sanctions like expulsion and other severe career damage... Plagiarism is not a crime per se but is disapproved more on the grounds of moral offence...
Combat Game Designer: What Do Combat Designers Do? What Unique Skills Are Required for Combat Design? Did you know...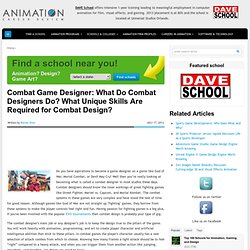 Each year more than 25% of the student population of The Digital Animation & Visual Effects School (DAVE School) comes from outside the US to attend the school at Universal Studios in Orlando, Florida. There are currently students attending from Saudi Arabia, England, South Korea, Russia, Venezuela, and Dubai. DAVE School can provide assistance in securing student visas and student housing. Features - Old Grumpy Designer Syndrome. [What happens when designers have no clear career path, and there's no culture in the studio that helps nurture them?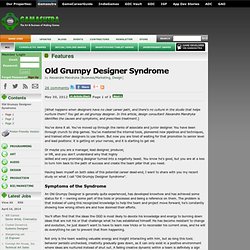 You get an old grumpy designer. In this article, design consultant Alexandre Mandryka identifies the causes and symptoms, and prescribes treatment.] You've done it all. You've moved up through the ranks of associate and junior designer. You have been through crunch to ship games. Choppin' Broccoli: The Process of Game Design - Reality Blurs. Some folks liken any discussion about "The Process" as ugly work akin to making sausage.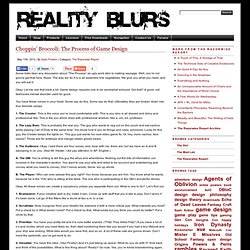 Well, you're not gonna get that here. Nope. Tackling Design Simplicity at SXSW Interactive. AUSTIN, Texas—"Complexity is easy.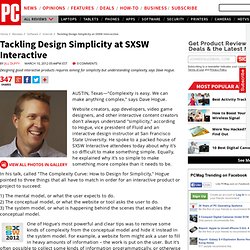 We can make anything complex," says Dave Hogue. Website creators, app developers, video game designers, and other interactive content creators don't always understand "simplicity," according to Hogue, vice president of Fluid and an interactive design instructor at San Francisco State University. He spoke to a packed house of SXSW Interactive attendees today about why it's so difficult to make something simple. Equally, he explained why it's so simple to make something more complex than it needs to be. In his talk, called "The Complexity Curve: How to Design for Simplicity," Hogue pointed to three things that all have to match in order for an interactive product or project to succeed:
A Game Designer's Manifesto: The 7 Virtues of a Desamurai. I believe that games should entertain players, while inspiring new perspectives and insights about the world around them.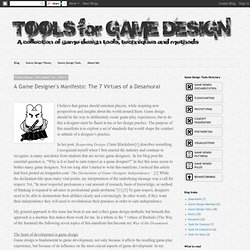 Game design should be the way to deliberately create game-play experiences, but to do this a designer must be fluent in his or her design practice. The purpose of this manifesto is to explore a set of standards that would shape the conduct or attitude of a designer's practice. In her post, Respecting Design, Claire Blackshaw[1] describes something I recognized myself when I first entered the industry and continue to recognize in many anecdotes from students that are novice game designers. In her blog post the essential question is, "Why is it so hard to earn respect as a game designer?" Starting From Scratch: Five Tips for Better Game Design. Don't Assume Players Are Stupid. Super Metroid is mighty impressive in ways you may not notice, especially if you only played it as a teenager.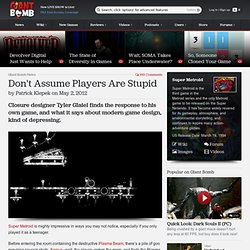 Before entering the room containing the destructive Plasma Beam, there's a pile of goo requiring several shots. Samus--well, the player--enters the room, and finds the Plasma Beam waiting for them in the corner. Like almost everything in Super Metroid, once you've acquired the Plasma Beam, that's it--triumphant music, and you're back in the world. There's no tutorial explaining why it's useful, but the moment you leave the room, the pile of goo is back, but with a twist.
The first shot from Plasma Beam freezes it, and the second one blows the whole thing up. GDC 2012: How designers can increase innovation in their games. Game designers have a choice: Spend your professional life trying to make something interesting and new, or spend it creating "shady, derivative crap.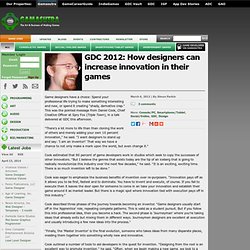 " This was the pointed message from Daniel Cook, Chief Creative Officer at Spry Fox (Triple Town), in a talk delivered at GDC this afternoon. "There's a lot more to life than than cloning the work of others and merely adding your own 10 percent innovation," he said. Richard Terrell's Blog - Game Design Dictionary. The following blog post, unless otherwise noted, was written by a member of Gamasutra's community.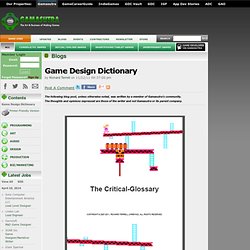 The thoughts and opinions expressed are those of the writer and not Gamasutra or its parent company. Download The Critical-Glossary in this convenient PDF file. Features - Where Are They Now? Tracking The Trajectories Of Classic Developers. Richard Garriott. Brian Reynolds. John Romero. They're three of the biggest names in gaming history, designers, respectively, of widely acknowledged classics like Ultima, Civilization II, and Doom. They have also all moved into social games. Three Novice Mistakes in Game Design. Over the past few years teaching game and simulation programming at DeVry University, I've noticed a handful of design mistakes that entry-level students make over and over again. And that's fine.
Putting together a solid design for a game is difficult. The Game Innovator's Dilemma - Betable Game Monetization Blog. The Innovator's DilemmaThe Innovator's Dilemma is a oft-referenced book by Professor Clayton Christensen of Harvard Business School that describes a theory about how large, successful firms can fail "by doing everything right". Christensen describes how a company's successes and capabilities can actually hamper its ability to adapt to new market conditions and technologies. This can affect companies in any space, from game development to creating automobiles. To explain its theories, the book outlines two major types of technologies: sustaining technologies and disruptive technologies. Bored Game – A Cautionary Tale For Design Students (Part 2) « #AltDevBlogADay. Earlier this month, I embarked on a two-part odyssey chronicling the misadventures of my design team as we built an analog game for class.
You can read part one here, but the tl;dr version goes like this: We spent two weeks of a three-week project developing a game that we were too stubborn to admit broken. It was broken because we split the focus of our team, ignored crucial states of play, and waited too long to prototype. Bored Game – A Cautionary Tale For Design Students (Part 1) « #AltDevBlogADay. It's been over a year since I enrolled in university as a Game Design student, and I've learned a lot of things.
Theory has been slung around ad nauseum, and Gen Ed courses have been suffered through. The funny thing about being a Game Design student is that you can read all the Raph Koster and Jesse Schell you can handle, but it still doesn't really prepare you for the main event – making a game. In the end, it's best to look at people like Schell and Koster like the world's best parents. As a parent myself, an important part of the process is having the wisdom to know when to let my child fail, and when to let him make his own mistakes.
Being a great Game Designer – just like anything else – is all about making your mistakes and learning from them. Confessions of a designer » #AltDevBlogADay. Am I Doing Meaningful Game Design Work? « #AltDevBlogADay. Theoretical Road Blocks in Design (and how to circumvent them) « #AltDevBlogADay. Am I Doing Meaningful Game Design Work? « #AltDevBlogADay.
---