Game Design Theory: The Game Designer
Plagiarism as a moral choice
Plagiarism is defined in dictionaries as the "wrongful appropriation," "close imitation," or "purloining and publication" of another author's "language, thoughts, ideas, or expressions," and the representation of them as one's own original work, but the notion remains problematic with nebulous boundaries. The modern concept of plagiarism as immoral and originality as an ideal emerged in Europe only in the 18th century, particularly with the Romantic movement, while in the previous centuries authors and artists were encouraged to "copy the masters as closely as possible" and avoid "unnecessary invention.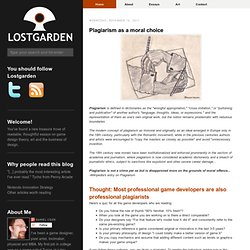 Combat Game Designer: What Do Combat Designers Do? What Unique Skills Are Required for Combat Design? | Animation Career Review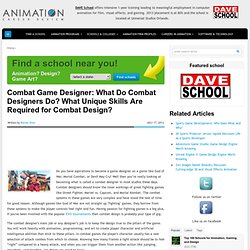 Do you have aspirations to become a game designer on a game like God of War, Mortal Combat, or Devil May Cry?
[What happens when designers have no clear career path, and there's no culture in the studio that helps nurture them? You get an old grumpy designer.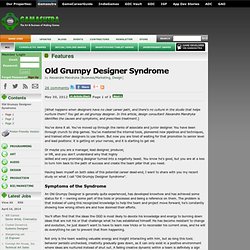 Features - Old Grumpy Designer Syndrome
Choppin' Broccoli: The Process of Game Design - Reality Blurs
Some folks liken any discussion about "The Process" as ugly work akin to making sausage. Well, you're not gonna get that here. Nope.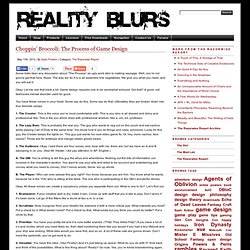 Tackling Design Simplicity at SXSW Interactive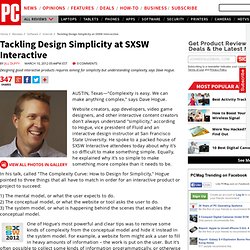 AUSTIN, Texas—"Complexity is easy. We can make anything complex," says Dave Hogue.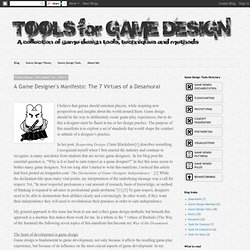 A Game Designer's Manifesto: The 7 Virtues of a Desamurai
I believe that games should entertain players, while inspiring new perspectives and insights about the world around them.
Starting From Scratch: Five Tips for Better Game Design
Super Metroid is mighty impressive in ways you may not notice, especially if you only played it as a teenager. Before entering the room containing the destructive Plasma Beam, there's a pile of goo requiring several shots.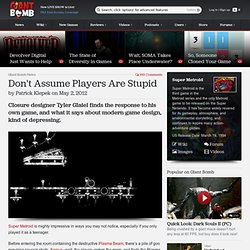 Don't Assume Players Are Stupid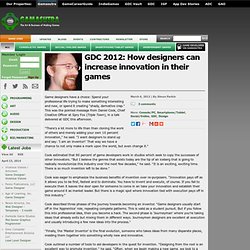 Game designers have a choice: Spend your professional life trying to make something interesting and new, or spend it creating "shady, derivative crap." This was the pointed message from Daniel Cook, Chief Creative Officer at Spry Fox (Triple Town), in a talk delivered at GDC this afternoon. "There's a lot more to life than than cloning the work of others and merely adding your own 10 percent innovation," he said.
GDC 2012: How designers can increase innovation in their games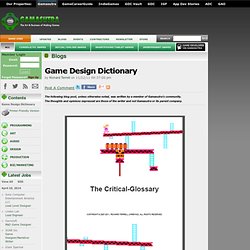 Richard Terrell's Blog - Game Design Dictionary
The following blog post, unless otherwise noted, was written by a member of Gamasutra's community. The thoughts and opinions expressed are those of the writer and not Gamasutra or its parent company. Download The Critical-Glossary in this convenient PDF file.
Richard Garriott.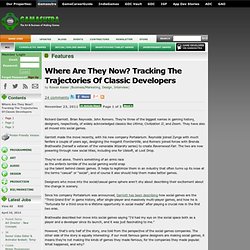 Features - Where Are They Now? Tracking The Trajectories Of Classic Developers
Over the past few years teaching game and simulation programming at DeVry University, I've noticed a handful of design mistakes that entry-level students make over and over again. And that's fine. Putting together a solid design for a game is difficult.
Three Novice Mistakes in Game Design - GameCareerGuide.com
The Innovator's DilemmaThe Innovator's Dilemma is a oft-referenced book by Professor Clayton Christensen of Harvard Business School that describes a theory about how large, successful firms can fail "by doing everything right". Christensen describes how a company's successes and capabilities can actually hamper its ability to adapt to new market conditions and technologies. This can affect companies in any space, from game development to creating automobiles. To explain its theories, the book outlines two major types of technologies: sustaining technologies and disruptive technologies.
The Game Innovator's Dilemma - Betable Game Monetization Blog
Bored Game – A Cautionary Tale For Design Students (Part 2) « #AltDevBlogADay
Earlier this month, I embarked on a two-part odyssey chronicling the misadventures of my design team as we built an analog game for class.
It's been over a year since I enrolled in university as a Game Design student, and I've learned a lot of things. Theory has been slung around ad nauseum, and Gen Ed courses have been suffered through.
Bored Game – A Cautionary Tale For Design Students (Part 1) « #AltDevBlogADay
I tend to only talk about game development in general, system mechanics, or on occasion content generation. This time, for a change I thought I'd cleanse a bit. If you look at the industry as a whole, some game companies develop completely new titles that will eventually shape the landscape of gaming through indie titles.
Confessions of a designer » #AltDevBlogADay
Am I Doing Meaningful Game Design Work? « #AltDevBlogADay
Theoretical Road Blocks in Design (and how to circumvent them) « #AltDevBlogADay
Am I Doing Meaningful Game Design Work? « #AltDevBlogADay