Game Design
Get flash to fully experience Pearltrees
Reports from around the world suggest that gaming addiction is real and on the rise. With nearly 8 in 10 American youth (81%) playing video games at least one time per month, including 94% of all boys playing, this certainly raises concerns about video game addiction. In US, 8.5% of youth gamers (ages 8 to 18) can be classified as pathological or clinically "addicted" to playing video games.
Social games aren't new–they're just games you play with other people. Social games began about 5000 years ago. With some help from the team at Disruptor Beam, we've put together a little chart that traces the history of social games from its origins in Ancient Egypt all the way to the present.
People want gamification to mean certain things to them. They want to take the word and try to bend into whatever they think will sell their next big idea to someone. This tends to lead to people arguing about what it actually is and what constitutes a gamified product. Two such ideas seem to be Playful design and Serious games.
I had the opportunity to interview Andrew Doull this week, Unangband developer, creator of the Procedural Content Generation Wiki , contributor to the podcast Roguelike Radio , and deep thinker . We chatted about all things procedural: the role of narrative in procedural games, the impact of the indies, the problems with a Procedural Zelda, and how Roguelikes can teach us unique things about life. Listen here: Andrew Doull Interview (MP3). Enjoy! Games covered includes: Like this: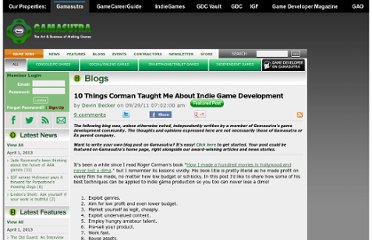 It's been a while since I read Roger Corman's book " How I made a hundred movies in hollywood and never lost a dime ." but I remember its lessons vividly. His book title is pretty literal as he made profit on every film he made, no matter how low budget or schlocky. In this post I'd like to share how some of his best techniques can be applied to indie game production so you too can never lose a dime! Exploit genres.
The Zelda games have--at least since Link to The Past--followed the same structure of introducing the player as an average boy of little importance who is quickly called to action to stop an impending evil. Over the years however, greater emphasis has been placed on the games' story, and consequently the point at which the player answers the call has been pushed back in each game to expound on the plot more. While the beginning portions are used to deliver the story, this time is also used as a tutorial for the player. After they have learned a bit through the tutorial they eventually come across a "tutorial dungeon", which is an area that gives the player the chance to try out the puzzle-solving, combat, and navigational skills that are required in later dungeons, but without any real difficulty.