Tutos à faire
Electrified Fox Lamp Tutorial and Giveaway! UPDATE: The fox sewing pattern is now available as a free download HERE!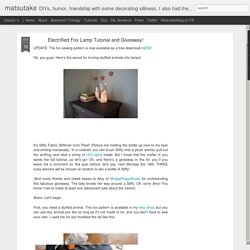 Ok, you guys. Here's the secret for turning stuffed animals into lamps! It's Stiffy Fabric Stiffener from Plaid! (Picture me holding the bottle up next to my face and smiling maniacally). Free Fleece Hat with horns, dragon, dinosaur, bear ears, cat ears, pumpkin and apple pattern - Fleece Fun. Halloween Hat Pack How To/ Tutorial / DIY These free fleece animal hat patterns have something for everyone!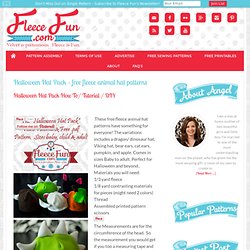 The variations includes a dragon/ dinosaur hat, Viking hat, bear ears, cat ears, pumpkin, and apple. Quilled Snowflake Ornament. Today I have a big fat tutorial to share with you.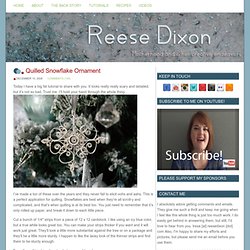 It looks really really scary and detailed, but it's not so bad. Trust me. I'll hold your hand through the whole thing. I've made a ton of these over the years and they never fail to elicit oohs and aahs. This is a perfect application for quilling. Scoodie ou écharpe-capuchon. À NOTER: ce patron permet de coudre un scoodie taille adulte avec suffisament d'aisance pour enfiler une tuque dessous.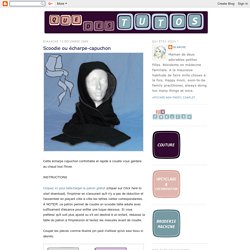 Si vous préférez qu'il soit plus ajusté ou s'il est destiné à un enfant, réduisez la taille du patron à l'impression et testez les mesures avant de coudre. Couper les pièces comme illustré (on peut n'utiliser qu'un seul tissu si désiré): A: couper 1 dans le tissu principal et 1 dans un tissu contrasté (doublure) B: couper 2 dans le tissu principal et 2 dans la doublure C: couper 2 dans le tissu principal et 2 dans la doublure. Recycled Glove How-to: Make a Chipmunk Softie :: Etsy Blog. Gloves (like socks), while born to be part of a pair, often end their days in lonely solitude, separated from their mates by the forces of the universe that conspire at every turn to pull them apart.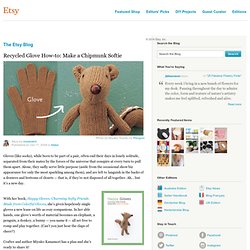 Alone, they sadly serve little purpose (aside from the occasional show biz appearance for only the most sparkling among them), and are left to languish in the backs of a drawers and bottoms of closets — that is, if they're not disposed of all together. Ah… but it's a new day. Thanks to the Penguin Group for sharing this project from Happy Gloves.
---