Psychology Experiments
Get flash to fully experience Pearltrees
1. FAULTY CAUSE: ( post hoc ergo propter hoc ) mistakes correlation or association for causation, by assuming that because one thing follows another it was caused by the other. example: A black cat crossed Babbs' path yesterday and, sure enough, she was involved in an automobile accident later that same afternoon. example: The introduction of sex education courses at the high school level has resulted in increased promiscuity among teens. A recent study revealed that the number of reported cases of STDs (sexually transmitted diseases) was significantly higher for high schools that offered courses in sex education than for high schools that did not.
The end of 2010 fast approaches, and I'm thrilled to have been asked by the editors of Psychology Today to write about the Top 10 psychology studies of the year. I've focused on studies that I personally feel stand out, not only as examples of great science, but even more importantly, as examples of how the science of psychology can improve our lives. Each study has a clear "take home" message, offering the reader an insight or a simple strategy they can use to reach their goals , strengthen their relationships, make better decisions, or become happier.
The mind is a wonderful thing – there is so much about it which remains a mystery to this day. Science is able to describe strange phenomena, but can not account for their origins. While most of us are familiar with one or two on this list, many others are mostly unknown outside of the psychological realm. This is a list of the top ten strange mental phenomena. We have all some experience of a feeling, that comes over us occasionally, of what we are saying and doing having been said and done before, in a remote time – of our having been surrounded, dim ages ago, by the same faces, objects, and circumstances – of our knowing perfectly what will be said next, as if we suddenly remember it!
The purpose of this database is to make it easy for psychology students (and also researchers and journalists) to find and discuss : Peer-reviewed articles on scientific psychology, that don't require a paid subscription to access Places on the web where these articles have been discussed/blogged about There are other excellent sites which do a similar job (e.g., Research Blogging ), but this one is aimed at psychology, and specifically at the curriculum covered by psychology students . It is my hope that the pages will be filled with research relevant to the current curriculum, so students can find papers easily, and discuss them with myself and other students if there is anything they are unsure about.
Ten of the most influential social psychology studies. "I have been primarily interested in how and why ordinary people do unusual things, things that seem alien to their natures. Why do good people sometimes act evil? Why do smart people sometimes do dumb or irrational things?" --Philip Zimbardo Like eminent social psychologist Professor Philip Zimbardo (author of The Lucifer Effect: Understanding How Good People Turn Evil ), I'm also obsessed with why we do dumb or irrational things.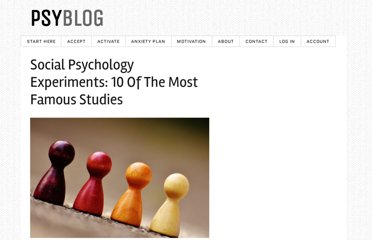 Image by AFP/Getty Images via Daylife Several great psychology and neuroscience studies were published in 2009. Below I've chosen 10 that I think are among the most noteworthy, not just because they're interesting, but useful as well.
IQs and Zs Night owls are smarter than other people, and now we may know why. The modern world contains many features our slow-to-evolve brains still find unfamiliar—cars, TVs, hot dogs on a stick. But the world has always thrown new stuff at us, and brighter humans may adapt more ably. Satoshi Kanazawa, a psychologist at The London School of Economics and Political Science, argues that, while we have specialized mental modules for navigation, social interaction, and other age-old tasks, general intelligence is its own module handling only evolutionarily novel circumstances. And he has data showing that people with higher IQs are more likely to have values and preferences that just didn't make sense for our ancestors to embrace.
The Rosenhan experiment was a famous experiment into the validity of psychiatric diagnosis , conducted by psychologist David Rosenhan and published by the journal Science in 1973 under the title " On being sane in insane places ". [ 1 ] The study is considered an important and influential criticism of psychiatric diagnosis. [ 2 ] Rosenhan's study was done in two parts. The first part involved the use of healthy associates or "pseudopatients" (three women and five men) who briefly simulated auditory hallucinations in an attempt to gain admission to 12 different psychiatric hospitals in five different States in various locations in the United States . All were admitted and diagnosed with psychiatric disorders. After admission, the pseudopatients acted normally and told staff that they felt fine and had not experienced any more hallucinations. All were forced to admit to having a mental illness and agree to take antipsychotic drugs as a condition of their release.
The idea that global evaluations about a person bleed over into judgements about their specific traits. The 'halo effect' is a classic finding in social psychology. It is the idea that global evaluations about a person (e.g. she is likeable) bleed over into judgements about their specific traits (e.g. she is intelligent). Hollywood stars demonstrate the halo effect perfectly. Because they are often attractive and likeable we naturally assume they are also intelligent, friendly, display good judgement and so on.
One of the strangest side-effects of intense fear is time dilation, the apparent slowing-down of time. It's a common trope in movies and TV shows, like the memorable scene from The Matrix in which time slows down so dramatically that bullets fired at the hero seem to move at a walking pace. In real life, our perceptions aren't keyed up quite that dramatically, but survivors of life-and-death situations often report that things seem to take longer to happen, objects fall more slowly, and they're capable of complex thoughts in what would normally be the blink of an eye. Now a research team from Israel reports that not only does time slow down, but that it slows down more for some than for others. Anxious people, they found, experience greater time dilation in response to the same threat stimuli. An intriguing result, and one that raises a more fundamental question: how, exactly, does the brain carry out this remarkable feat?
You are here: Home / Bizarre / Top 10 Most Famous Thought Experiments Thought experiments are mental concepts or hypotheses, often resembling riddles, which are used by philosophers and scientists as simple ways of illuminating what are usually very dense ideas. Most often, they're used in more abstract fields like philosophy and theoretical physics, where physical experiments aren't possible. They serve as some hearty food for thought, but given their complex subject matter, it's not unusual for even the thought experiment itself to be nearly incomprehensible. With this in mind, here are ten of the most famous thought experiments , along with explanations of the philosophical, scientific, and ethical ideas they work to explain: