Agences de communication digitale
Made in Montreuil Filière de développement et de promotion des métiers créatifs Made in Montreuil permet aux travailleurs de la création de l'Est parisien de développer leur business grâce à un ensemble d'initiatives taillées sur mesure : un creative space de 1 700m², des médias, un réseau de distribution... And The Bit Goes On Quand la création numérique mixe le son et l'image And The Bit Goes On est une société qui a pour vocation de promouvoir la diversité de la création numérique en organisant des évènements on et off line.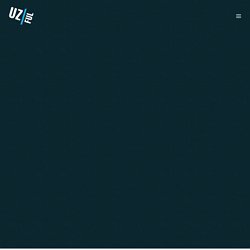 Spin Interactive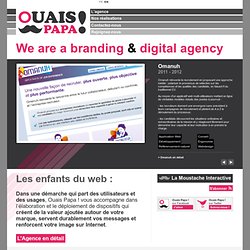 Omanuh réinvente le recrutement en proposant une approche inédite : polariser le processus de sélection sur les compétences et les qualités des candidats, en faisant fi du traditionnel CV. Au moyen d'un applicatif web multi-utilisateurs mettant en ligne de véritables modèles réduits des postes à pourvoir : - les recruteurs donnent une envergure sans précédent à leurs campagnes de recrutement et pilotent de A à Z le déroulement du processus; - les candidats découvrent les situations ordinaires et extraordinaires de la mission et y réagissent librement pour démontrer leur capacité et leur motivation à en prendre la charge.
Ouais Papa! Conseil et Création Web / Accueil
One of the strategic challenges for B&B Hotels is that any site redesign must enable it to pursue its sale channels control policy. The purpose of this new digital platform is to the DNA of of the B&B Hotels brand, which is: simple and effective. During this week of contemporary art, Digitas Labs Paris is partnering with Show Off Labs Fair who, for its 7th edition, presents an overview of international digital artists. (Antoine Schmitt, Flavien Theirry, Du Zhenjun, France Cadet, Lab-au, Joseph Nechvatal, etc….). Because of media, technology and innovation are at the heart of their practices and because these emerging talents will be tomorrow's campaigns, Digitas Labs Paris and Show Off are signing a partnership to raise awareness of these new practices.
TroisCube - Agence de communication nouvelle génération
Digital : agence web Paris - Création de sites Internet et accompagnement e-marketing
Digital native & full-service Créée en 2000 Mazarine Digital offre une approche sur-mesure et intégrée de la communication digitale avec une expertise sectorielle unique pour conseiller sur le long terme les plus grandes marques de luxe comme les maisons les plus exclusives. Sites e-Commerce Sites de marque Sites produit Sites événénementiels Applications iPhone & iPad Applications Android In-store app Sites responsive design eCRM SEO/SEM Database management Metrics Affiliation Stratégie & Conseil Community management Social Advertising ePR Story-tellingFilm, Photos Vidéos interactives Blogs / Magazines online Design sonore Plus de 150 experts digitaux font converger leurs talents créatifs, stratégiques et technologiques pour créer des concepts novateurs, élaborer des expériences utilisateurs efficaces et les déployer sur l'ensemble des points de contact de l'écosystème digital.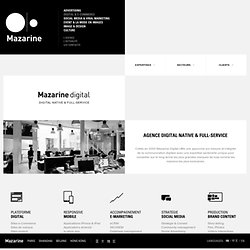 agence The Blast Machine » Profil
Agence interactive Paris - développement de sites Internet Intranet et marketing online
MAECIA Agence interactive Maecia +Laissez-vous tenter par une nouvelle expérience digitale Agence interactive & communautaire Agence interactive Le goût du web bien conçu De la stratégie digitale jusqu'au développement web en passant par le marketing en ligne, l'agence interactive Maecia vous accompagne sur l'ensemble de vos projets internet.