Electronics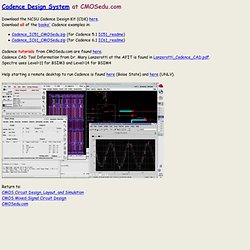 Cadence Design System at CMOSedu.com Download the NCSU Cadence Design Kit (CDK) here. Download all of the books' Cadence examples in: Cadence tutorials from CMOSedu.com are found here. Cadence CAD Tool Information from Dr. Mary Lanzerotti at the AFIT is found in Lanzerotti_Cadence_CAD.pdf.
Cadence at CMOSedu.com - Iceweasel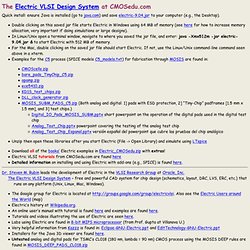 The Electric VLSI Design Systemat CMOSedu.com Quick install: ensure Java is installed (go to java.com) and save electric-9.04.jar to your computer (e.g., the Desktop). Double clicking on this saved jar file starts Electric in Windows using 64 MB of memory (see here for how to increase memory allocation, very important if doing simulations or large designs).In Linux/Unix open a terminal window, navigate to where you saved the jar file, and enter: java -Xmx512m -jar electric-9.04.jar & to start Electric with 512 MB of memory.For the Mac, double clicking on the saved jar file should start Electric. If not, use the Linux/Unix command-line command seen above in a xterm.Examples for the C5 process (SPICE models C5_models.txt) for fabrication through MOSIS are found in: Unzip then open these libraries after you start Electric (File -> Open Library) and simulate using LTspiceDownload all of the books' Electric examples in Electric_CMOSedu.zip with extras!
Electric at CMOSedu.com - Iceweasel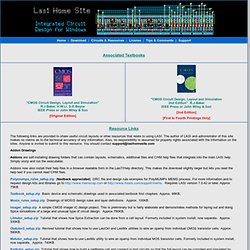 Addon Drawings Addons are self-installing drawing folders that can contain layouts, schematics, additional files and CHM help files that integrate into the main LASI help. Simply unzip and run the executable. Addons now also install their help files in a browser readable form in the Lasi7/Help directory.
LASI 7 Home Site - Resources - Iceweasel
LASI 7 Home Site - Iceweasel
Silvaco at CMOSedu.com - Iceweasel
Silvaco Analog/Mixed-Signal/RF EDA at CMOSedu.com Download all of the books' Silvaco examples in Silvaco_CMOSedu.zip with extras! The wiki for Silvaco is seen here and information on their generous university program is found here.For help using the examples from CMOSedu see the Silvaco_readme page.A list of the Silvao process design kits (PDKs) is seen here.SmartSpice uses Level=49 for BSIM3 and Level=54 for BSIM4 Click on the images seen below to enlarge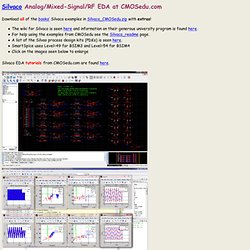 Designer's Guide Consulting :: The Experts in Analog Verification - Iceweasel
Summit Lake, near Agnew Pass on the Pacific Crest Trail What Do We Do? We are a company that specializes in transitioning analog design companies, large and small, to analog verification. What Is Analog Verification? Analog Verification, also known as Analog/Mixed-Signal Verification or AMS Verification, is a new methodology for performing functional verification on complex analog, mixed-signal, and RF integrated circuit designs. Who Needs Analog Verification?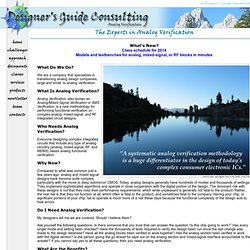 All About Circuits Forum - Powered by vBulletin - Iceweasel
Iceweasel
Back to Main page Together, these worksheets constitute a body of questions far too large to be comprehensively covered in any single electronics course. That is not the point, though. This collection is purposely oversized so you may pick and choose enough questions to meet your specific teaching needs. Download those worksheets containing questions you wish to use, and then only assign those questions to your students for research and discussion.
Socratic Electronics by Tony R. Kuphaldt is licensed under a Creative Commons Attribution 3.0 United States License. Take me to the worksheets now! Copyright © 2003 - 2009, Tony R.
Socratic Electronics - Iceweasel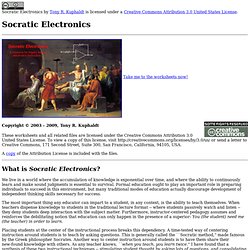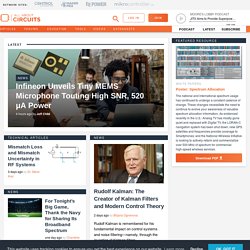 This site provides a series of online textbooks covering electricity and electronics. The information provided is great for both students and hobbyists who are looking to expand their knowledge in this field. These textbooks were written by Tony R. Kuphaldt and released under the Design Science License.
Circuit Collection - Iceweasel
CMOS Circuit Design, Layout, and Simulation, Third Edition General Book Information (中文译) Published by Wiley-IEEE Press, ISBN 978-0-470-88132-3, 3rd Edition, 2010. The book's author is R. Jacob Baker.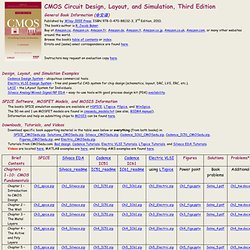 CMOS Circuit Design, Layout, and Simulation - Iceweasel
ALL SPICE STUFF Page - Iceweasel
Resistor Color Code Calculator
Resistor Values E6 E12 E24 E48 E96 E192
In the E12 series each succeeding resistor falls within the -/+ 10 % of the previous value. Until fairly recently, 10% tolerance resistors were the norm, but today, 5% (E24) resistors seem to be the most commonly used. They still can be found in vintage radios, old amplifiers, etc., but the price of a 5% resistor is low enough to be the standard component in all of today's electronic circuits. In precision applications, special, more expensive low-tolerance resistors are used with tolerance ratings of 2%, 1% or less. Common values for E12, 10% series resistors: .1Ω, .12Ω, .15Ω, .18Ω, .22Ω, .27Ω, .33Ω, .39Ω, .47Ω, .56Ω, .68Ω, .82Ω - 0.1Ω to 0.82Ω...
E12 series - resistor color code examples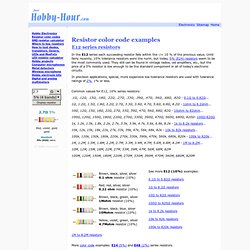 Resistors
Electronic News, Magazines
Converters USB, RS-485, RS-232, RS422
Spice Models, IC parts, EDA symbols
V2.16 30-Nov-05 Below is a list of SPICE models available for free on the web. It is presented in a very basic form to reduce the file size and assist alphanumeric sorting, whilst maintaining HTML form. Click on the source reference in square brackets to follow the link to the description and location of that source. The list may not be complete.
SPICE model index
Electronics - Docs: AN, DS, ...
Electronics - Design Tools