Read later
The Future of Social Media. At the beginning of the month I was asked to speak at a panel that discussed Social media, Social Networks and "What's Coming Up Next".
In research for this discussion, I came up with a few insights on what I foresee coming up next in the world of social media. Here are my top 10 insights: 1) The physical and digital worlds will be more highly connected than ever before – already today we are able to run in the park and track our progress online while sharing it with our friends or track our weight loss, or even our ovulation (well, some of us, that is) with iPhone apps that connect to our Facebook and twitter profiles and enable us to keep track of our progress as well as share the data with our friends.
Google Search By Image: Use A Snapshot As Your Search Query. Today at its 'Inside Search' event, Google announced several new features, including desktop support for voice search and a new mobile interface.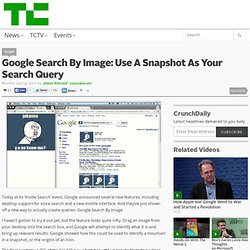 And they've just shown off a new way to actually create queries: Google Search By Image. I haven't gotten to try it out yet, but the feature looks quite nifty. Drag an image from your desktop into the search box, and Google will attempt to identify what it is and bring up relevant results. Google's Instant Pages drastically improves webpage loading speeds. Google demonstrated the speed improvements of its new Instant Pages feature at today's Inside Search live event, which focused on additions to its Instant Search product.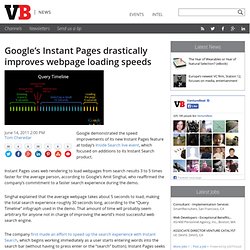 Instant Pages uses web rendering to load webpages from search results 3 to 5 times faster for the average person, according to Google's Amit Singhal, who reaffirmed the company's commitment to a faster search experience during the demo. Singhal explained that the average webpage takes about 5 seconds to load, making the total search experience roughly 30 seconds long, according to the "Query Timeline" infograph used in the demo. That amount of time will probably seem arbitrary for anyone not in charge of improving the world's most successful web search engine. The company first made an effort to speed up the search experience with Instant Search, which begins working immediately as a user starts entering words into the search bar (without having to press enter or the "search" button). How Designers Can Avoid Making Mistakes.
Ahh mistakes.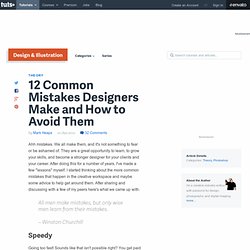 We all make them, and it's not something to fear or be ashamed of. They are a great opportunity to learn, to grow your skills, and become a stronger designer for your clients and your career. After doing this for a number of years, I've made a few "lessons" myself. I started thinking about the more common mistakes that happen in the creative workspace and maybe some advice to help get around them. HOW TO: Land a Job at Google. Google is having a big hiring year — its biggest ever, in fact.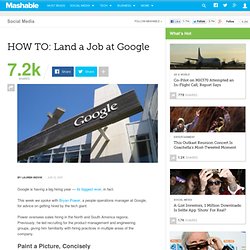 This week we spoke with Bryan Power, a people operations manager at Google, for advice on getting hired by the tech giant. Power oversees sales hiring in the North and South America regions. Previously, he led recruiting for the product management and engineering groups, giving him familiarity with hiring practices in multiple areas of the company. Paint a Picture, Concisely.
---