To Read Later
Scientific American Staff Picks: 10 Apps for Your Smart Phone or Tablet. Just a Boy - a ftm transgender documentary. Why Obama Can't Close Guantanamo. The last two prisoners to leave the U.S. detention center at Guantánamo Bay were dead.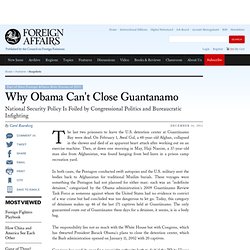 On February 1, Awal Gul, a 48-year-old Afghan, collapsed in the shower and died of an apparent heart attack after working out on an exercise machine. Then, at dawn one morning in May, Haji Nassim, a 37-year-old man also from Afghanistan, was found hanging from bed linen in a prison camp recreation yard. In both cases, the Pentagon conducted swift autopsies and the U.S. military sent the bodies back to Afghanistan for traditional Muslim burials. These voyages were something the Pentagon had not planned for either man: each was an "indefinite detainee," categorized by the Obama administration's 2009 Guantánamo Review Task Force as someone against whom the United States had no evidence to convict of a war crime but had concluded was too dangerous to let go.
Today, this category of detainees makes up 46 of the last 171 captives held at Guantánamo. Niall Ferguson TED Talk: Author Discusses 'The Six Killer Apps' Historian Niall Ferguson discussed "the six killer apps" of prosperity in his recent TED talk.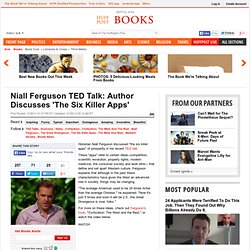 These "apps" refer to certain ideas--competition, scientific revolution, property rights, modern medicine, the consumer society and work ethic-- that define and set apart Western culture. Ferguson explains that although in the past these characteristics have given the West an advanced role in society, things may be changing. "The average American used to be 20 times richer than the average Chinese," he explained. "Now it's just 5 times and soon it will be 2.5...the Great Divergence is over, folks. " For more on these ideas, check out Ferguson's book, "Civilization: The West and the Rest," or watch the video below. Addiction: A Disorder Of Choice? : 13.7: Cosmos And Culture. Ted Aljibe/AFP/Getty Images "Shall I have Chinese food tonight, or Italian?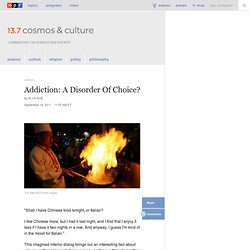 I like Chinese more, but I had it last night, and I find that I enjoy it less if I have it two nights in a row. Homosexuality Before the Bible « Half Wisdom, Half Wit. Posted by Mary W.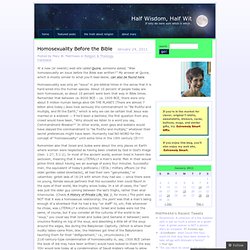 Matthews in Religion & Theology. Trackback At a new (or newish) web site called Quora, someone asked, "Was homosexuality an issue before the Bible was written?" My answer at Quora, which is mostly similar to what you'll read below, can also be found here. Watch at.home.with.julia.s01e01.ws.pdtv.xvidw4f online. 2011 San Francisco State Julia Robinson Mathematics Festival. This festival will take place Saturday, October 1 from 9:00AM to 1:00PM in the Gym on the San Francisco State University campus.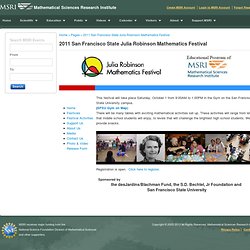 (SFSU Gym on Map) There will be many tables with exciting mathematical activities set up. These activities will range from levels that middle school students will enjoy, to levels that will challenge the brightest high school students. We will provide snacks. Getting more out of your Tablet PC. Those persistent myths about the Sept. 11 attacks - The Fact Checker.
(Michael Lutzky/THE WASHINGTON POST) Somehow, there are still people who don't believe that on Sept. 11, 2001, a group of terrorists seized four commercial jetliners and piloted them toward New York and Washington, killing thousands of people.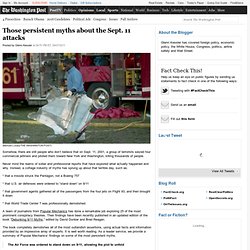 Never mind the reams of sober and professional reports that have explored what actually happened and why. Instead, a cottage industry of myths has sprung up about that terrible day, such as: * that a missile struck the Pentagon, not a Boeing 757. Schweddy Balls. A primer on Social Security - The Fact Checker. (J.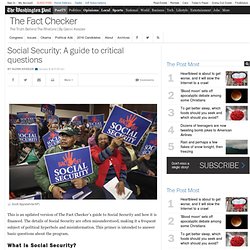 Scott Applewhite/AP) This is an updated version of The Fact Checker's guide to Social Security and how it is financed. The details of Social Security are often misunderstood, making it a frequent subject of political hyperbole and misinformation. This primer is intended to answer basic questions about the program. Tribute To Gene Roddenberry's Star Trek (45 Years) - Part 1. What teachers really want to tell parents. Teacher Ron Clark is pictured with his students.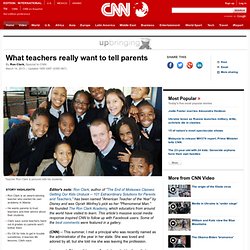 Ron Clark is an award-winning teacher who started his own academy in AtlantaHe wants parents to trust teachers and their advice about their students Clark says some teachers hand out A grades so parents won't bother themIt's OK for kids to get in trouble sometimes; it teaches life lessons, Clark says Editor's note: Ron Clark, author of "The End of Molasses Classes: Getting Our Kids Unstuck -- 101 Extraordinary Solutions for Parents and Teachers," has been named "American Teacher of the Year" by Disney and was Oprah Winfrey's pick as her "Phenomenal Man.
" He founded The Ron Clark Academy, which educators from around the world have visited to learn.
---