Buddhist Resources
What Makes Us Human? - Scientific and Buddhist views by B. Alan Wallace : Vajrayana Institute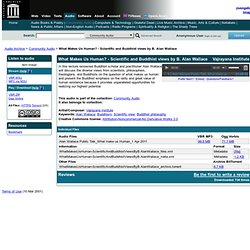 <div style="padding:5px; font-size:80%; width:300px; background-color:white; margin-left:auto; margin-right:auto; border:1px dashed gray;"> Internet Archive's<!--'--> in-browser audio player requires JavaScript to be enabled. It appears your browser does not have it turned on. Please see your browser settings for this feature. </div> Alan Wallace Public Talk_What make us Human_1 Apr 2011
"Don't try to use what you learn from Buddhism to be a Buddhist; use it to be a better whatever-you-already-are." His Holiness the 14th Dalai Lama Please note: a fresh discussion forum is now setup; weldome (back)! Are you interested in Buddhism, but perhaps also somewhat confused about it? Buddhism developed in Asia and therefore contains many concepts that are not well known in other parts of the world. Also, over the 2,500 years since its origin, many different traditions have developed within Buddhism that all have slightly different views and practices that may even appear to contradict each other.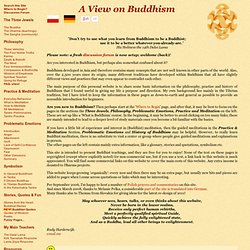 Bodhicitta
Dakini Yogini Central
Sacred-Texts Buddhism Tibetan Buddhism Archives Here, in no particular order, are miscellaneous articles about Tibetan Buddhism from various sources on the Internet, mostly predating the World Wide Web.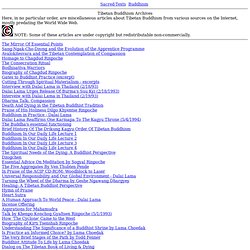 Rev. Danny Fisher
All images are Copyright 2000-2014, Joe Mickey, Sazzy Varga and the Tibetan Photo Project and may not be published without permission. While you may print the material on this site for easy reading or sharing with friends. For feature articles, publication or public use of any of the material or images contained on this site please contact Joe Mickey via e-mail at thetibetanphotoproject@gmail.com and please reference your e-mail to the Tibetan Photo Project. Thank You. **We have recently incorporated and are filing for Non Profit Status as: Camera's for Culture Inc. The Tibetan Photo Project will operate under this umbrella.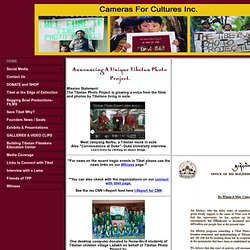 Camera's For Cultures; The Tibetan Photo Project, Sazzy Varga, Joe Mickey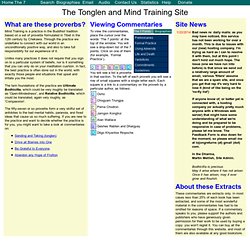 Lojong and Tonglen Community Site
Mind Training is a practice in the Buddhist tradition based on a set of proverbs formulated in Tibet in the 12th century by Chekawa. Through the practice we undertake to connect with our world in an unconditionally positive way, and also to take full responsibility for our experience of it. Unlike many practices it does not require that you sign on to a particular system of beliefs, nor is it something that you can only do on your meditation cushion. In fact, the best practice is often done out in the world, with exactly those people and situations that upset and irritate you the most.
Khandro Net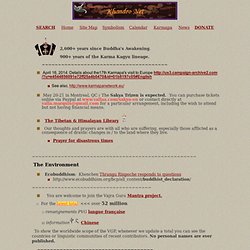 2,600+ years since Buddha's Awakening. 900+ years of the Karma Kagyu lineage. May 2014, the17th Gyalwang Karmapa Ugyen Trinley Dorje is expected to visit Europe, according to http://www.karmapanetwork.eu/ May 20-21 in Montreal, QC : The Sakya Trizen is expected.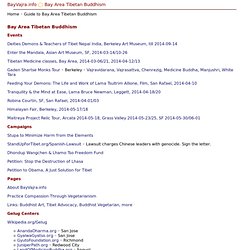 BayVajra.info - Bay Area Tibetan Buddhism
Events Deities Demons & Teachers of Tibet Nepal India, Berkeley Art Museum, till 2014-09-14 Enter the Mandala, Asian Art Museum, SF, 2014-03-14/10-26
Avalokitesvara Bodhisattva Images & Pictures Gallery
Dakini Yogini Central
Welcome to Nitartha International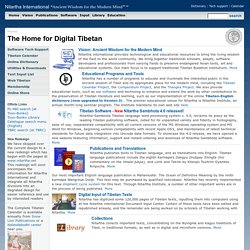 Vision: Ancient Wisdom for the Modern Mind Nitartha international provides technological and educational resources to bring the living wisdom of the East to the world community. We bring together traditional scholars, adepts, software developers and professionals from varying fields to preserve endangered Asian texts, art and educational systems. Our main focus is to support traditional Tibetan Buddhist institutions. More Tibetan Software - New Nitartha Sambhota 4.0 released!
Female Bodhidharma by Kitagawa Utamaro (1753–1806) Three contemporary women teachers shine new light on centuries-old stories of women and awakening. Click here to read an excerpt.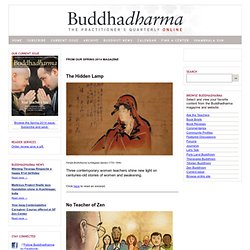 Nyingma Centers - QUIET MOUNTAIN TIBETAN RESOURCE GUIDE
Bījākṣara Mantra - Seed Syllables
Seed syllables (Sanskrit bījākṣara) are the quintessence of mantra, and the ultimate condensation of the Dharma, containing infinite meaning in a single syllable. Oṃ has held a special place in Indian religion since before Buddhism. Other seed syllables were elaborations of the first letter of a deity's name elaborated with the anusvāra and/or the visarga.